This archived news story is available only for your personal, non-commercial use. Information in the story may be outdated or superseded by additional information. Reading or replaying the story in its archived form does not constitute a republication of the story.
SALT LAKE CITY — A new study warns Little Cottonwood Canyon Road is facing catastrophic congestion if steps aren't taken to avert impacts from a growing number of visitors.
Findings by a civil and environmental engineering class at the University of Utah point to an annual visitation growth rate of 2 percent, which means doubling the number of users in 50 years.
During peak season, the 7-mile-long road that is the gateway to Snowbird and Alta ski resorts sees 6,600 vehicles and 12,400 visitors per day. Of those crowds, only 4 percent of canyon visitors use public transportation, according to the Utah Department of Transportation.
The students, hired by Granite Community Council to probe for engineering solutions, found digging into the mountain and widening the road would be environmentally unpalatable.
Instead, they recommend instituting a user fee or toll for Little Cottonwood Canyon to help pay for necessary improvements.
Some of those more immediate measures are:
Build several above-ground tunnels, or avalanche sheds, along the roadway to protect it and vehicles from avalanches that results in road closures
Design and implement free-flow exits from ski resorts to allow traffic to move more efficiently and freely
Institute minor road alignments to boost vehicle sightlines and to improve merging and passing
Develop more paving and guard rails for biking
The students will present their findings to community members and a variety of agencies at 9:30 a.m. Thursday at the University of Utah's J. Willard Marriott Library, 295 S. 1500 East, Room 1170.
University officials say even though lawmakers appropriated up to $65 million for improvements in Little Cottonwood Canyon, that amount of money will fall short of what engineering changes need to be put in place. The user fee or toll is designed to offset that gap.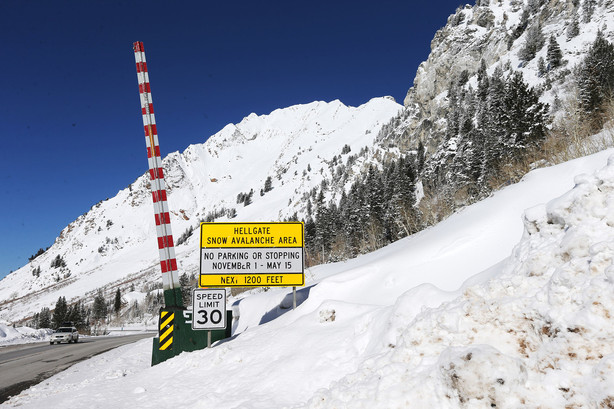 The study, said class associate professor Steve Bartlett, is designed to serve as a blueprint for the array of possible changes to Little Cottonwood Canyon.
"Hopefully this can be a strong voice in the planning stages," Bartlett said. "We are hoping to plant a vision in the public mindset that a wholesale widening of the canyon is not necessary. A better use of transit and private vehicle ridership can make up this gap."
Bartlett said the surveys indicate that the public does not want the road's geographic footprint expanded.
"The public does not want to see a large environmentally impactful type of transportation facility in Little Cottonwood Canyon," he said. "We need to make it work with what we got without major widenings."
The class also came up with recommendations that include autonomous vehicles, vehicle-to-vehicle communications and a user-friendly system that could allow a person to use a cellphone to arrange a home pickup, book a seat on a mass transit vehicle or reserve a parking spot at the resort.
Nearly a year ago, the same course but with different students looked at the people problem in Big Cottonwood Canyon.
From last year:
That study was commissioned by the Big Cottonwood Canyon Community Council and recommended a variable toll for vehicles via a license plate scanner that increases the price depending on how many people are already in the canyon.
The proposed price would top out at $12.50 per vehicle and include exceptions for ski resort employees and canyon residents, but ultimately the pricing would be determined by some government entity, such as a special improvement district.
Students also recommended free, year-round UTA bus service to encourage ridership to the canyon, which is less than 5 percent of canyon visitors.
This last legislative session, Senate President Wayne Niederhauser, R-Sandy, successfully sponsored a legislative measure which opens the door for more tolling on crowded Utah roadways.
Bartlett, noting the different outcomes in the two studies, said the Little Cottonwood Canyon study specifically recommends the use of "intelligent transportation systems" by incorporating innovative technology.
At Little Cottonwood Canyon, officials could also institute tolling rates based on per-vehicle occupancy, with vehicles carrying more passengers assessed less, Bartlett said.


×
Photos
Related Stories