This archived news story is available only for your personal, non-commercial use. Information in the story may be outdated or superseded by additional information. Reading or replaying the story in its archived form does not constitute a republication of the story.
SALT LAKE CITY – Bales of plastic waste are piling up across the country.
China stopped taking the world's plastics for recycling back in January for environmental reasons, which left recyclers worldwide scrambling for alternatives. Some recyclers are desperate enough to get rid of their plastics they'll transport them all the way to Salt Lake City from Canada, rather than take it to a landfill. Other recyclers are hanging onto their plastics.
"There's a lot of stockpiling going on right now as people try to see if the markets will open," said Priyanka Bakaya, the CEO and founder of Renewlogy.
Salt Lake-based Renewlogy is on a mission to renew waste, and it has found a way of turning all of those old yogurt containers, soda bottles and thin plastics bags into fuel.
"Our solution is to chemically recycle the plastic by taking the plastics back down into their basic building blocks," Bakaya said.
The demand for its services has skyrocketed since the Chinese ban was imposed at the beginning of the year.
"We've started saying no to people because we've been getting inundated," she said.
Renewlogy shreds the plastic and feeds it into its processor, which breaks down the carbon chains in the plastics.
"Essentially, we're heating the plastic in an oxygen-free environment and we're breaking down the material until it becomes a vapor," she explained. "Then we cool those vapors to make different fuels."
She said about 70 percent to 80 percent becomes a liquid fuel product. The company makes diesel, kerosene,and light fuels; and about 20 percent becomes natural gas, which is used to heat the process. In the end, less than 5 percent of the material is wasted. She also noted no toxic emissions are created from the process.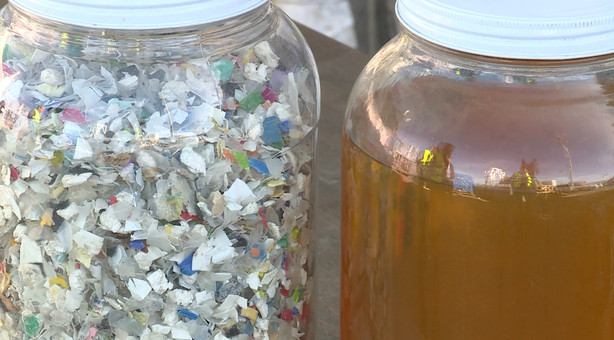 "It makes sense both from an environmental perspective and from an energy perspective," she said.
The long-term goal is to build its Renewlogy systems at recycling facilities across the country and "set up these facilities there so that it doesn't have to be shipped all the way to Salt Lake City," she said.
Costs start at $4 million for its 10 ton-per-day modules.
The Chinese ban on plastics is not having a major impact in Salt Lake City, according to Sophia Nicholas, Salt Lake City sustainability department communications manager.
Officials in both Salt Lake City and Salt Lake County say they are still picking up plastics from recycling bins as usual. By contract, none of that is ending up in landfills. Salt Lake City's contracts require the recycling vendors to accept and recycle plastics No. 1 through No. 7.
Related story:
"We know that there is a lot of a upheaval right now," Nicholas said. "But the markets are dynamic and they're finding other alternatives for that type of material."
The city of Boise, Idaho, recently banned plastics No. 3 through No. 7 in its recycling program and contracted with Renewlogy. Residents must separate those plastics into separate bags that now come to Salt Lake City.
Neither Salt Lake City nor Salt Lake County is considering that kind of change, right now.
"Recycling is a very dynamic market, generally," Nicholas said. "It's a commodity market. So these fluctuations do happen. This is a big one, we know. But we know that there are innovators out there looking for other ways to recycle this type of material. "
Which is the key reason the bales are stacking up at Renewlogy.
"We're seeing a lot more interest from other cities around the country now in the wake of this Chinese ban," Bakaya said.
Contributing: Viviane Vo-Duc
×
Photos
Related Stories