Estimated read time: 3-4 minutes
This archived news story is available only for your personal, non-commercial use. Information in the story may be outdated or superseded by additional information. Reading or replaying the story in its archived form does not constitute a republication of the story.
LAS VEGAS — When the Utah Valley University men's basketball team beat Seattle University on Senior Night to finish 10-4 in Western Athletic Conference play and earn the No. 2 seed at the conference tournament, its opponent was unknown at the time.
It was a matter of whether or not Grand Canyon would finish off Cal State Bakersfield. In the postgame press conference following the win over Seattle, UVU head coach Mark Pope, along with senior guards Kenneth Ogbe and Brandon Randolph, knew that the quarterfinal matchup that UVU has on Thursday afternoon in the Orleans Arena in Las Vegas was going to be a battle.
Grand Canyon did beat Cal State Bakersfield, which made the Roadrunners the No. 7 seed to set up a rematch of the four-overtime thriller in the 2017 WAC tournament semifinals where CSU Bakersfield beat UVU 81-80.
"This Bakersfield team, they're just such a proud, tough, league-defining team," Pope said. "And it's going to be a real challenge. We know it probably better than anybody else. We know how good they are. We know how tough they are."
The Wolverines finished the regular season with a 21-9 record overall, the first 20-win season since the 2013-14 season when UVU won the WAC regular season championship. The 21 wins includes a regular-season sweep of CSU Bakersfield in which the Wolverines' combined margin of victory was 26 points.
UVU beat the 'Runners 75-42 to open WAC play on Jan. 6 and then won at CSU Bakersfield on Feb. 22. The win at the Icardo Center marked the first time the Wolverines have won at Bakersfield since Jan. 4, 2014. The two wins are also the first time UVU has defeated a Cal State Bakersfield team since Pope took over the head coaching duties prior to the 2015-16 season.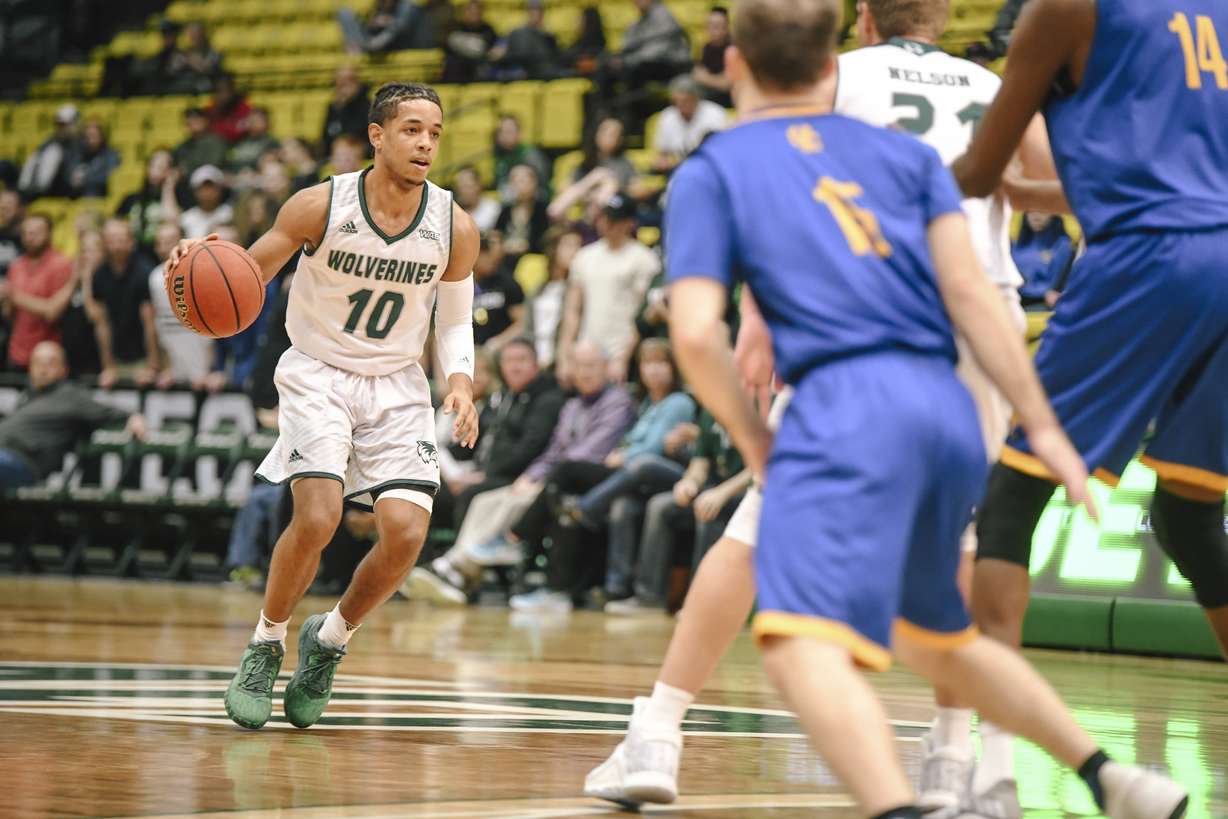 "Certainly, winning this year has given us some confidence," Pope said. "What it hasn't done at all is it hasn't diminished our incredible amount of respect that we have for this team and what they do and how they do it. I don't think it's diminished our respect and understanding of how good they can be."
UVU will rely heavily on five players who were named to All-WAC teams on Tuesday morning.
Ogbe, who already has his MBA, was named First Team All-WAC. Conner Toolson and Randolph were named Second Team All-WAC. Jake Toolson was named to the All-Newcomer Team while 7-footer Akolda Manyang was named to the All-WAC Defensive Team.
Manyang was also named to the USBWA All-District Team after averaging 12.9 points, 7.8 rebounds and 2.3 blocks per game. Manyang set the single-season record for blocks with 62 and was 24th nationally in blocks per game.
"Last year, going into this semifinal game, we hadn't beat them and we didn't know if we could beat them (CSUB)," Pope said. "We know what this game is going to be. We know how hard it's going to be. We know how good they are and how tough they are and I think we're excited to go out and compete again."
Tip-off is scheduled for 3:30 p.m. MST on ESPN3 and ESPN 960 AM.
---
Kyle McDonald is sports fan who loves the Chicago Cubs. Follow him on Twitter at @kylesportsbias
×
Related stories
Most recent Sports stories