LAS VEGAS — When head coach Chris Gobrecht got to the Air Force Academy three years ago, she took note of point guard Cortney Porter and made a significant note.
The 5-foot-9 Ogden native didn't like to play defense.
But that can change in three seasons.
"She wasn't into defense when I got here. Not at all," Gobrecht said. "I'm so proud of how she has grown as a defensive player, and she leads the way in saying how we are going to get it done."
Porter will finish her four-year career as the Falcons' all-time leader in steals in the Division I era, and the former Bonneville High standout had six points, nine assists, three rebounds and two steals in Air Force's 68-54 win over Utah State in the opening game of the Mountain West tournament Monday at the Thomas & Mack Center in Las Vegas.
"I think we had a lot of energy today. We had a lot of confidence," Porter said. "We knew if we could shoot it, it would go in. If it didn't, we just kept shooting."
Emily Conroe and Kaelin Immel each scored 18 to lead Air Force (6-24), which rated among the worst 3-point shooting teams in the conference but canned 5-of-13 from downtown against the Aggies.
The win is the Falcons' first postseason win in the conference tournament since 2011. Much of the team's success has come on the defensive end, and Porter has led the charge.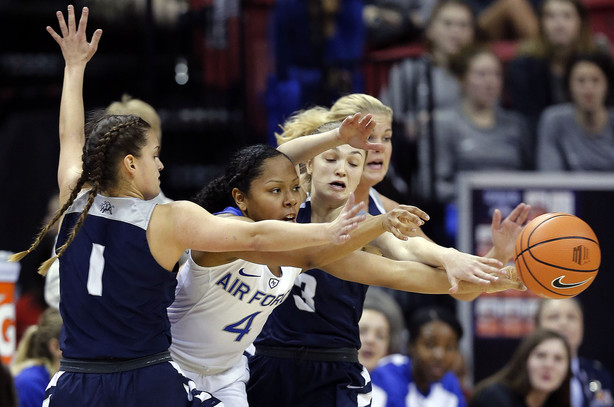 "My personal bias is that she should've been the defensive player of the year," Gobrecht said. "She leads the conference in steals, and we ask her to guard everybody on the floor at one time or the other. She's tough, she gets rebounds, and she just doesn't back down from people.
"If you are going to be a great defensive player, that's job one. She's probably our toughest kid."
Olivia West led the Aggies (7-23) with 13 points, and Eliza West added 12 points and four assists for Utah State.
Utah State lost sophomore wing and leading rebounder Shannon Dufficy to a knee injury as the Aggies were getting ready for warm-ups Monday.
"It was a double whammy for us," Utah State coach Jerry Finkbeiner said. "Air Force came out and shot the ball really well, and played with a lot of poise. They were one of 2-3 teams that were pretty hot coming into the tournament.
"We beat them at our place two weeks ago, but they really came in ready to go."
Porter's first field goal of the game gave the Falcons a 31-20 advantage with 5:10 left in the half, and the senior almost immediately recorded a steal on the other end of the court. She finished with four points on 2-of-2 shooting in the first half to go along with five assists as the Falcons held a 35-24 lead at halftime.
The Falcons advanced to face top-seeded Boise State in Tuesday's Mountain West quarterfinals. Barring a significant upset, the game will likely mark the final game of Porter's collegiate career.
A member of cadet squadron 30, Porter hopes to work as a personnel or logistics officer upon graduation from the academy.
But the Falcons will ride a wave of confidence — not to mention a three-game winning streak — into the matchup with the Broncos.
"We'll celebrate for a little bit, maybe an hour longer," Porter said. "But we know Boise State is a tough team. We know they will come after us. We'll go into it like any other team, and if we can play defense and hit shots, we'll be OK."
No matter when it ends, Porter finishes her career as arguably the top defensive guard to come through the academy — and she'll also finish in the top-10 in career scoring with 899 points.
"It's been a journey, that's for sure. But this is the best way to end it," Porter said. "I love this team; we've had so much fun, and to be able to get this conference win is icing on top. But we're not done yet."
For the Aggies, one of the 10 youngest teams in Division I women's basketball will look to grow up in the offseason. That can lead to inconsistencies for a team that won at BYU for the first time since 1978, but also won just five games in conference play.
It's time to stop making excuses, Finkbeiner said.
"Experience is learned and maturity gained in this offseason," he added. "Our senior night was for one male manager, and we'll have two seniors next year and a group of juniors. But it's more than that. We've got to make shots, play better defense and be prepared during tournament time."
×
Photos