Estimated read time: 3-4 minutes
This archived news story is available only for your personal, non-commercial use. Information in the story may be outdated or superseded by additional information. Reading or replaying the story in its archived form does not constitute a republication of the story.
SALT LAKE CITY — A teenage boy accused in the violent abuse death of his girlfriend's baby will be moved to the Salt Lake County Jail despite his age, a judge ruled Friday.
Isaiah Weaver, 17, is charged with aggravated murder, a first-degree felony, in the death of 21-month-old Jaycieion Sanchez. He also faces two counts of child abuse, a second-degree felony.
Though Weaver is still a minor, prosecutors filed a motion after his arrest asking to move him to an adult facility now, alleging that he poses a risk to other youth housed in juvenile detention. Weaver's attorneys countered, saying the 17-year-old has done well in the juvenile facility, which can more appropriately care for someone his age and allows for his family to support him.
Third District Judge Randall Skanchy said Friday that his decision was based on Weaver's age — he would have been moved to the jail anyway when he turns 18 in October — and the suggestion that anger fueled both the alleged attack on the baby and a violent incident in the juvenile detention facility after Weaver's arrest.
Prosecutor Melanie Serassio pointed to the seriousness of the allegations against Weaver and a violent incident just after his arrest as she asked the judge to move him to the jail Friday.
"When you read the allegations, they're very serious. Children were allegedly beaten and essentially tortured over several days, until one child ultimately died," Serassio said.
On Monday, Trina Dickinson, assistant program director at the Salt Lake Valley Detention Center, testified that two days after being booked into the facility, Weaver punched through a double-pane window while he was being escorted through a hallway. She attributed the incident to anger.
But Vini Purcell, one of Weaver's counselors in the facility, said he believes detention has been an emotional "roller coaster" for Weaver, and that the window-breaking incident occurred when he realized for the first time he isn't likely to be released anytime soon.
Michael Sikora, Weaver's attorney, said keeping him in a juvenile facility would allow him more time to prepare for the move to jail once he turns 18.
"What we're talking about here is the next 235 days," Sikora said. "What we're talking about is giving him a chance to mature, to be around kids his own age, to get the education requirements met as best he can."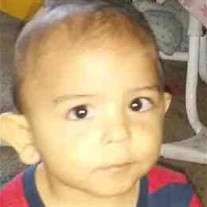 According to prosecutors, Weaver had been living with his girlfriend, 22-year-old Gena Sanchez, her three children and her mother. For about two weeks, Weaver was tasked with baby-sitting his girlfriend's children while she was at work, including dropping off a 5-year-old child for school and caring for the two younger children at home.
On Jan. 16, police were called to the apartment, 4635 S. 2890 West, on a report that Jaycieion was unconscious and unresponsive. Emergency personnel found the baby bruised and cold to the touch, and rushed him to Primary Children's Hospital where he was declared dead.
Jaycieion died of blunt force injury and an autopsy found head trauma indicating the baby had been hit and shaken, bruising all over the baby's head, and injury to the baby's back.
The 5-year-old child told police Weaver had been disciplining her little brothers by heating up a wire hanger with a lighter and spanking them with it, charges state.
Weaver, who "admitted that he had a bad temper," also said he was throwing Jaycieion in the air "because he wanted him to be quiet," and the boy hit his head on the ceiling, the charges state. In addition, a few times in the days prior to his death while he was throwing Jaycieion, the boy's head hit the floor, police say the teen told them.
Sanchez is also charged with two counts of child abuse, a second-degree felony, for allegedly seeing signs that her children were being abused but not doing anything about it.
×
Photos
Related stories
Most recent Utah stories