This archived news story is available only for your personal, non-commercial use. Information in the story may be outdated or superseded by additional information. Reading or replaying the story in its archived form does not constitute a republication of the story.
SANTA CLARA, Washington County — Getting surprised by Ellen DeGeneres is a scenario most people can only dream about, but for one Washington County orchestra class and its teacher, that dream came true in the form of $15,000.
Teacher April Nielsen from Lava Ridge Intermediate in Santa Clara had her class enter a contest Scotch Brand ran with "The Ellen Show" in honor of Ellen's 60th birthday.
In a video uploaded to YouTube, Ellen highlights the class's contest entry on her show.
"I've gotten a lot of sweet messages from my fans for my 60th birthday," Ellen says before showing a clip of the Utah orchestra students performing "Happy Birthday."
As the clip plays, the camera cuts to show Nielsen herself, sitting in the audience, smiling and looking proud of her students. Ellen calls her up on stage and the two get to chat about Nielsen's school.
"We have about 900 students and more than half of them are at, or lower than, poverty level," Nielsen explains.
Many of the students are homeless, she says, and they're an inspiration to her because of the hard things they go through, something it's hard to see until you're a teacher.
"I had one sweet little boy come to me and tell me his family had just been evicted from their apartment," Nielsen says while wiping away tears. "I had one other cute little boy who had his violin and he would take it with him from class to class instead of keeping it in his lockers. I asked him about it and he said that's all he had ... it was heartbreaking."
After Ellen mentions that she wishes she could meet the kids herself, the camera shows a live view of the students in their classroom, jumping up and down with excitement. Nielsen is clearly surprised, and the students get to take a moment to thank her for all she's done for them.
"You taught me how to be kind and how to be courageous. You taught me so much more than music. Thank you," one student says.
But the surprises don't end there. Ellen shows the photo the class submitted to the contest and asks Nielsen, who came up with the idea for their submission, what inspired her.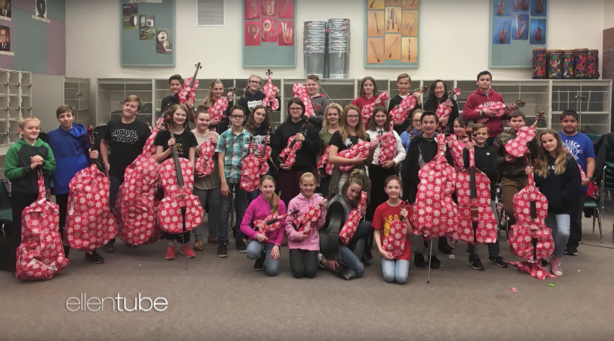 Nielsen says she was thinking of how they could "wrap music" and came up with the idea for her students to wrap all their instruments. Her class got together before Christmas break to do all the wrapping so they could submit their photo in time to enter the contest.
After Nielsen explains her inspiration, one of Ellen's producers brings out a gift and Ellen opens it to reveal that Nielsen and her class are the lucky winners of the $15,000 contest prize. The audience, the class and Nielsen herself all break out into cheers.
Nielsen told KSL Friday that the class is still trying to figure out what to do with the $15,000 they won, but the entire experience was amazing, particularly how the whole class got to go through it together. And it was also a perfect teaching moment.
"Our class theme this year was 'You don't get what you wish for, you get what you work for," she said. "This has been the coolest real life experience to teach them that — that you can wish for things, but until you work for those things, you'll never get them."
×