PROVO — Thursday night was an ugly game, by all accounts — even BYU women's basketball coach Jeff Judkins doesn't often use that term to describe a college contest.
But it was also one thing that Judkins will prefer over an ugly game: a win.
Cassie Broadhead Devashrayee had 25 points, six rebounds, five assists and two steals, and Brenna Chase chipped in 13 points with three 3-pointers to help the BYU women's basketball team hold on for a 62-52 win Thursday night over Loyola Marymount in the Marriott Center.
Paisley Johnson supplied nine points, three rebounds and two assists off the bench for the Cougars (13-9, 8-3 WCC), who kept ahold of sole possession of second place in the West Coast Conference with the win despite not making a field goal in the fourth quarter.
"That was an ugly game tonight. It was an ugly game to watch, and it was an ugly game to coach," Judkins said. "But I knew it would be that way. LMU is a really physical team, and they do a great job of rebounding and being physical in there."
Raychel Stanley led Loyola Marymount (14-8, 6-5) with 12 points and six rebounds, and teammate Gabby Green added 10 points and seven boards for the Lions.
BYU shot just 37 percent from the field, and did not convert from the field after Sara Hamson hit a buzzer-beater in the final seconds of the third quarter for a 51-39 advantage.
"It was an ugly game, but they did a good job of getting us out of rhythm," said Devashrayee, who made 11 of BYU's 17 foul shots. "You've just got to get to the free-throw line and get those junk baskets."
The Cougars outscored their visitors 41-23 in the middle two quarters, but the Lions had a 29-22 edge in the first and fourth quarters.
After LMU jumped out to a 16-10 lead in the first period, the Cougars used a 22-14 mark in the second to get back into the game.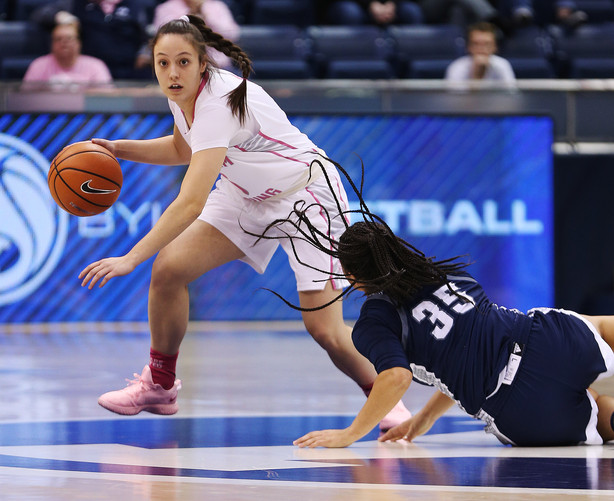 "I thought we moved a lot better on offense, and we pushed it more. Defensively, we didn't foul as much, either; I bet those two quarters were totally different," Judkins said. "Fouling does three things. It slows the game down, lets them rest and lets them set up the press and do things that we would rather not attack. I think we got out of rhythm because of that."
LMU opened the game on an 8-0 run, capped by Green's jumper two minutes into the first quarter, and BYU was forced to play catchup early.
After trailing 16-10 after one, Johnson pulled the Cougars within two, 18-16, on a 3-pointer just 47 seconds into the second quarter. After a 7-0 spurt by LMU, Malia Nawahine drained her second 3-pointer of the game to tie the game at 23-23 with 7:33 left in the half.
Devashrayee played all 40 minutes, and Chase finished with 38 minutes in the game. But Johnson, a freshman who has been BYU's most consistent bench player since the start of conference play, made 2-of-6 shots in 32 minutes in reserve of Nawahine, who fouled out with just six points and two rebounds in a mere 24 minutes for the Cougars.
"I didn't expect that, but that's hard for us; she's our senior and we look up to her," Johnson said of Nawahine's struggles. "It was hard, but I just tried to help the team as much as I can — especially on defense.
"I've been really focusing on being mentally strong and trying to do everything right that these ladies need me to do."
Chase's second trey gave the Cougars their first lead of the game, up 26-23 with 6:41 in the half during a 10-0 run.
BYU held the lead until Josie Buckingham knocked down a pair of free throws with 1:05 left for a 30-29 advantage. But Devashrayee hit a bucket at the buzzer to give the Cougars a 32-30 halftime edge.
The Cougars opened the half on an 8-2 run, paced by a pair of 3-pointers by Devashrayee to go up 40-32 with 7:38 left in the third.
And it's another win for @byuwbb! Check out the game recap to see what you missed. #BYUWBB#BYUSports#WCCHoopspic.twitter.com/UetnxQYr1l

— BYUtv Sports (@byutvsports) February 2, 2018
BYU shot better than 50 percent from the field in the third quarter, while holding the Lions to just one field goal on their first six shots — thanks in large part to the reliability of Hamson in the post.
The 6-foot-7 freshman post scored the final field goal of the game, and finished with six points, 12 rebounds and four blocks.
"We played a great third quarter, then started standing around in the fourth quarter and let them back in," Judkins said. "That's where a great player like Cassie makes a big difference."
BYU did not score in the fourth quarter until Devashrayee was fouled going up for a layup with 4:05 remaining. The senior knocked down both foul shots, but the Lions held the Cougars scoreless from the field in the final stanza.
Hamson drew her fifth foul with 3:49 on the clock, but Devashrayee made nine foul shots in the final period to hold on for the win.
The Lions tried to make a run in the final period, but Devashrayee kept them at bay from the foul line to ride out the victory.
"I had to be really assertive and get to the basket or the foul line just to get some sort of points from the free-throw line," Devashrayee said.
×
Photos