Estimated read time: 4-5 minutes
This archived news story is available only for your personal, non-commercial use. Information in the story may be outdated or superseded by additional information. Reading or replaying the story in its archived form does not constitute a republication of the story.
PROVO — A few years ago, a 6-foot-3 shooting guard from the Class of 2015 at Brewster Academy in Connecticut matched up against a similarly sized wing from New Hampton prep school in New Hampshire.
At the end of 2017, their two paths crossed again — on the other side of the country.
NBA rookie sensation Donovan Mitchell, the former Brewster standout who went to the Utah Jazz in the 2017 NBA draft lottery after two years at Louisville, reconnected with old friend Elijah Bryant on Thursday night in Provo.
After those prep school battles, Mitchell committed to Louisville, and his counterpart and colleague Bryant originally signed with Elon University in North Carolina. The two kept in touch — but geography and fate have a funny way of reuniting old friends.
But Mitchell, who has put himself in the thick of the conversation for NBA rookie of the year in his debut season with the Jazz, was seemingly blown away by the progress of the now-BYU junior guard — as well as the basketball crowd of a college campus 45 minutes south of his home court in Salt Lake City.
"It's incredible. I understand it's not as loud or passionate during a break," Mitchell said. "You don't get that vibe here. BYU fans are awesome.
"They're very passionate. It reminds me of Louisville, the way they love basketball. They love their Jazz, we love them, and it's an honor playing for this city."
For his part, Bryant — who had 22 points and a career-high 15 rebounds in front of Mitchell while helping the Cougars to a 69-45 win over Portland — isn't surprised by the early success of the rookie and former competitive rival.
"That guy is super athletic; I've always known that," said Bryant, a native of Gwinnett, Georgia. "He's super long, and it's all about mindset. He has an assertive mindset, and that's what you need in the league."
The duo stayed in contact over the years, and when Mitchell posted a tweet saying he would be at the game Thursday night — an off-day for the Jazz before hosting Cleveland at 6 p.m. Saturday — his teammates decided to tag along, too.
New Jazz two-way player signing Naz Mitrou-Long even brought the crowd with his Jumbotron version of Katy Perry's "Firework" during a timeout.
BYU coach Dave Rose admitted it's "a little bit of distraction," hosting Jazz players — his team has done it before, and Mitchell was generous with his time, stopping to sign autographs for fans and playing along during timeouts on the Jumbotron.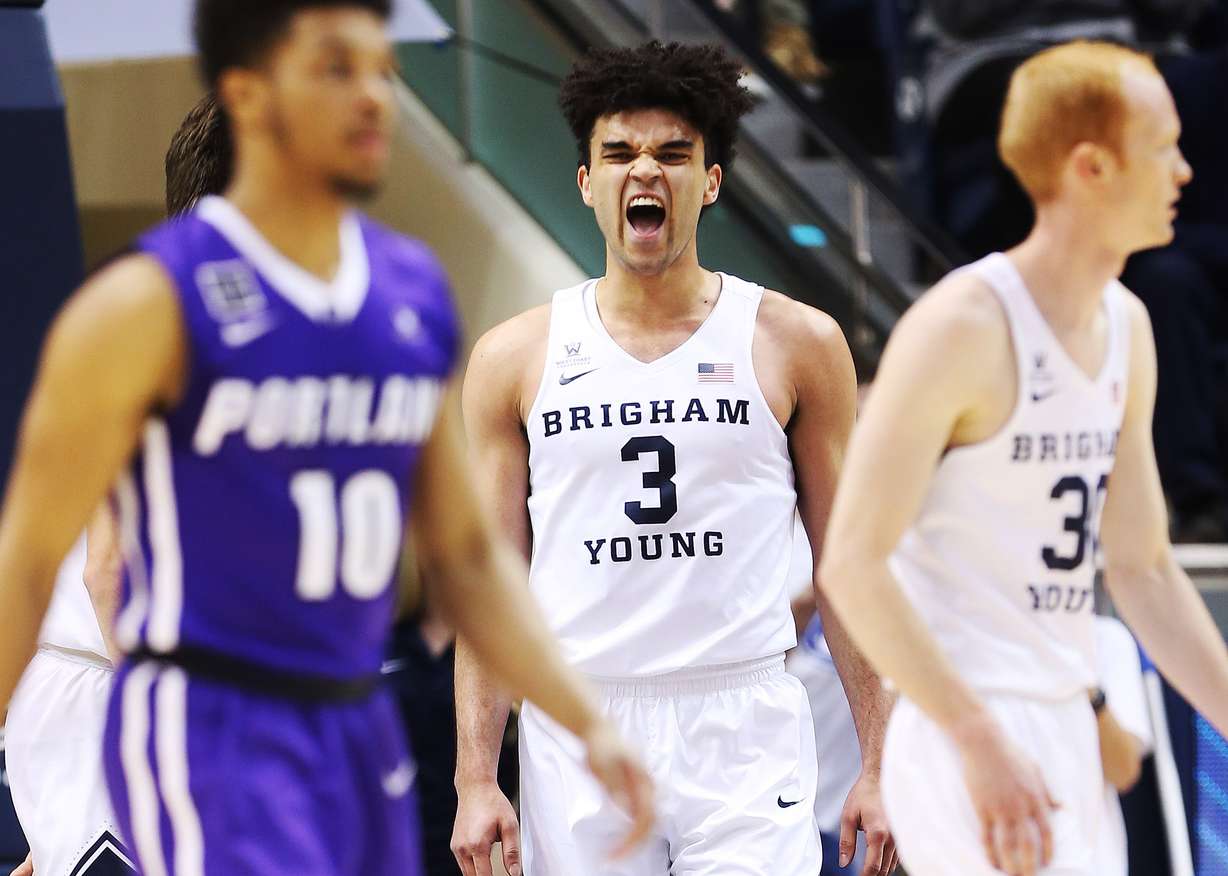 But the end result is an overwhelming net positive as basketball fans — both pro and college — unite in the state.
"You've got a little sideshow with all of the fans. But it was fun to have them here," Rose said. "I just think he's having an unbelievable rookie season; I had the chance to watch him a couple of weeks ago, and the future is great for that club.
"I think when the Jazz are good, the whole state benefits from it — the basketball world is more exciting and positive, whether in college, professional or high school."
Mitchell told Bryant after the game that Thursday night won't be the last time they reconnect.
"He said he was going to try to get to the game Saturday, but I'm pretty sure they have a game," Bryant said jokingly, "so I don't know how that is going to work."
The Cougars (12-2, 1-0 West Coast Conference) have plenty else to focus on. Less than 48 hours after dispatching Portland, BYU will host WCC favorites Saint Mary's in a pivotal conference clash at 2 p.m. MST Saturday on ESPNU.
The Gaels (12-2) are led by standout center Jock Landale, the 6-foot-11 center from East Malvern, Australia, who averages 21 points and nine rebounds as a senior.
"You've got to kind of pick your poison. If you keep one guy on him, he'll probably have a big night," Rose said of Landale. "If you bring a second guy on him, you're getting in a rotating and when Saint Mary's gets you in a rotation, they are usually pretty good at hitting shots. That will be our challenge."
×
Photos
Related stories
Most recent Sports stories