Estimated read time: 5-6 minutes
This archived news story is available only for your personal, non-commercial use. Information in the story may be outdated or superseded by additional information. Reading or replaying the story in its archived form does not constitute a republication of the story.
GROUSE CREEK, Box Elder County — In one of the most remote corners of Utah, where a spectacular bird called the greater sage grouse is hanging on in spite of a long-term trend of declining populations, cattleman Jay Tanner has a favorite slogan.
From the saddle of his horse, surrounded by cows, Tanner said, "What's good for the bird is good for the herd."
That slogan is at the heart of a $1.5 million deal aimed at helping the sage grouse — as well as cattle ranching — survive far into the future.
"It helps us to get out of debt," Tanner said. "It gives us the opportunity to expand the ranch. We may have the opportunity to buy other properties."
Proponents of the deal, though, are emphasizing its value to the future of the troubled sage grouse. The bird, known for its colorful mating rituals, has suffered drastic population declines since pioneers settled the West.
Ranchers are sometimes given a share of the blame. But now government agencies and a major environmental organization are betting big money that ranching can be part of the solution.
Some sage grouse advocates are less enthusiastic.
Michael Saul, senior attorney with the Center for Biological Diversity, an Arizona-based nonprofit group that seeks to protect endangered species, said it's "naive" to think that small-scale voluntary efforts on private land are sufficient to save the species.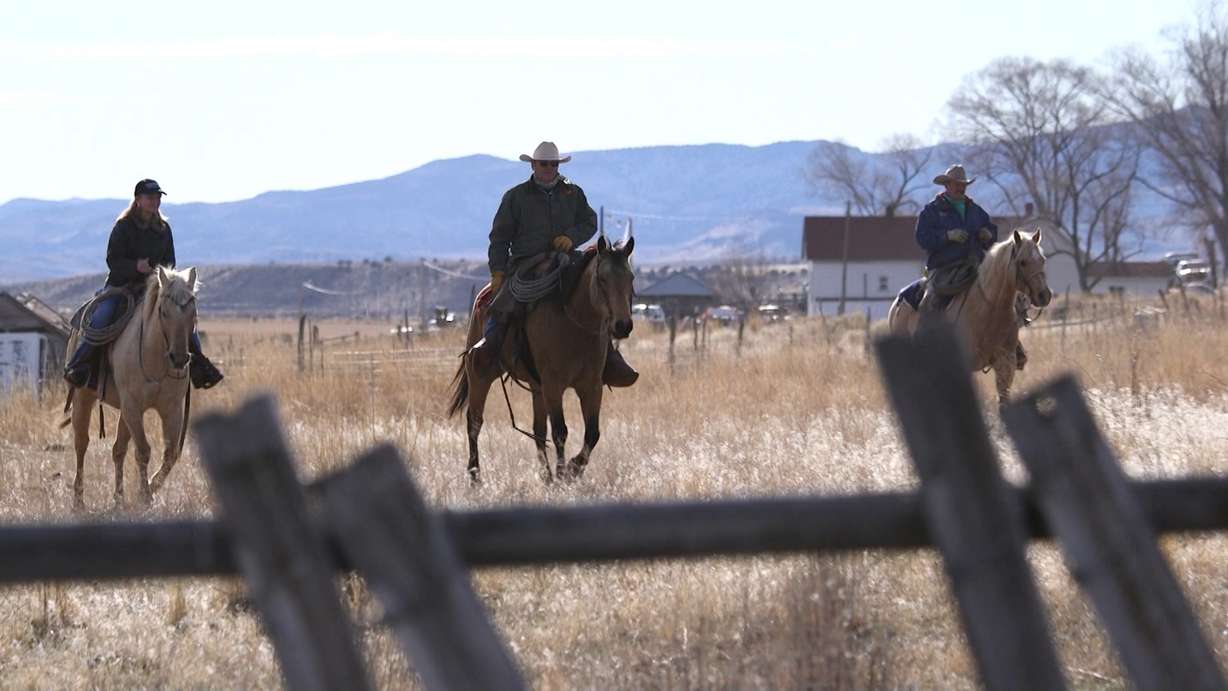 When cows are on the move in the deserts north and west of the Great Salt Lake, Tanner is often in the middle of it, doing a job he loves.
"What could be better than following cows around on horseback?" he said as he and some fellow cowboys saddled up and moved a few hundred cows.
Tanner's family has been riding herd in this corner of northwestern Utah for nearly 150 years.
"I'm grateful for the heritage we enjoy as a family," he said.
Part of that heritage is the greater sage grouse. It's a species loved by many — and worried over — because its future is shaky. Grouse numbers dropped drastically in the 1900s, although federal officials say the trend nearly leveled off in the past 20 years.
Many environmentalists are angry the bird has not been placed on the federal endangered species list. They accuse the federal government of stifling science and selling out to ranchers and other business interests.
But proponents of the deal with the ranchers say two northern Utah ranching counties, Box Elder and Rich, are strongholds for the sage grouse. The environmental preservation group the Nature Conservancy joined with two government agencies in striking a deal with ranchers.
"I think the Tanner family are very conservation-minded," said Elaine York, with the Nature Conservancy. "They've done a lot for wildlife."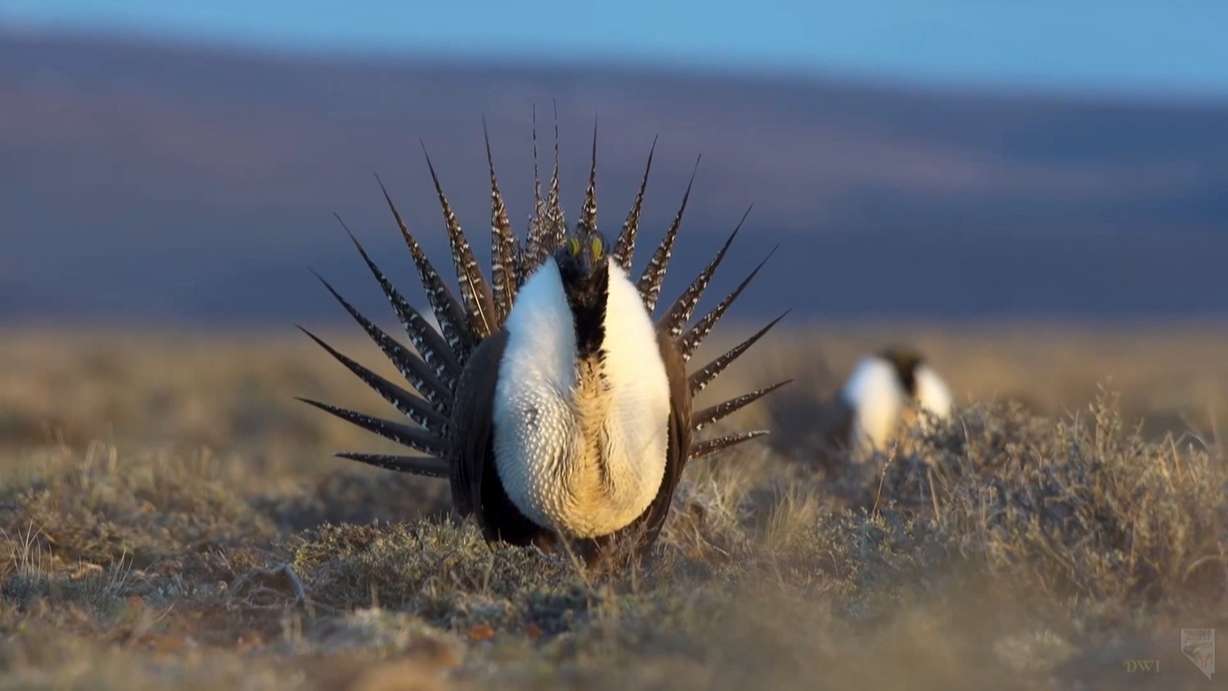 The deal essentially endorses Tanner's favorite slogan, building on the idea that if the lands are managed well for cows, it will ultimately benefit the sage grouse as well.
The Tanner family and the nearby Christiansen family signed conservation easements covering nearly 8,857 acres. In return for a legally binding agreement never to develop the land, they get nearly $1.5 million to more or less keep doing what they're doing.
"They won't, for example, develop it," York said. "And they also are going to graze in a way that will also be good habitat for wildlife."
A key advantage of the easements is that it will protect the range from what experts call "habitat fragmentation." If development is forbidden, it will reduce the threat that crucial habitat for sage grouse will be divided up by subdivisions, fencing, roads and utility corridors.
The ranchers will largely follow historic management practices, which includes ripping out pinyon and juniper trees. The theory is they're bad for wildlife and livestock. So-called PJ forests of pinyons and junipers have spread dramatically over the past century, possibly because of aggressive government efforts to suppress wildfires.
As the trees expand their range, they tend to destroy native sagebrush habitat that sage grouse rely on. On Tanner's Della Ranches, crews are using heavy machinery to rip out the trees.
"We look at juniper as an invasive species," he said, "and we're just trying to mow our lawn, so to speak."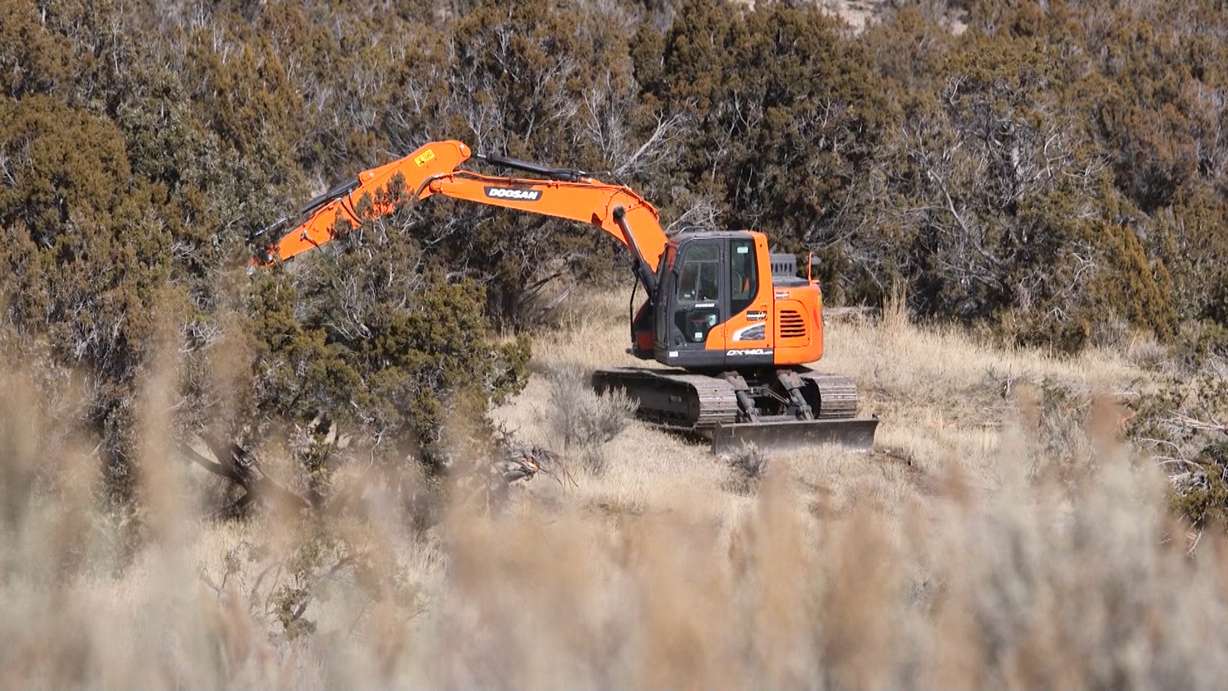 With control of the pinyons and junipers, and with careful management of limited water resources, Tanner said he believes there will be better grazing for cows and more sagebrush for grouse.
"Greater sage grouse is the species brought up most often here," York said. "But really, the sagebrush is important habitat for … something like 130 different species."
The agencies involved as well as the ranchers have a strong incentive to make a deal. They admit that part of their motivation is to avoid land-use restrictions that would protect the sage grouse if it's listed as an endangered species.
Tanner argues that compromise and cooperation are better than conflict and court battles. He's hoping the conservation easements will be a model for other ranchers "to find areas that we can agree upon and build on those agreements."
"People of goodwill can accomplish a lot," Tanner said.
The nearly $1.5 million that will be paid to the ranchers is from a mix of public and private funds. The federal Natural Resources Conservation Service is paying 40 percent, and the Nature Conservancy is contributing 39 percent. The remaining 21 percent will come from the state's LeRay McAllister Critical Land Conservation Program.
Saul acknowledges that conservation easements on private land might do some good, but he argues the impact will be minimal because most sage grouse habitat is on federal land.
"It's essentially just throwing good money after bad if the federal government is going to call for open season on sage-grouse habitat on public lands," the Center for Biological Diversity attorney said.
He blasted the Trump administration for undermining efforts to protect public lands from threats such as oil and gas drilling.
"For the species to survive over the long term, it needs to have large and undisturbed and connected areas of habitat throughout the sagebrush West," Saul said.
×
Photos
Most recent Utah stories