Estimated read time: 3-4 minutes
This archived news story is available only for your personal, non-commercial use. Information in the story may be outdated or superseded by additional information. Reading or replaying the story in its archived form does not constitute a republication of the story.
SALT LAKE CITY — Hundreds of protesters lined the streets south of the Utah Capitol Monday in hopes of sending a message to President Donald Trump before and after announced changes to Bear Ears and Grand Staircase-Escalante national monuments.
Even after a group split off from the Capitol crowd, marching downtown and squaring off briefly with police in riot gear near State Street and 100 South well after Trump had departed, there was no violence and protesters eventually dispersed after law enforcement officers calmly held their line.
Among those at the Capitol ahead of Trump's appearance was 10-year-old Robbie Bond, who stood with a small sign that read "Kids Speak for Parks." Bond, a fifth-grader from Honolulu, said he learned about the importance of preserving natural assets from the Dr. Seuss book, "The Lorax."
"If we don't protect the environment, bad things will happen," Bond said. "What President Trump is doing makes me feel really bad and sad."
Bond has become something of a minor media sensation since he founded Kids Speak for Parks, an effort, he said, helps "kids have a voice they can use to stand up for monuments."
Ashley Soltysiak, director of the Utah chapter of the Sierra Club, said she was attending the protest to show support for protecting public lands and for the five tribes she said have come together in a coalition advocating for the preservation of the current scope of the two monuments.
"These are sacred tribal lands with incredible archeological and historical significance," Soltysiak said. "What President Trump has done here is unprecedented. And, we are prepared to legally support the efforts of our allies."
Soltysiak also questioned statements that the monument downsizing was not motivated by natural resource extraction plans as well as the legal basis of Trump's action.
"We've just seen a comment period open up for oil and gas leasing right near Bears Ears National Monument so to say there are no potential extractive industries interested in these lands would be absolutely untrue," Soltysiak said. "Under the Antiquities Act, only Congress has the authority to reduce or eliminate a national monument. So what he's doing here is running completely contrary to that."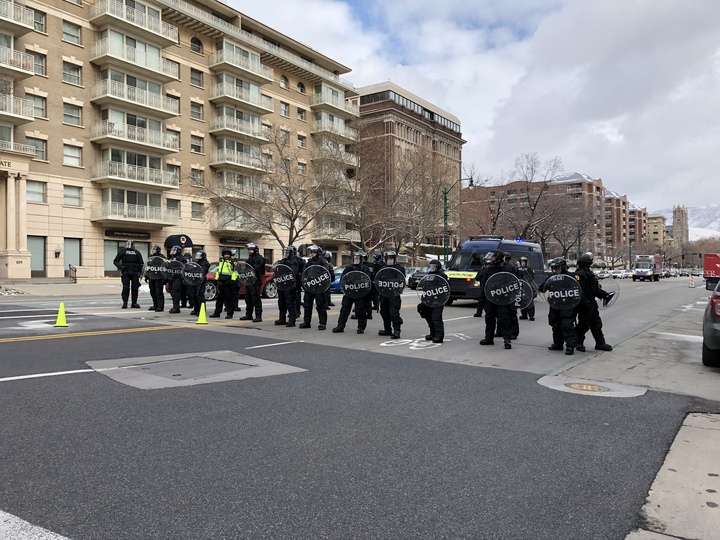 While those protesting Monday's announcement far outnumbered advocates, a small group of people held signs indicating their support for the president. Kevin Christensen, a Blanding resident who said he grew up in the area, came to the Capitol to celebrate Trump's announcement.
"The monument is too big," Christensen said. "There's not many of us out here today, but I'm defintely here to show our appreciation that Donald Trump listened to us, and we're going to get some good work done today."
Kenneth Maryboy, a Diné medicine man and board member for the Diné Bikéyah, a Utah nonprofit group working to "preserve and protect the cultural and natural resources of ancestral Native American Lands," said Trump's decision to downsize Bears Ears ignores the importance of the land to local indigenous people.
"A lot of my people still have a connection to Bears Ears with herbal gathering, ceremonies and prayer services," Maryboy said. "The area is very, very special and spiritual to us. Our first warrior, Chief Manuelito, was born there. The legacy they left behind, we'd like to see that continue for future generations."
Southern Utah Wilderness Alliance Executive Director Scott Groene said Trump's decision to drastically reduce the scope of both monuments should incense not just Utahns, but residents across the country.
"This will be one of the most extraordinary losses of protected areas we've seen in Utah, and it's also one of the greatest attacks on public lands by any president, ever," Groene said. "These lands belong to all Americans."
Groene also promised that the decree will not come to fruition.
"Trump's actions are illegal and we'll be joining other environmental organizations and Native American tribes in challenging his actions," Groene said. "It will be overturned in federal court."
×
Photos
Related stories
Most recent Utah stories