Estimated read time: 2-3 minutes
This archived news story is available only for your personal, non-commercial use. Information in the story may be outdated or superseded by additional information. Reading or replaying the story in its archived form does not constitute a republication of the story.
RIVERDALE — A semitruck carrying cattle was likely traveling faster than the posted speed limit on an I-84 on-ramp when it tipped over spilling cattle on I-15 below Wednesday morning, authorities said.
Utah Highway Patrol troopers said a semitrailer hauling cattle was traveling southbound on I-15 and turned onto the on-ramp to eastbound I-84 when it rolled about 11:30 a.m. Troopers said the truck was traveling faster than the 45 mph speed limit at the time.
Cattle in the truck then fell from the overpass onto I-15 southbound. Troopers said they did not know how many cattle were killed in the crash. Images from KSL Chopper 5 showed about a dozen cows on the freeway below. Some of the cattle appeared to be dead and other cows were corralled by crews on scene.
No one was injured in this accident.
The crash did, however, create a chaotic scene for motorists traveling on I-15 at the time. Kerri Kofoed, one of those motorists, said she was commuting to work in Layton when she saw a cow fall off from an I-84 overpass above in front of her car.
"A big, black blob came flying at my windshield and the next thing I knew my airbags deployed and I slammed into the median wall," she said, recalling the moment. Kofoed said her car then went into a slide and spun around several lanes before her car came to a rest facing oncoming traffic while more cattle was falling around and behind her car.
"It was just a very random moment in time," she continued. "When my car stopped and I saw traffic was still coming at me, I jumped out and ran off to the side of the road and that's when I saw all of the cows strewn across the road and the semi with its trailer tipped over basically chopped in half."
Once she was safe away from the car, she called 911. She said she was shaken but uninjured.
"I didn't even realize until a good hour later when I was still sitting on the side of the freeway that I could have died if I had been going 5 mph slower," she said.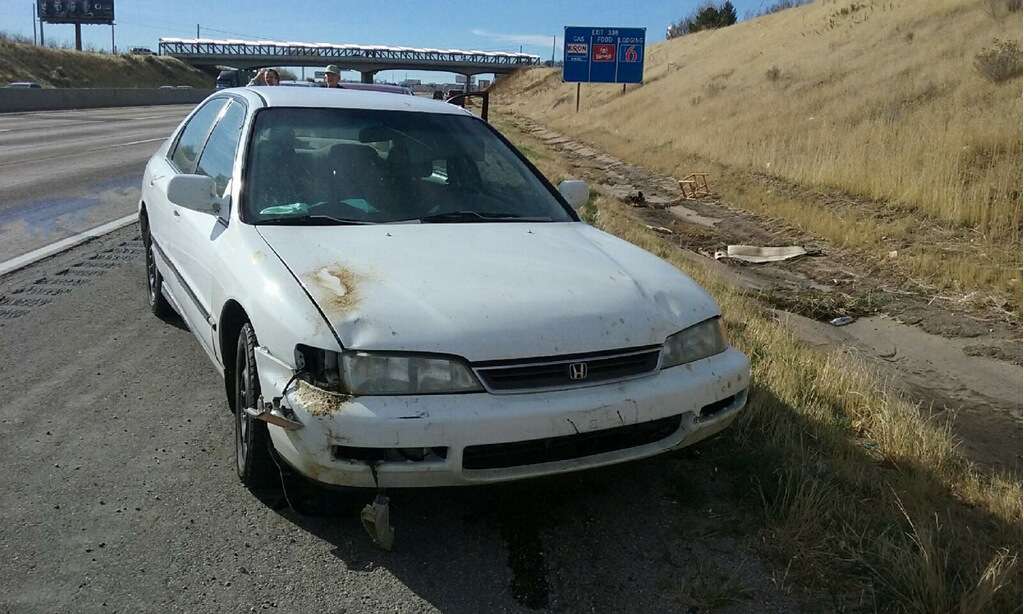 The rollover snarled traffic on both I-84 eastbound and I-15 southbound for several hours while crews cleaned the cattle from the road. Interstate 15 southbound lanes reopened around 3:15 p.m. The on-ramp to I-84 eastbound lanes reopened just before 5 p.m.
A similar accident occurred in January 2016 when a truck hauling cattle tipped over on the same ramp while trying to get on I-84 from I-15. Speed was considered a factor in that crash, according to authorities.
Wednesday's crash remains under investigation.
Contributing: Brianna Bodily
×
Photos
Most recent Utah stories