Estimated read time: 3-4 minutes
This archived news story is available only for your personal, non-commercial use. Information in the story may be outdated or superseded by additional information. Reading or replaying the story in its archived form does not constitute a republication of the story.
SANDY — Real Salt Lake's season ended nearly two weeks ago in a 2-1 "decision day" win over Sporting Kansas City that saw the club miss the MLS Cup playoffs for the second time in three seasons by the slimmest of margins.
But there's no reason for the club to sit stagnantly. Multiple signings and re-signings lay ahead during a busy offseason, including contract negotiations with mainstays Kyle Beckerman and Nick Rimando, as well as possible decisions on players like Brooks Lennon, Albert Rusnak, Yura Movsisyan and a host of others.
The first domino fell Thursday.
RSL exercised a club option on the loan contract of forward Jefferson Savarino, making the Venezuelan international a permanent fixture at Rio Tinto Stadium, the club announced Thursday afternoon.
And the best is yet to come, Savarino said.
"As a player, I always want to get better," he told the media in Spanish. "This season, I got better — but this season is in the past. Now I'm trying to get even better every day in my weaknesses, and to reach a higher level next season."
Terms of the deal were not immediately available, but the club disclosed that Savarino will be a Young Designated Player in MLS for a club with which he totaled six goals and five assists in 22 appearances in 2017.
Savarino held a base salary of $352,500 during his loan stint in 2017, according to salary information released by the MLS players' union in September.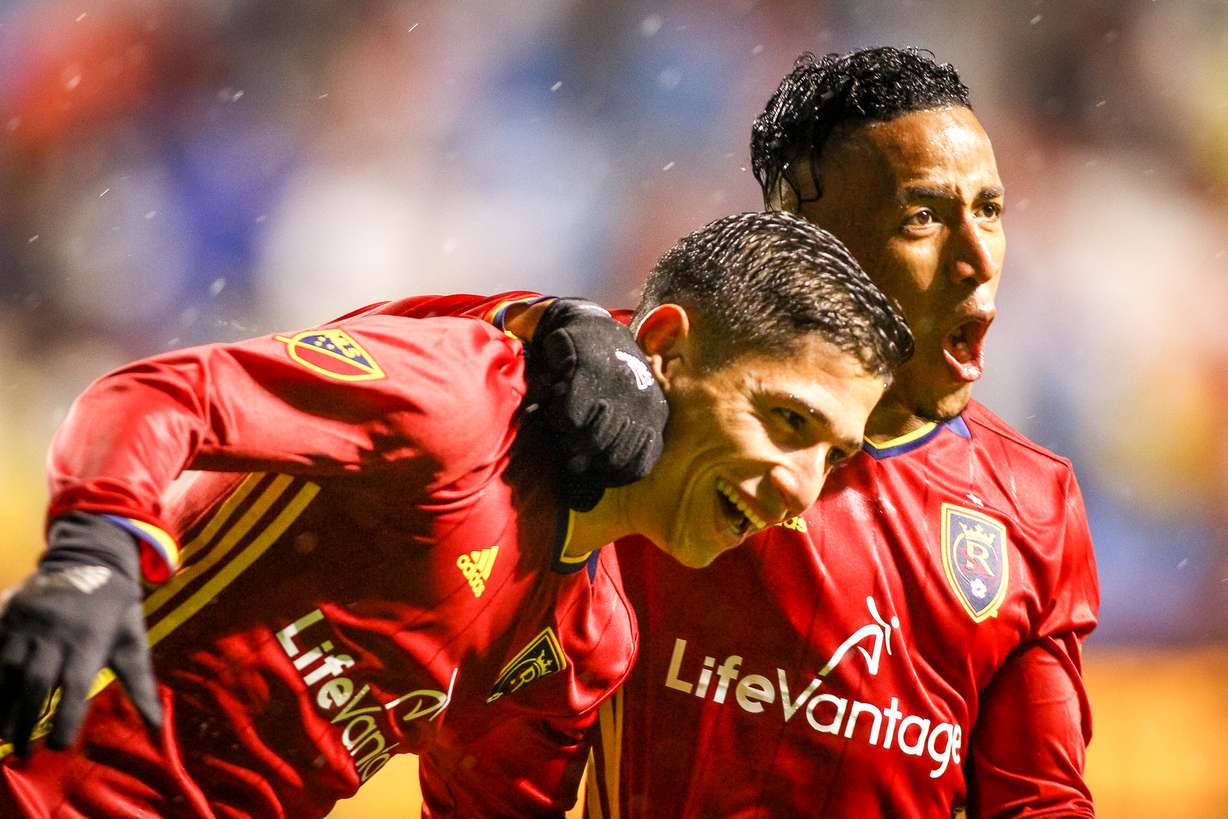 Since making his debut with the Utah side on May 13 in a substitute appearance against New England, head coach Mike Petke was impressed by the Venezuelan international. RSL was 10-5-4 in Savarino's 19 starts, outscoring opponents 36-24.
Just as important was his connection with the dynamic "front four" that also included Rusnak, Joao Plata and Luis Silva, according to Petke.
"From the first moment that he got here, the coaching staff and I turned to each other and noted the dynamic between him and Albert and Plata and Luis," said Petke, who signed a three-year contract extension last week. "Not to get a little weird, but soccer is a language in itself, and not many soccer players speak that language.
"You don't need to know someone for a long time, or speak the same language; if you get it, you get it. With Albert, Jefferson, Luis and Plata, they get it."
Savarino made his senior international debut since arriving at Real Salt Lake as well. The 20-year-old from Maracaibo, Venezuela, played in a 1-1 draw with the United States in an international friendly June 3 at Rio Tinto Stadium. He later made several appearances in camp during CONMEBOL World Cup qualifying, but did not see any playing time with La Vinotinto.
RSL's contract purchase from Zulia FC, which was pre-determined upon the signing of the loan deal between the two clubs, is the first formal negotiation conclusion of the 2017 offseason.
But it won't be the last, general manager Craig Waibel noted.
"Any time you get that first one done, it triggers the next domino. You buy back seconds that cost you hours in negotiations," Waibel added. "Our league is growing rapidly. We're becoming more and more relevant all over the world. And just in our market — we're Salt Lake City and we have a chip on our shoulder. But when we all sit back, we realize that we are a smaller market and so we're becoming relevant in the world.
"We have a young Slovakian national team player, a young Ecuadorian national team player, a young Venezuelan national team player, and multiple young U.S. players. These are steps that we've been taking over the course of years to make my life a little less stagnant — and it's worked. I have very little time. But it's well worth it on days like this."
×
Photos
Related stories
Most recent Sports stories