Estimated read time: 2-3 minutes
This archived news story is available only for your personal, non-commercial use. Information in the story may be outdated or superseded by additional information. Reading or replaying the story in its archived form does not constitute a republication of the story.
Team coverage A new report shows Utah has the 10th highest rate of foreclosure filings in the nation. The report released by RealtyTrac Inc. also shows that the number of Utahns facing foreclosures rose 136 percent compared to the same time last year.
By the end of the year, RealtyTrac Inc. expects that over a million bank-owned homes will be sitting in the market. That's a third of all properties for sale in the U.S. RealtyTrac Inc. says 4,867 Utahns received at least one foreclosure-related notice during the third quarter.
The Salt Lake City area, compared with other metro areas, had the 43rd highest rate of foreclosure filings in the nation for the third quarter of 2008 with over 2,000 homeowners receiving a foreclosure notices.
Statewide foreclosures for the month of September went up 114 percent compared to September 2007. Jeremy Leger, owner of Elite Realty Group says, "There are so many foreclosures out there right now that the market is just saturated with them."
Leger is working with several buyers looking at foreclosed properties. He says the today's market, with the number of foreclosures on the rise, is a double-edge sword. "For buyers right now, it's an excellent time to go out and find a home at a great deal. But it is a hard time for our sellers because their competition are homes that are in default and that the bank is trying to sell for a extremely discounted price."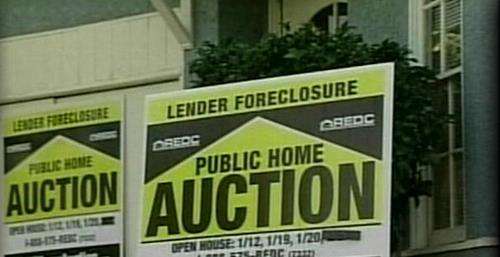 Leger says right now with the current economy and recent drop in home values, many homeowner owe more than their homes are worth, but that doesn't mean banks won't work with their mortgages to help keep them from foreclosure.
The number of foreclosure filings nationwide grew by 71 percent in the third quarter of this year compared with the third quarter of 2007. In all, nearly 766,000 homes around the country received at least one foreclosure-related notice from July through September.
The West is getting hit the hardest. Rick Sharga with RealtyTrac didn't call out Utah but named some states close by. "The states with the biggest problems continue to be California, Nevada, Arizona, Florida, Ohio and Michigan," he said.
Nationwide foreclosure filings for September were actually down 12 percent from August, but according to RealtyTrac that is because of new laws that went into effect that delay the foreclosure process.
Leger believes things will turn around. He says the market has been correcting itself and now, maybe, it's corrected itself a little too much.
E-mail: mrichards@ksl.com
E-mail: spark@ksl.com
E-mail: mgiauque@ksl.com
(The Associated Press contributed to this report. Copyright 2008 by The Associated Press. All Rights Reserved.)
×
Related links
Most recent Utah stories