Estimated read time: 4-5 minutes
This archived news story is available only for your personal, non-commercial use. Information in the story may be outdated or superseded by additional information. Reading or replaying the story in its archived form does not constitute a republication of the story.
PROVO — Unlike in previous seasons, the BYU football team didn't enter fall camp with a competition or a controversy or a decision to split equal reps between quarterbacks for the sake of determining a Game 1 starter.
Tanner Mangum is the starting quarterback, and barring injury or another unforeseen malady, he will lead the first-team offense onto the field beginning Aug. 26 against Portland State, into Houston a week later, against Louisiana State, and for the remainder of the season.
The quarterbacks behind him have come to accept — and support — the decision, and Beau Hoge, Koy Detmer Jr., Kody Wilstead and Joe Critchlow have fallen in line. They practice, play and do extra work knowing that they will wait until something unforeseen requires their attention — or they find some other way to contribute in 2017.
Austin Kafentzis also started fall camp in the quarterback room, but he has been officially moved to wide receiver, as noted on the BYU fall camp roster for the former Jordan High standout who shattered Utah high school quarterback records.
"We come out every day and want to compete," Detmer Jr. said. "We want to be efficient. But we try to keep it funny; we love each other, and we're great friends. But when we get into drills, we want to be sharp, make throws, and just be competitors."
There's a reason for that, added offensive lineman Tuni Kanuch.
"All of them are trying to get on that plane," he said. "On Saturday during the scrimmage, they were moving the ball and throwing it everywhere. They looked mean."
Offensive coordinator Ty Detmer expects to make an official decision on the primary backup to Mangum in the next week, long enough to prepare the No. 2 for additional minutes during the regular season.
But the race is almost certainly down to Hoge and Detmer Jr., who both redshirted in 2016 while splitting scout team duties. The 6-foot-6 Wilstead is a talented passer from Pine View High in St. George, but returned from a two-year mission for the LDS Church just before spring football. The same can be said of walk-on freshman Joe Critchlow, a pro-style quarterback who had interest from Tennessee before enrolling at BYU following a mission.
"They're all good guys; that's first and foremost," said Hoge, the 6-foot-2, 210-pound son of former NFL running back Merrill Hoge. "They are easy to be around.
"Kody is really starting to pick things up, and Joe Critchlow, too. They're really smart, and they stay focused. It pushes me and Koy, it pushes Tanner, and it's good to have guys who come in and are ready to work."
Based on limited practice viewing given to media during fall camp, Hoge appears to have a slight edge on Detmer Jr. for the backup role. He also has the slight edge in experience; Hoge played in three games as a true freshman in 2015, completing 10 of 17 passes for 137 yards and a touchdown, with two more rushing touchdowns, as Mangum's backup that followed a devastating Lisfranc injury for former star Taysom Hill in the season opener.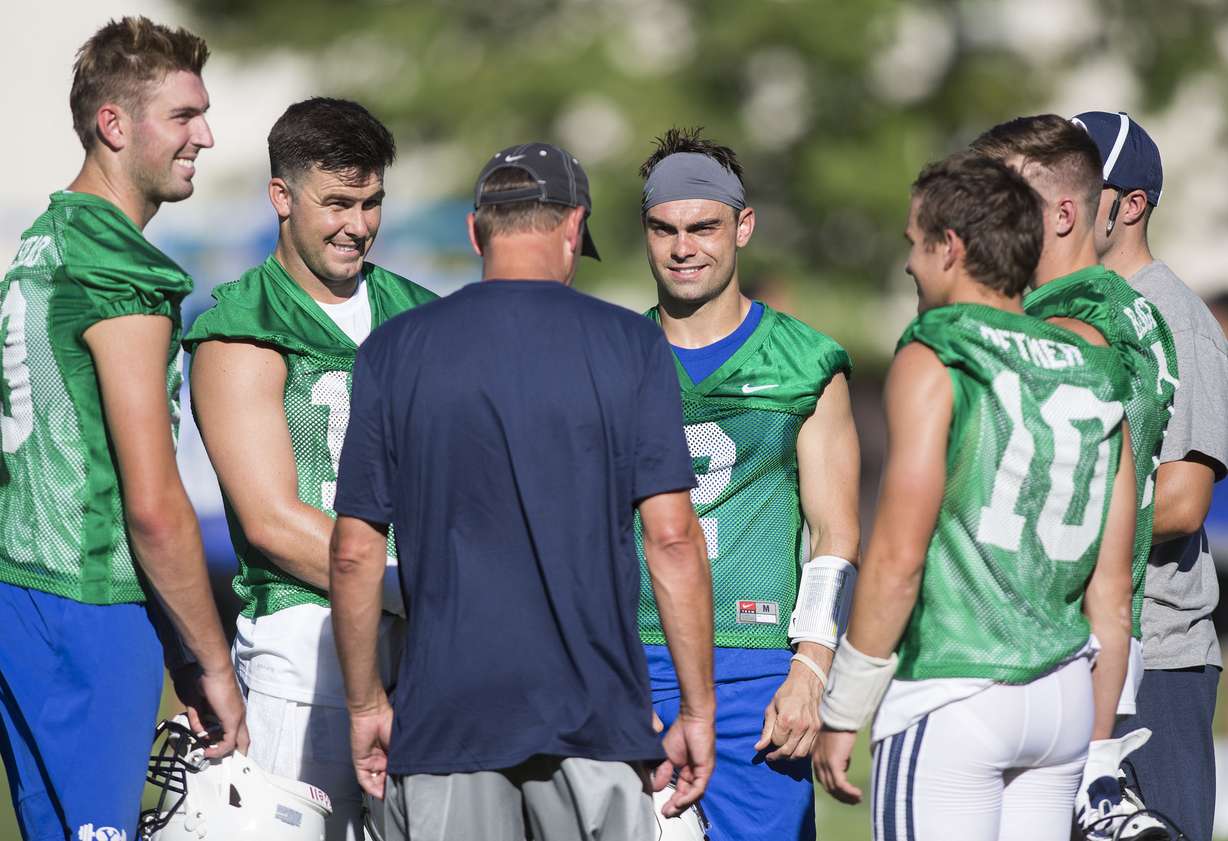 Of course, it would be silly to completely count out Detmer Jr.'s role in the offense. The nephew of BYU's offensive coordinator and son of former NFL quarterback Koy Detmer, "little Koy" has been called the co-offensive coordinator by his peers for his knowledge of the scheme that borrows heavily from his grandfather, legendary Texas high school football coach Sonny Detmer.
"In Sonny's offense, his touch and his timing are remarkable," Hoge said of his fellow QB. "He hit a post in practice the other day that was right over the top of dudes, peeking around defenses, and it was one of the best throws I've seen in all of spring and fall camp. Koy is the man."
A self-described "huge nerd" for his love of video games and frequent League of Legends updates on his Twitter feed, Koy Detmer Jr. has come a long way since his freshman year, when his only statistical contribution to the team was a 3-for-3 passing day against FCS foe Wagner.
Detmer Jr. has earned the respect of his teammates and coaches, alongside his fellow backup Hoge.
"Beau's doing well, but he still needs reps. Once the season starts, they won't get as many," coach Detmer said. "He's athletic, you can see him make plays with his legs.
"Koy understands it, and knows where to go with it."
No matter where they stand on the depth chart, both quarterbacks are in agreement on one thing: helping an offense that puts the Cougars in the best position to win games.
"Everyone was new last year, and now we can get past the base stuff and get into new stuff early," Detmer Jr. said. "This offense is pro-style, but also multiple; we can get in the gun, under center, double tight. It's so versatile and puts a lot of pressure on opposing defenses.
"They're going to see something new every week."
×
Photos
Related stories
Most recent Sports stories