Estimated read time: 2-3 minutes
This archived news story is available only for your personal, non-commercial use. Information in the story may be outdated or superseded by additional information. Reading or replaying the story in its archived form does not constitute a republication of the story.
Tax incentives for major motion pictures, independent films and television series could bring big bucks into the state. That was the message to lawmakers on Capitol Hill this morning.
Despite problems that some states are having with their film incentives programs, the Utah Film Commission and others said this motion picture incentives bill would create jobs and increase tax revenues.
The High School Musical trilogy, shot in Utah, has made East High School destination central for tourists. East High School Principal Dr. Paul Sager said, "We have people from all over the world, you know. We actually restrict it to where they can't actually tour the building until 2:30 in the afternoon, or they'd be there all day."
Managing Director of the Utah Office of Tourism Leigh von der Esch said, "No state could buy a billboard that's bigger than a film. We are going to see the trifecta of movies with 'High School Musical 3.'"
The film commission and others presented a new Motion Pictures Incentives Bill to legislators. The group promised increased tax revenues and more productions. Film Producer Trevor Albert said, "The crews are fantastic. The other incentive beyond the economic is that I have a family that lives in LA, and I can be home on the weekends."
Jason Perry, executive director of the Governor's Office of Economic Development, said, "We are losing the industry right now in the state. We have companies that are going to where the opportunities are better in surrounding states."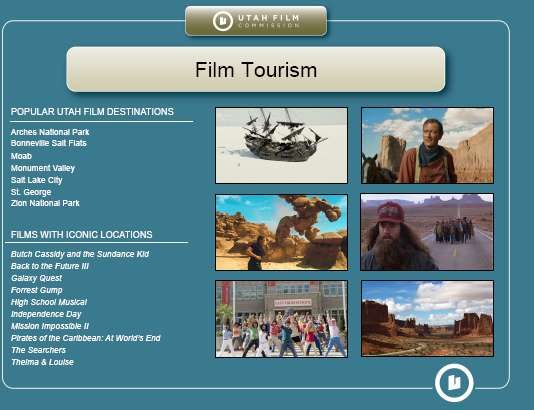 Without the incentive of a 20-percent tax credit for the production, Utah lost the latest "Indiana Jones" film made for $125 million and "Iron Man" with a $140 million budget. Actor Johnny Depp came to shoot a scene in the last "Pirates of the Caribbean" film in Utah.
But other states are in trouble. Louisiana will have to sell off $27 million of tax credits for the latest Brad Pitt movie, and Michigan's Legislature is fighting over a 40-percent rebate on expenditures to filmmakers. Marshall Moore, director of the Utah Film Commission said, "They're giving incentives on the entire budget, not just 'the spend in the state.' Utah will only rebate or give a tax credit for 'spend in the state of Utah,' and our percentage will remain such that we don't overspend."
A legislative interim committee voted unanimously to move the Incentives Bill forward. That means it has the support to be seriously considered during the 2009 Legislative session.
To see part of the presentation the Utah Film Commission presented today to the interim committee, click on the related link.
E-mail: mrichards@ksl.com
E-mail: cmikita@ksl.com
×
Related links
Most recent Utah stories