Estimated read time: 5-6 minutes
This archived news story is available only for your personal, non-commercial use. Information in the story may be outdated or superseded by additional information. Reading or replaying the story in its archived form does not constitute a republication of the story.
BAKER, Nev. — A tiny community on the Utah-Nevada border is fighting for the right to be silly — or to make art, depending on which roadside attractions one might prefer.
The drama — or comedy — is playing out in an obscure part of the Great Basin near U.S. 50, often labeled "the loneliest road in America." On an even lonelier side road, Nevada state Route 488, motorists headed west for Great Basin National Park are likely to see works of art left along a fence line by people who appreciate puns.
"Yeah, bad puns that were delightful," Lynne Hoffman, of Baker, Nevada, said as she walked the fence line.
One creation labeled "Grate Basin" is essentially an old metal grate with a corroding metal sink attached.
There's a cowboy made from pieces of clothing strung on struts and wires whose name is Bob Wire. Nearby, there's a fence line cowgirl named — you guessed it — Barb Wire.
Even locals admit the location is pretty much in the middle of nowhere, although it does offer views of scenic Wheeler Peak. So, naturally, there's a fence post artwork commemorating the mountain. It's a wheel with the letters "ER" attached along with a picture of a man peeking from behind. Get it? Wheel-ER-Peek.
Another artwork called "Anywhere But Here" features a squatting man who looks like a robot; his midsection is a rusting and decrepit toaster oven.
Some say the roadside art reflects the personality of a small but eclectic population in the mostly uninhabited spaces around Baker.
"Kind of a bit of defiant spirit with some humor and quirkiness to it," said Baker resident Patricia Dore.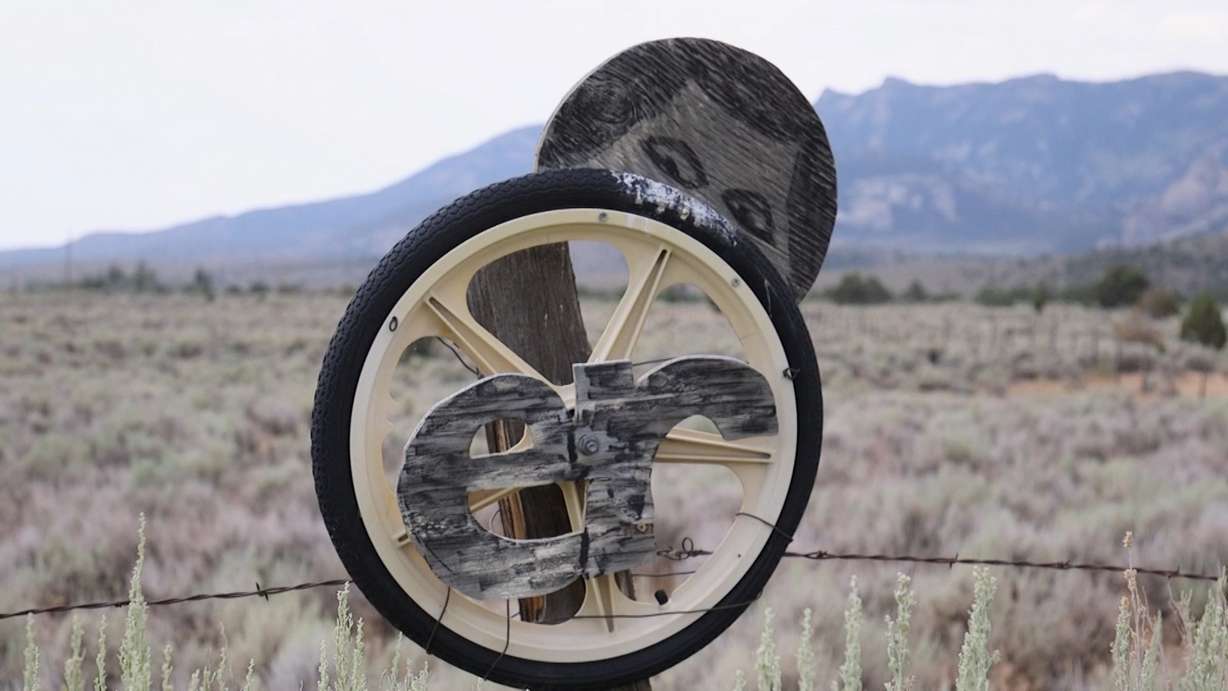 A lot of the artwork is positioned on top of fence posts. That's why a local art enthusiast — or more likely a local comedian — labeled it "post-impressionist art."
It all started with gloves. Twenty years ago, a creative spirit named Doc Sherman filled some gloves with urethane foam and attached them to a roadside fence.
"They were all along the fence posts," said Katherine Rountree, of Spring Valley, Nevada. "And he called it the 'Permanent Wave Society.'"
Sherman subsequently passed away, but other folks from the region added their own art and their own humor.
A rusty wreck of a car sits in the sagebrush with a weathered old skull from a horse in a position that makes it look like a horse is driving. Labeled "The Horse With No Name," the artwork seems to be open to any interpretation.
"It's a nice way of describing life out here on the prairie, in the desert," Hoffman said with a chuckle.
The roadside art over the years has gotten fancier, bigger and, in some cases, closer to the road.
"There've been some more sophisticated art pieces in more recent years," Hoffman said.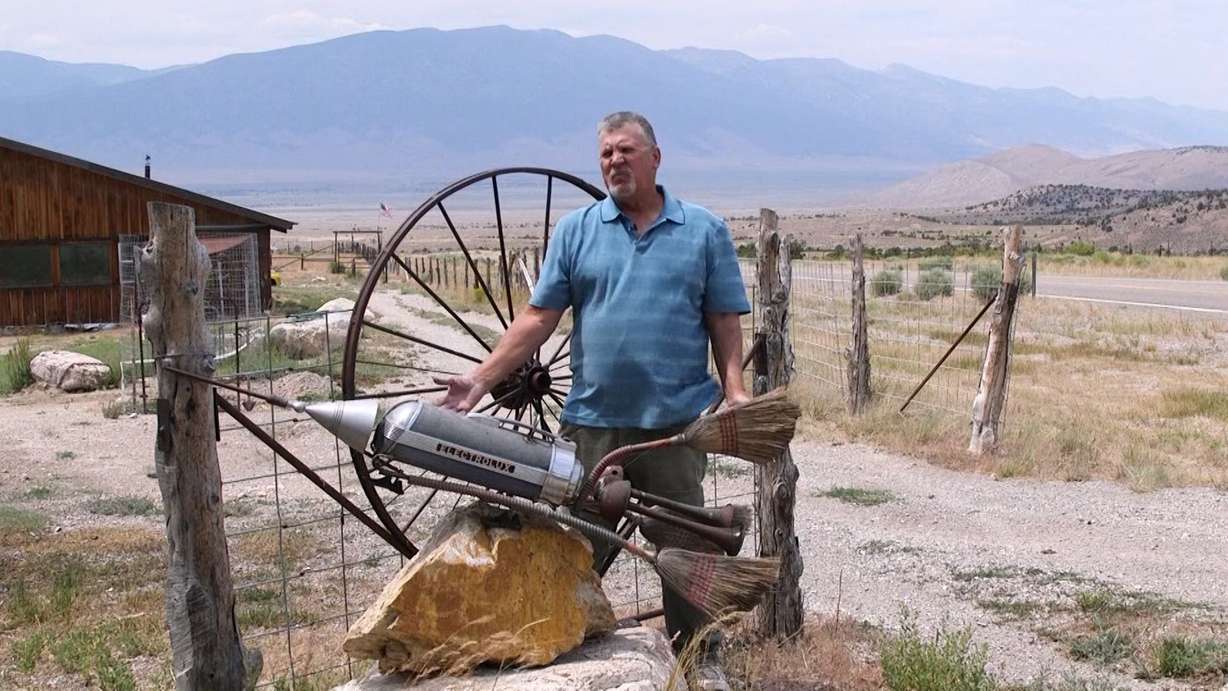 Bill Rountree co-created "The Horse With No Name," but another artwork might be his masterpiece. It's a rocket ship made from three brooms and an old Electrolux vacuum. And he had a convincing explanation: "This is titled 'Because Space IS a Vacuum.'"
Bill Rountree never put the rocket alongside the road, and that turned out to be a good decision. Last fall, workers from the Nevada Department of Transportation suddenly removed much of the roadside art.
"This is 'Pegasus,' which was taken down by the state," said Baker resident Ursula Miller, holding up a calendar with a photo of a horse crafted artistically from pieces of junk.
"Pegasus" and some other works of art are now behind security fences at an NDOT facility a few miles from Baker.
Miller said state transportation crews removed works of artistic value.
"There's just lots of creativity and decoration," she said. "And it's just fun."
NDOT removed the artworks from what is called the "clear zone" alongside the highway.
"Some of those sculptures and artwork were within 10 feet or less of passing vehicles, creating potential safety concern," department spokeswoman Meg Ragonese said in a written statement to KSL.
"The clear zone is essentially a clear, unobstructed area just off the paved roadside that allows drivers to safely regain control or stop their vehicle if it runs off the road. Safety is our top priority," Ragonese said.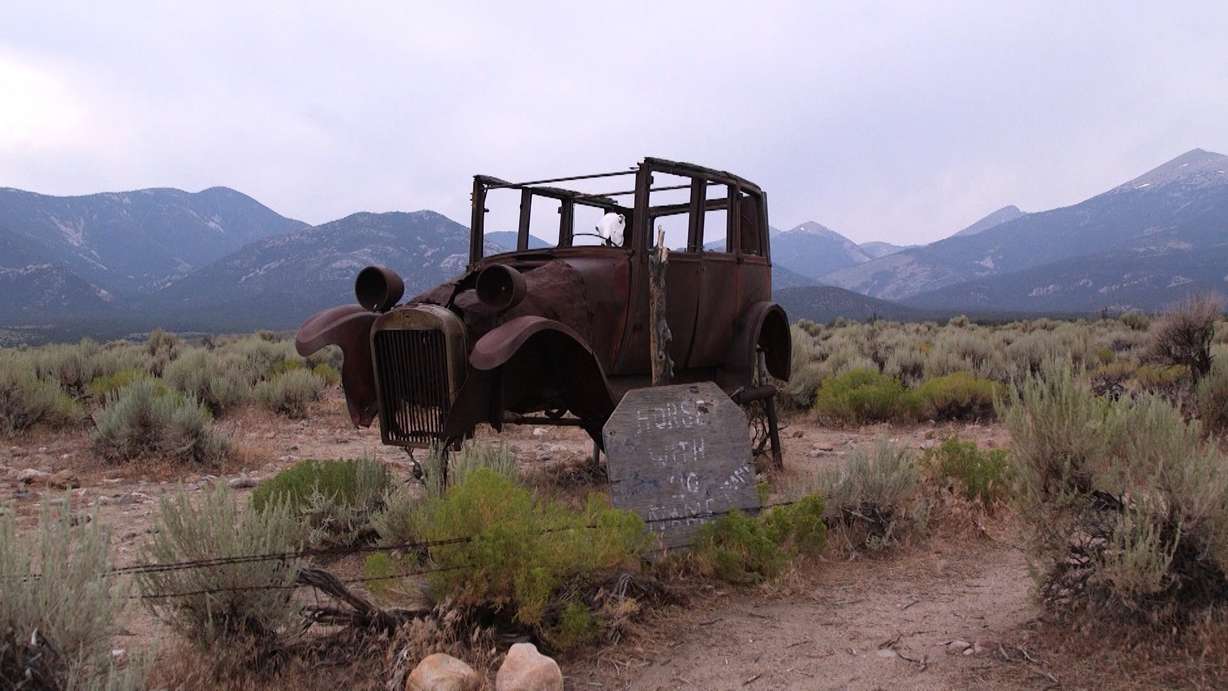 Concerned citizens also reported vehicles "stopping in the roadway to take photos of the sculptures," creating another safety hazard, she said.
Still, many residents remain perturbed by the department's action.
"It just seems kind of silly that somebody just came along with a dump truck and slapped all this stuff," Dore said. "And a lot of it was destroyed."
It's not that bureaucrats hate art or have no sense of humor. NDOT did not respond to inquiries from KSL, but the agency was evidently concerned that a growing sculpture garden in a state highway right-of-way presented safety issues.
"I can see some people's point, that it might be a danger," said Katherine Rountree. "People were stopping at the wrong spots."
In the months since crews removed the art — and returned some of it to owners — Hoffman has been trying to negotiate a new policy.
"The people of Baker are willing to work with NDOT to come to some kind of compromise," she said.
Among the ideas that have been talked about is to designate a special area for outdoor sculptures with safe parking spots. Some have even suggested that a formal permit system could be created.
But the idea of someone deciding what is and isn't permitted doesn't fly with Katherine Rountree.
"Someone has to say, 'Oh, yeah. That's good' or 'That's bad.' That wasn't the spirit of the thing," she said. "The spirit was everyone could participate. Who's to say what's good and what's bad? What's good to me is not good to you. The most famous or expensive painting is not something I would hang on my wall."
×
Photos
Most recent Utah stories