Estimated read time: 3-4 minutes
This archived news story is available only for your personal, non-commercial use. Information in the story may be outdated or superseded by additional information. Reading or replaying the story in its archived form does not constitute a republication of the story.
LOGAN — Utah State coach Matt Wells was as disappointed as anyone when the Aggies went just 3-9 last year, including 1-7 in Mountain West play.
And he's more eager than anyone to get the Aggies back on the right track.
"It was disappointing. It stunk," Wells said during the Aggies' annual Media Day Thursday. "Not the way our kids played, not the way our kids competed, I want that to be known. I'm not disappointed in them. They fought tooth-and-nail all the way through the last game of the year, as evidenced by two buzzer-beater losses in the month of November.
"But the thing it probably did for me, and I think we're all like this in our jobs, is you go back and re-evaluate everything."
The Aggies, who were picked to finish last in the conference in a preseason media poll, made plenty of changes in the offseason. The offseason returns just six players, including senior quarterback Kent Myers, who earned all-Mountain West honorable mention honors as a junior.
They brought in offensive coordinator David Yost from Oregon, who immediately went to work establishing a new system for his signal caller.
"Coach Yost is the right man for the job," Myers said. "He's a family guy. This summer, he told us to enjoy our time away from football so we could be fresh when we came back.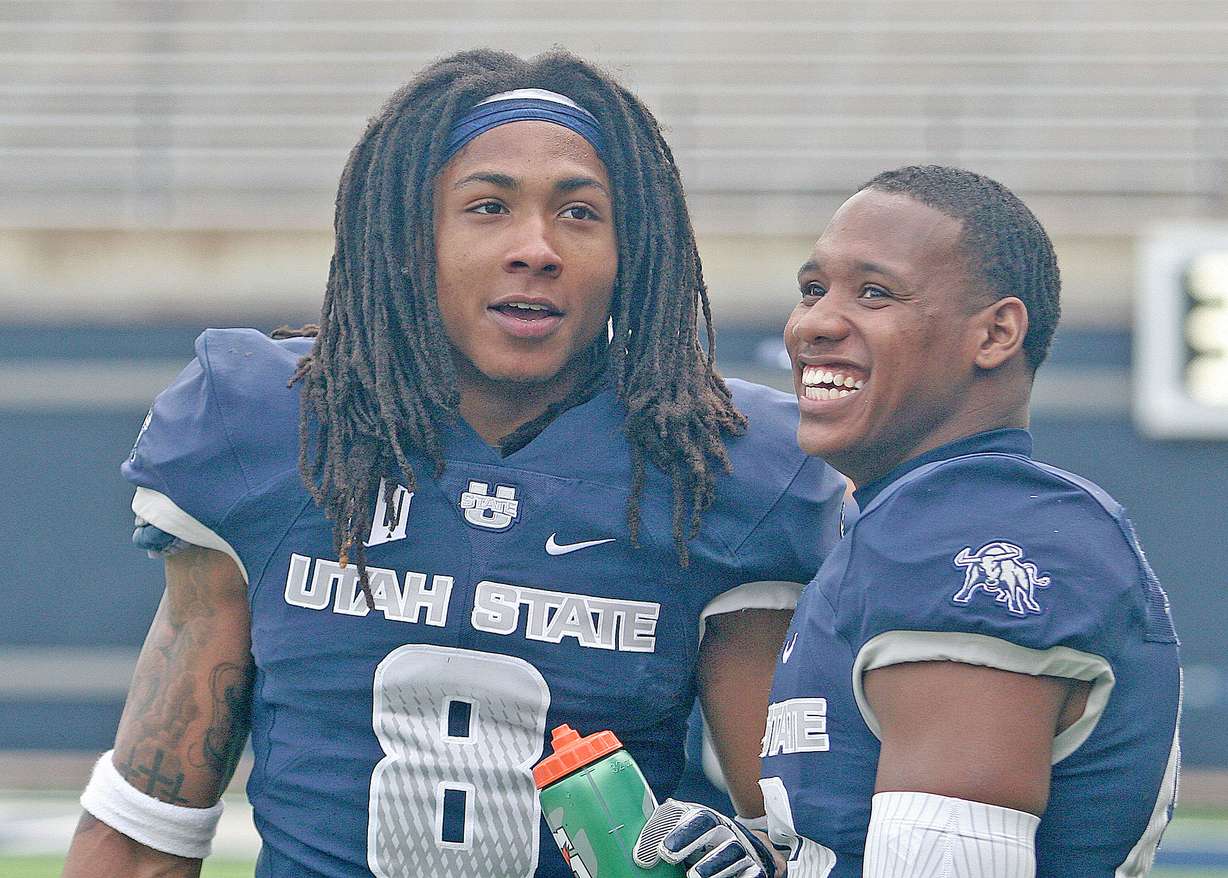 "He's a laid-back coach, and that's how we like to be coached. He won't yell at us right then and there, but he'll pull us aside and talk to us, or critique us when we watch film. That's what makes him the best for the job. He knows how to approach people. He's seen how to react to things, and how all the quarterbacks do. We all take things differently, and he's good at seeing that with the entire team."
Defensively, the Aggies return eight starters and appear to be loaded in the secondary, which features BYU transfer Dallin Leavitt and senior standout Jalen Davis. The La Mesa, California, native was the first-ever true freshman to start at cornerback in Utah State football history, and he's built on that career with 147 tackles, 12 tackles for loss, four sacks and six interceptions.
And he isn't about to end his career like he did his junior season.
"Last year was disappointing, to say the least. We got that out of the way and it's time to roll," Davis said. "No more sugarcoating it. We're going to tell you how it is, straight up, and get things done the Aggie way.
"I'm not going out like that. I'm not going to have any of that be tolerated. I'm going to be all-Mountain West; I will be. That's how I'm going to help my team out."
KSL Sports will preview the Aggies' 2017 season with a half-hour special Saturday, Aug. 12, at 6 p.m. MDT.
×
Related stories
Most recent Sports stories