Estimated read time: 6-7 minutes
This archived news story is available only for your personal, non-commercial use. Information in the story may be outdated or superseded by additional information. Reading or replaying the story in its archived form does not constitute a republication of the story.
SALT LAKE CITY — On the morning of Aug. 21, tens of millions of Americans are expected to be on the move, hoping to see a total eclipse of the sun. Many Utah residents are likely to drive to Idaho and Wyoming.
Some people might think it's crazy to go to such efforts to see a show that lasts just over two minutes. But a sampling of veteran Utah eclipse chasers suggests the crazy ones might be those who choose not to go.
Utah's best-known sky watcher, Patrick Wiggins, has collected souvenir T-shirts at solar eclipses all over the world. With five total solar eclipses under his belt, some might say he's an eclipse nut.
"An eclipse-o-maniac, they call it," Wiggins said. "It gets in your blood, and the next thing you know you're spending way more money than you probably should. And you're going to far-flung places on the planet."
At a recent meeting of the Salt Lake Astronomical Society, several eclipse chasers were in attendance. Astronomy buffs are the kind of folks you'd expect to be a bit overboard on eclipses.
But Cory Bauman, who has seen three total eclipses of the sun, said it's not just science nerds who are bowled over.
"Oh, absolutely not," she said. "You don't need to know any science to appreciate it, really."
'Great American Eclipse'
The Aug. 21 eclipse has been billed as "The Great American Eclipse" because it will cross the country coast-to-coast from Oregon to South Carolina, the best eclipse for Americans in 99 years.
To see totality — the brief period when the moon completely hides the sun — a viewer has to be inside a 60- to 70-mile-wide zone of totality that crosses 14 states including Idaho and Wyoming, but not Utah.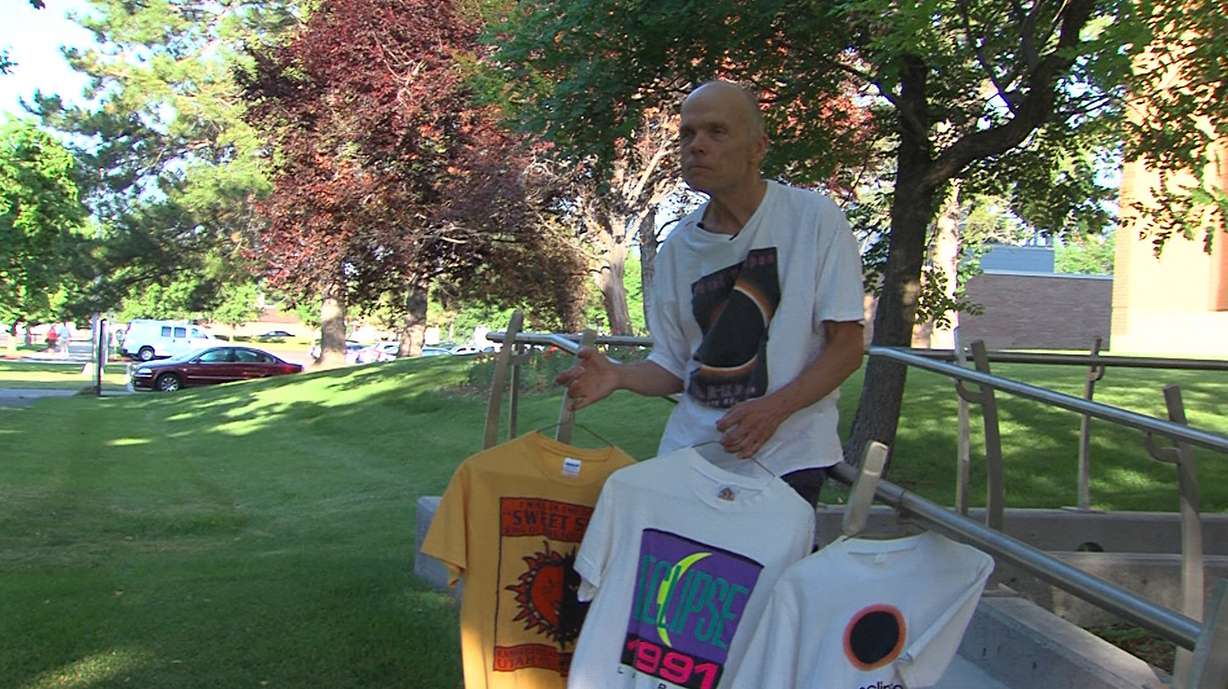 "With millions of people within a three-hour driving distance of this eclipse, this is going to be the most observed eclipse in history," said Siegfried Jachmann, a past president of the Salt Lake Astronomical Society.
Another former society president, Lowell Lyon, saw one of his two total eclipses in Mexico.
"The minute totality started, it was like the cheer of a hometown touchdown at a football game," Lyon said. "Everybody screamed and yelled."
An eerie, miraculous sky
The eclipse chasers all say there are also unforgettable moments just before the eclipse goes total.
"You'll see this wall of darkness, and it's getting closer and it's getting closer," Lyon said. "And then the sky starts getting dimmer and dimmer in the middle of the day. It's very eerie."
"Eerie is a very good word for it," said Joe Bauman, Salt Lake Astronomical Society vice president, who has seen five total eclipses — two of them with his wife, Cory. "Here it is the middle of the day, and you're looking up in this dark sky."
Related:
"And you notice the temperature dropping, and you notice the wildlife getting very quiet," Lyon said.
"And of course the birds start roosting," said Cory Bauman. "They start thinking nightfall is coming on."
As the spectacle of totality closes in, Joe Bauman said, there's always a strong reaction from crowds of observers.
"Everyone is oohing and aahing and counting down the seconds," he said. "There's the diamond-ring effect, where the last blast of light is coming from the very edge of the sun before it's totally covered."
"Then all of a sudden it gets very dark," Jachmann said. "The difference between a few seconds before and totality is dramatic."
Wiggins said many people who have never seen an eclipse may have a misconception about those moments of totality.
"A lot of people get the idea it's dark-dark," Wiggins said. "No, it's like, oh, a half-hour after sunset or something. But to have the sun disappear, literally, in the middle of the day? It's creepy!"
Eyes on the sun
For Utah residents, the closest place to see the total eclipse is in the vicinity of Idaho Falls.
Whenever anyone looks at a solar eclipse, whether it's total or partial, eye protection is necessary.
"Looking directly at the sun, unless you know what you're doing, it can damage your eyes permanently," Jachmann said, "and it can do it very, very quickly."
Regular sunglasses will not do. Many libraries, planetariums and other institutions are stocking up on "eclipse glasses" that provide proper protection and can be purchased for a dollar or two.
There's nothing about an eclipse that makes the sun's fierce, bright light any more dangerous. It's always dangerous to look directly at the sun without eye protection.
'Magnificent splendor'
Those lucky enough to be in the narrow zone of totality can take the glasses off during the two minutes or so when the moon completely hides the sun. That's when eclipse chasers get to see a memorable sight, the sun's dynamic atmosphere called the corona.
"There's a black circle disk up there," Joe Bauman said, "and the filament of the corona is flowing around like this incredible whitish blossom with streamers in it. It's like nothing you've ever seen. It's like you're in a science fiction movie."
Related:
"It's just so miraculous, you can't really describe it," said Cory Bauman.
While the sun's light is mostly blocked out, those in the zone of totality will also see stars and planets shining in the darkened sky.
"We'll be able to see Jupiter, Mercury, Mars and Venus," Jachmann said.
"It's kind of almost a spiritual experience," Lyon said, "because you feel like, 'I'm just this insignificant little person seeing this magnificent splendor unfold around me.' Just unbelievable!"
Wiggins said there's always a strange feeling.
"This has happened at every eclipse I've been to," he said. "You get this feeling of almost dread. It's a good dread, but it's dread nonetheless."
"Well, it made me understand why the ancients were scared of these things, because all of a sudden the sun is gone," Jachmann said. "Fortunately, we know it's coming back, but they weren't so sure about that."
Tears of awe
During the period of totality, observers sometime see solar prominences, huge blasts of fiery energy leaping from the sun's surface.
"Right at the very edge of the moon, you can see prominences from the sun which are very beautiful," Joe Bauman said. "And everybody has always had awe, gasped and almost cried; people have been so moved by it. It's the most stunning natural phenomenon you can see."
Related:
When four eclipse chasers were asked if they have literally seen people cry during an eclipse, they responded in unison.
"I have, yes."
"Oh, yes."
"Oh, yeah."
"Definitely."
"To see the beauty," Jachmann said, "an utterly beautiful sight that photographs can't capture. You have to experience that in person."
No totality in Utah
Unfortunately, that experience will not be possible in Utah on Aug. 21. Everywhere in the state the eclipse will be only partial, not total. When viewed from Salt Lake City, 91 percent of the sun will be covered by the moon. The eclipse chasers say a partial eclipse is far less dramatic.
"There's no comparison at all," Joe Bauman said.
"It's like kissing your sibling," Wiggins said. "There's just nothing there."
In a partial eclipse, "you're still in daylight," Jachmann said. "It's not even close to dusk-daylight. It's daylight."
"Take a few hours," Wiggins said. "Drive north. See totality. There literally is no comparison."
For those who do go all the way to central Idaho or Wyoming, totality will be just after 11:30 a.m. Monday, Aug. 21.
×
Photos
Related links
Related stories
Most recent Utah stories