Estimated read time: 5-6 minutes
This archived news story is available only for your personal, non-commercial use. Information in the story may be outdated or superseded by additional information. Reading or replaying the story in its archived form does not constitute a republication of the story.
PROVO — There's always someone.
Every year after the first week of fall camp, there's a player at your local college football team who stands out — someone who fewer people expected would make a mark early on the season, but who makes a name with athleticism or hustle or speed, or some combination of it.
At BYU, wide receiver Micah Simon is that as the Cougars wrapped up the first week of fall camp before the season opener Aug. 26 against Portland State.
If you've forgotten about Simon, that's OK; the former high school quarterback from Dallas, Texas, sat out the 2016 season as a redshirt as the Cougars relied on a bevy of senior receivers and upperclassmen to get the job done.
"They felt like why should I get 5-10 plays — max — per game and waste a year, really," Simon said in describing the conversation to redshirt one year ago. "I still had a redshirt, so I could take it serious and then be ready to go for (2017)."
Simon spent the entire 2016 season on the scout team, simulating opponents he would never face so the BYU defense knew what to expect. He also worked out twice a day with strength and conditioning coach Nu'u Tafisi, putting muscle on his 6-foot-1, 190-pound frame that led Dallas' Bishop Dunne High School to its first Texas private school Division I state championship in 24 years.
Now he's ready to make his own name, alongside players like fellow redshirt Akile Davis, another Dallas-area native; seniors Jonah Trinnaman and Grant Jones; and athletic wideouts Talon and Rickey Shumway.
"We can create mismatches, and then bring in the tight ends," Simon said of his receiver room, which he described as a fun group, though not as fun as the running backs and always trailing perennial prankster Harvey Unga, who is working with the receivers as a graduate assistant.
"As a receiver group, we're pretty versatile," he said. "People say we're unknown, but we're just here working hard every day and stay out of that.
"When game time comes, we'll just make the plays we were supposed to."
When Simon arrived on campus, he hoped to contribute immediately. A self-described bright-eyed freshman who loved the training system of former receivers coach Guy Holliday, Simon played in parts of three games as a true freshman and earned a letter.
When head coach Kalani Sitake took over the team prior to his sophomore year, he didn't know what to expect. But he and Davis worked through fall camp expecting to add on to their roles before a conversation just before the season revealed they would probably spend all of 2016 on the scout team.
There were multiple ways one could take such news: pout, and look for a transfer; complain about your teammates who were getting all the playing time; or put your head down, go to work, and get ready for your time.
Simon did the latter — and it has already paid off. He was one of the receivers coaches have mentioned by name throughout the spring and fall, and offensive coordinator Ty Detmer called the group "ahead of the game" as they opened preparations for year No. 2.
"It's the question I get more than not out in public. These aren't household names yet, but they will be," Detmer said after the first day of fall camp. "We're excited about the athleticism they bring to the table … and now it's a matter of them being comfortable enough to let their talents play."
Even Jonah Trinnamann, the team's leading returning receiver, was impressed by the new wideouts making his starting spot difficult to hold. At just 21 years old, the former American Fork High and Snow College standout has been tasked with leading the receivers as one of just two seniors in the room.
But he's not the only receiver who plays like a veteran.
"I see a lot more confidence," Trinnamann said. "Our receiver group is more confident in what we can do, and as a position, we can look to make plays."
A lot of those plays will come through Simon, who is trying to make the slot receiver position his own. That means a lot of mismatches with bigger linebackers that he can juke and jive with his speed. It means facing Fred Warner or Francis Bernard every day in practice.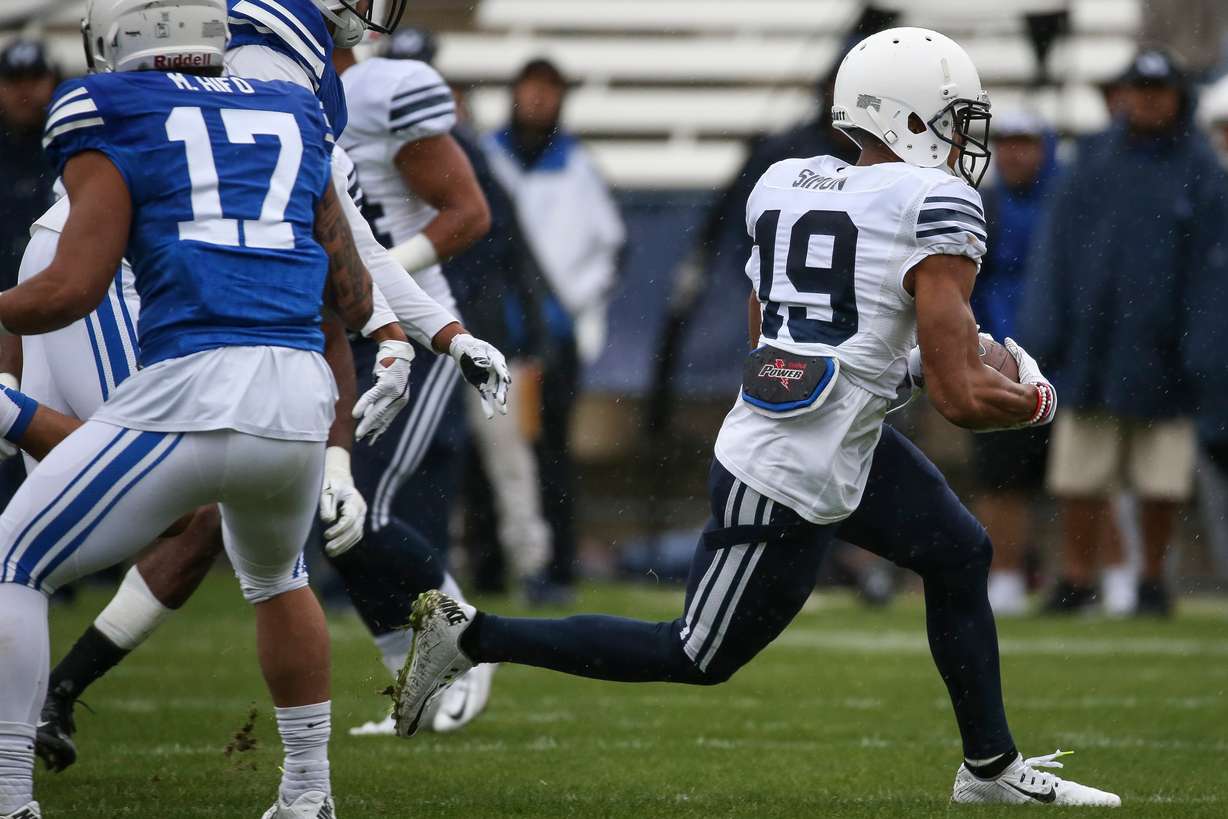 "It's all the same," he said of the linebackers. "The bigger guys try to grab you a lot, so you just have to dodge those guys."
If Simon seems like he's OK making a transition, it's because he's been there before. Not just a former quarterback, but the redshirt sophomore had to adjust to a lot of change by moving to Provo. A protege of former BYU standout Margin Hooks, Simon recalled the first time he saw a real Utah snowstorm — his freshman year, hobbled by an ankle injury, early in the morning.
"I woke up for treatment, walked outside, and the snow was nonstop," he said. "That's when I realized this was no Dallas, Texas. I went back inside the dorm and went to sleep. I knew they would understand."
He's a little more used to the snow now — and hoping that his acclimation period has ended so he can put up big numbers catching passes from junior quarterback Tanner Mangum.
"I envision myself all over the field, and not just one wide receiver position," Simon said. "Lots of touchdowns, and lots of points scored for the offense this season."
×
Photos
Related stories
Most recent Sports stories