Estimated read time: 4-5 minutes
This archived news story is available only for your personal, non-commercial use. Information in the story may be outdated or superseded by additional information. Reading or replaying the story in its archived form does not constitute a republication of the story.
SALT LAKE CITY — When it comes to checking out the latest gear and gadgets, few events provide as much exposure to the hottest new products as the Outdoor Retailer Summer Market.
And while this may be the last hoorah for the show in Utah, there is certainly lots to see and experience for the lucky few who get to visit the event this final time in the Beehive State.
• One of the companies that will be debuting new technology in October is Icon Lifesaver — a British firm that makes portable water filtration systems. For years, the company has primarily focused on developing purification and filtration systems that could be used to bring potable water to places struck by natural disasters like hurricanes and earthquakes, or areas with little to no infrastructure for providing drinkable water, said technical manager Joe Lovegrove.
"The company was launched 10 years ago (with) the focus really on humanitarian efforts," he said. But this year for the first time, the company has developed a product that will be available on the retail market.
"The Explorer is designed specifically for the retail market and is smaller, more compact with the ability to be connected to a pump or you can use it as a regular bottle," he said.
The company already markets the 25-ounce Lifesaver bottle that can purify about 2,000 gallons of water. The soon-to-be released 12.5-ounce Explorer bottle will filter half the amount of its larger predecessor.
Lovegrove said the filtration system removes 99.99 percent of all waterborne bacteria, cysts and viruses. As a demonstration, Lovegrove and his colleagues showed prospective clients by filtering water taken from the pond in Salt Lake City's Liberty Park.
This fall, the Explorer will be available in stores and online for about $100. The portable system is being marketed for campers, hunters, adventurers and others who want to ensure they can have drinkable water for hydration.
"It's the confidence that if you're going somewhere where they have no sewage or ruptured sewage that's going into the water system and you've got nothing else to drink, you can have water to drink," Lovegrove said.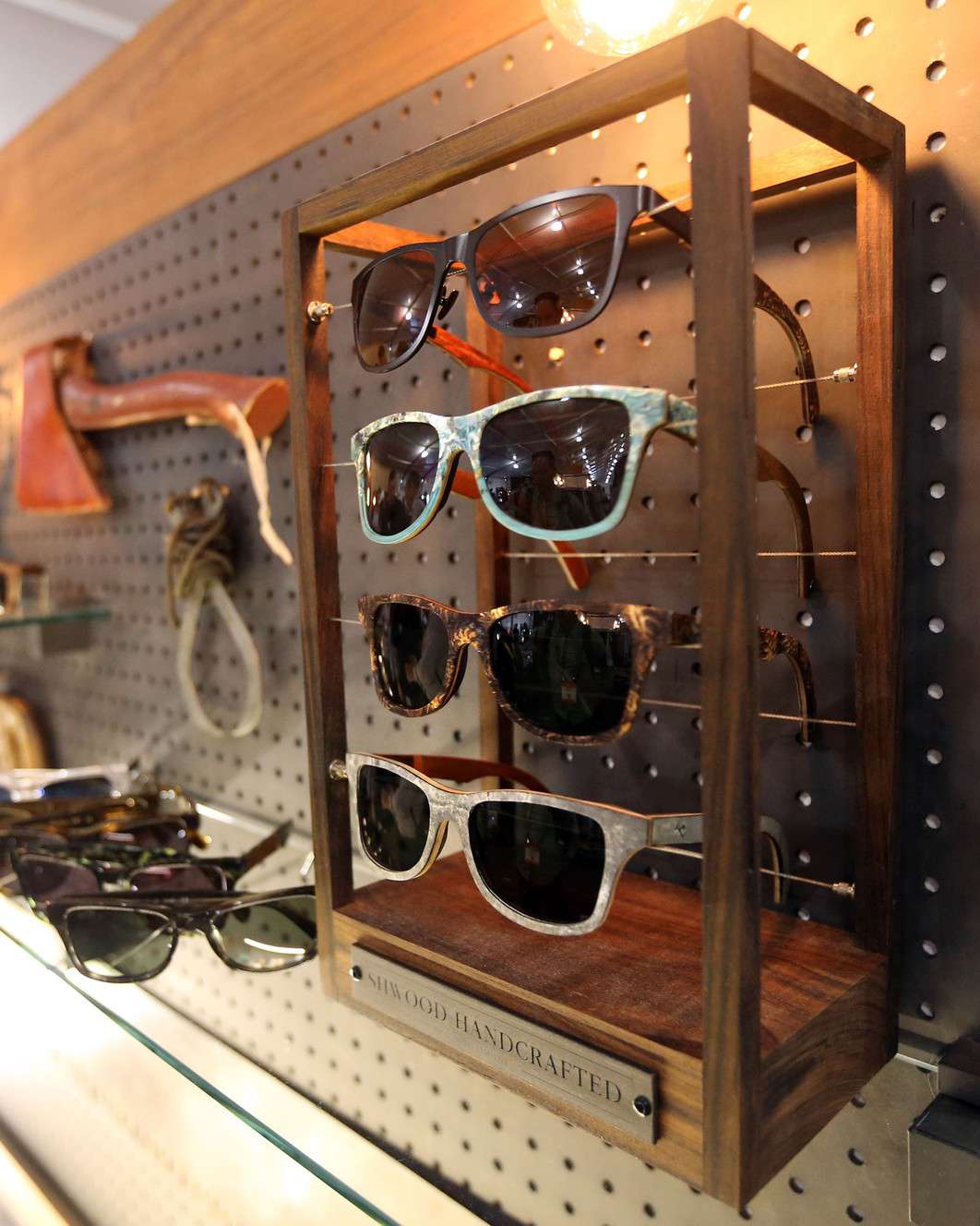 • For those who want to enjoy the sunshine and outdoors without squinting, a unique company has taken a sustainable, out-of-the-box approach to shades. Imagine sporting sunglasses with frames made of wood, seashells, pine cones or other experimental materials.
"We make a good product made by good people," said Gregg Shaw, spokesman for Portland, Oregon-based Shwood Eyewear. "We're not gas station rack sunglasses by any means."
The frames are made with a wide range of materials, including titanium, acetate and moss, with high-grade lenses that provide enhanced visual clarity, he added. Manufactured in the U.S., prices range from $109 to over $300, he said.
"It's an expensive process to make (these sunglasses), but we want it to be accessible so we try to keep the pricing comfortable for people," Shaw said. Shwood Eyewear is available at a variety of upscale retail outlets.
Related:
• If you like to listen to music or podcasts while you're working out, running or doing household chores, there is a unique way to get the audio into your ears — through your skull. An upstate New York company has developed technology to wirelessly (or traditionally) transmit audio from a portable device with bone conduction headphones.
"Our headsets are for the active lifestyle when you need to be aware of your surroundings," said Bill Kimball, spokesman for East Syracuse, New York-based AfterShokz. "Our headsets work with a transducer (rather than with a traditional speaker) that sends a small vibration sound wave through your cheekbone to your inner ear. You can hear your music or take a phone call and still hear everything around you."
"If you're a biker or a runner, you can hear a car coming or have a conversation with a colleague — all while still enjoying your music," he added.
He said the headset provides a safer way to conduct outdoor activities "because you're not just blocking out the world."
He said for particularly loud activities like lawn mowing or using power tools, users could insert ear plugs and still be able to enjoy the headset audio.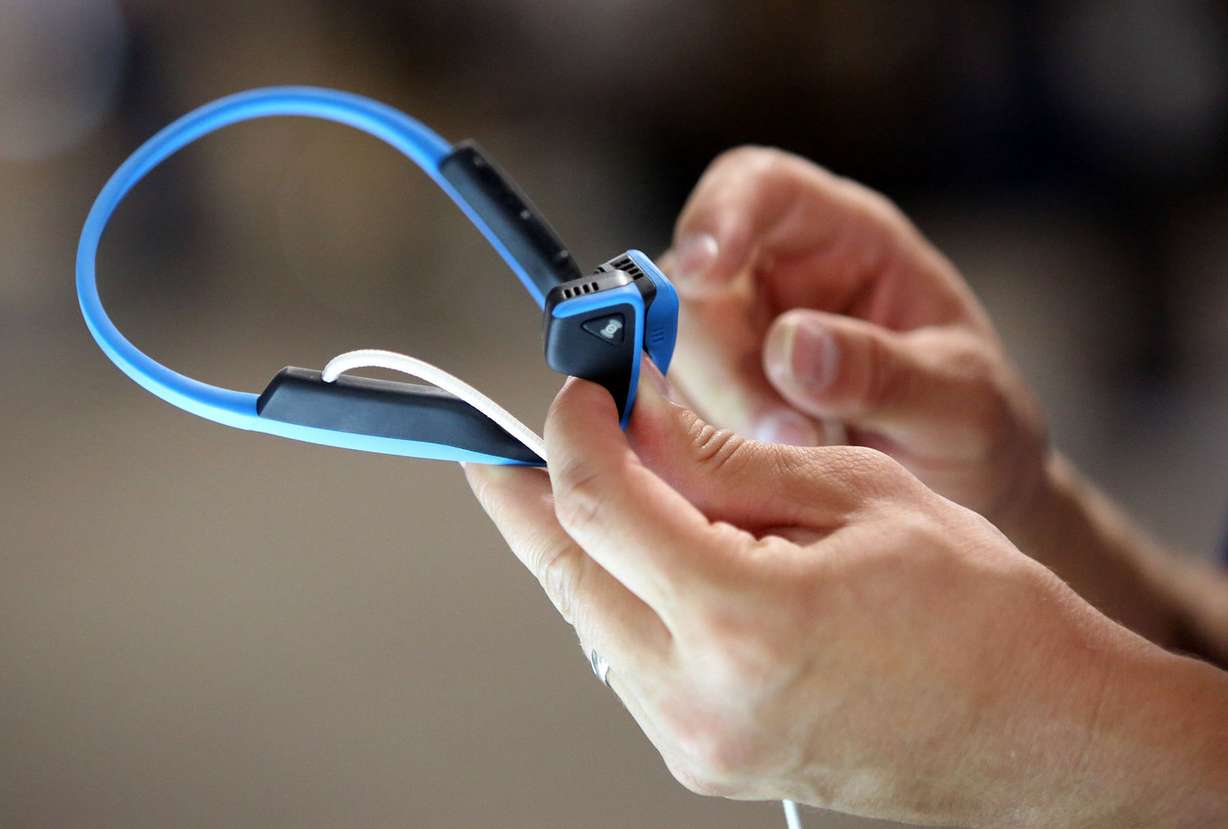 "We actually supply ear plugs with our package so if you're mowing your lawn, you can put them in and still take a phone call or listen to music and still hear it," Kimball said. He noted that some of the company's large factory clients allow their employees to use the headset with ear plugs while still being able to wear their required safety equipment.
While the sound quality is good, Kimball acknowledged that bone conduction audio is not for everyone, but "85 percent of people could listen and love it."
Available online or at various retailers, wireless Bluetooth-enabled Aftershokz headsets range in price from $100 up to $130, with traditional wired models selling for $50.
The Outdoor Retailer Summer Market offers products, gear and apparel from producers in the U.S. and around the world for every conceivable need concerning outdoor activities. The latest innovations are expected to be on sale beginning this fall.
×
Photos
Related stories
Most recent Utah stories