Estimated read time: 4-5 minutes
This archived news story is available only for your personal, non-commercial use. Information in the story may be outdated or superseded by additional information. Reading or replaying the story in its archived form does not constitute a republication of the story.
SALT LAKE CITY — On July 4, 1944, one month after D-Day, an army pilot from Utah crash-landed in Nazi-occupied France. That pilot survived and went on to serve in two more wars. Now, his story of survival and the bonds formed with the French family that saved him have captivated the interest of a British museum.
"It's just incredible," said Adrian Kerrison, a curator with the Imperial War Museum Duxford on the World War II team. He is in Utah for five days going through the war artifacts, documents and pictures of Lt. Colonel Lonnie Moseley at his widow's home in Holladay.
Moseley, who passed away three years ago, kept many pictures, most of the official documents dealing with his service and even the tattered clothes he wore while he was hiding from German soldiers for two months.
"(It's) incredibly rare," Kerrison said. "You don't usually get that. People would normally throw away (these items )after they're done with it. So the fact that you kept it is amazing."
The curator will use Moseley's story to help illustrate the history of Duxford Airfield, the base for Moseley and other American fighter pilots during World War II. The museum is in the process of remaking the building more like it was during World War II.
"A big part of that is going to be the personal stories of the people that served there," said Kerrison. "Lonnie is going to be one of the central stories just because of how amazing what he did was."
Moseley was on a mission to bomb a railroad when he parachuted out of a sputtering P-47 before it crashed on a French farm July 4, 1944. When he rolled over on that farmer's field in Normandy, he didn't know if he'd be greeted by friend or foe.
"There's a pair of boots standing right there," said his widow, Carol Moseley. "It was a Frenchman. He started rolling up the parachute."
The Frenchman turned out to be a friend, eager to help Moseley evade the Germans. They were retreating that summer, but still camped throughout the region, looking for enemy pilots.
"They dressed him up, and quickly put him in the forest," Carol Moseley said.
In the original diary that he kept while evading the Germans, he wrote, "Hell of a way to start the Fourth of July."
A telegram notified his wife simply that he was "missing in action." She later discovered he was lucky to be rescued by the Lestang family.
"They treated him like a king," said Carol Moseley.
Her husband called them Mama and Papa Lestang. They had children just younger than Lonnie. They dressed him in their old clothes and they kept him hidden for three weeks and had fake papers manufactured for his escape.
If the family had been caught, "all that knew about it would have been killed, or sent to prison," Carol Moseley said.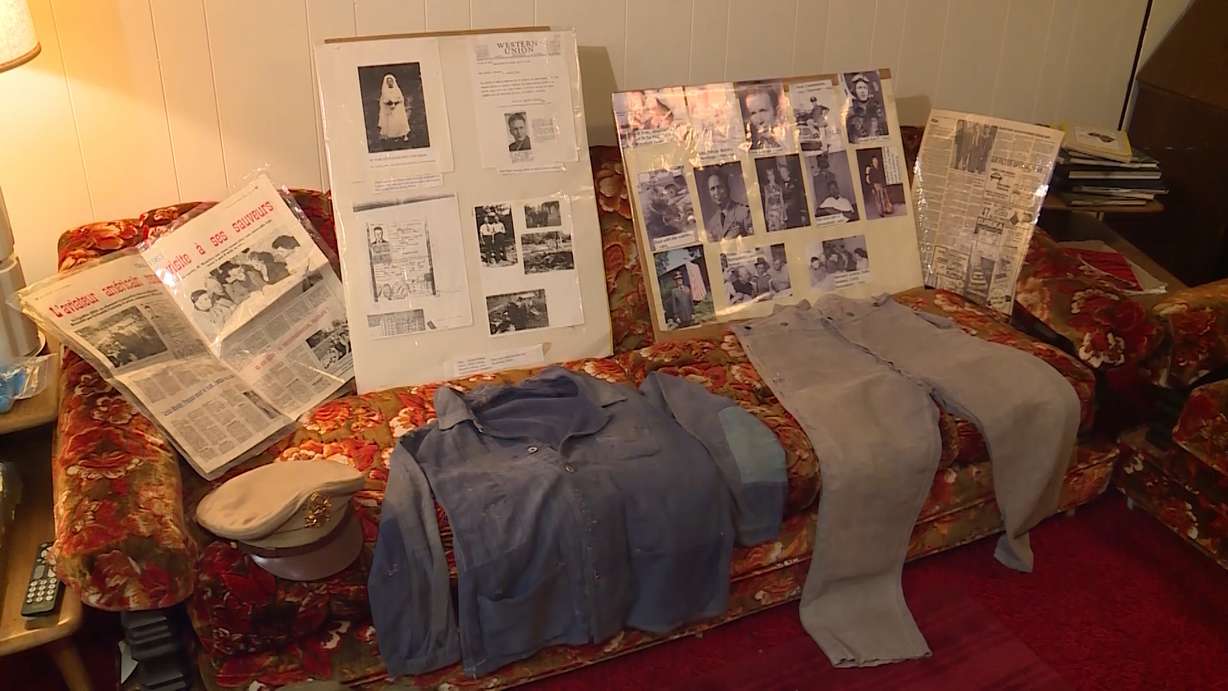 After the war, the families stayed in touch and became even closer: two families forever linked by a common enemy, the will to survive, and friendship.
"Think about it," Carol Moseley said. "They saved our life. They're mama and papa."
Four generations of Lestangs and Moseleys have shared their stories together, and great grandchildren of the Lestangs will visit Utah this summer.
Years ago, when Carol first met the Lestangs after the war, they did not share a language but shared the same emotions.
"All I had to do was look at Papa, and we both cried. We didn't have to talk," she said.
That story and other unusual artifacts, like Moseley's parachute that was made into a communion dress by the Lestangs, give the Imperial War Museum Duxford good material to use.
"You get all of these interconnected stories, and it just makes it really significant," Kerrison said.
Over the next few days, Kerrison will document and photograph items of interest. Then, he'll pack up many select pieces in museum quality packaging and ship them off to Duxford. Some of the items will end up on display in the next few years.
Moseley's wife and family said he was a very humble guy. They say he wouldn't have liked any of this attention, but they're proud to share his story. Moseley flew in the Korean War and also served in a non-combat role in the Vietnam War.
"He treated everybody wonderful," Carol Moseley said. "He had no prejudice in this world."
×
Most recent Utah stories