Estimated read time: 8-9 minutes
This archived news story is available only for your personal, non-commercial use. Information in the story may be outdated or superseded by additional information. Reading or replaying the story in its archived form does not constitute a republication of the story.
KAUAI, Hawaii — Wasps nearly claimed the life of a South Jordan man during a family vacation on the island of Kauai, Hawaii, on Tuesday. Jake Shoff survived thanks to the intervention of what his wife described as "angels," two passing strangers who put their own lives at risk to keep his head above water.
Shoff and his wife, Emily, had taken their sons Zach, 14, Brady, 10 and Grant, 3, out on a pair of kayaks on the Hanalei River. They had started their day with a prayer, asking for safety and were floating down a placid stretch near the town of Princeville when Jake's boat veered into brush along the riverbank.
It hit a wasps nest. Within moments, the insects were attacking the Utah family. Jake, a former college athlete who played basketball for BYU from 2001 to 2004, sought refuge by overturning his boat, dumping himself, Brady and Grant into the water.
All three had already been peppered with stings. Emily Shoff, who is six months pregnant, fished Grant from the water as Jake pushed the capsized plastic craft toward the opposite bank.
"Two women were heading towards us on their kayak, and I just waved at them and said, 'Hey, stay away from those wasps,'" Emily Shoff said while recalling the situation Thursday.
Jake Shoff, who is 6 feet 9 inches tall and weighs roughly 300 pounds, was not able to easily re-enter his kayak from the river. The two women paddled closer, offering to help. They braced his boat, providing a counterweight to keep it steady as he climbed aboard.
Once out of the water, Jake mentioned to Emily that his iPhone 7 had survived being submerged. He handed the device to his wife and started working to get Brady back onto the boat.
"About 30 seconds later, he started breathing heavy. His head started rolling," Emily said. "I said, 'He's going over,' and he went right into the water."
She grabbed the back of his life jacket, keeping his head from submerging. The two passing women had paddled up close to the Shoffs. One of them, Michelle Garcia Winner, had been trying to move into Jake's kayak when it rolled a second time. She ended up in the water as well. She grabbed hold of two of the kayaks and draped Jake's arm over her own.
The second woman, Pam Crooke, jumped in behind Jake. She stuffed a spare life jacket under his armpit.
"They were trying to hold him up just by treading water," Emily said. "That is extremely difficult for two petite women."
Winner and Crooke, neither of whom was wearing a life jacket, pinched themselves in between two of the three kayaks. Zach, in the boat with Emily, had grabbed hold of nearby branches to keep their fleet from floating apart.
Jake, meantime, had lost consciousness and began foaming at the mouth.
"The breathing goes from just really ragged to just gasping and then stops breathing for about 10 seconds," Crooke said.
Winner and Crooke are both professional speech pathologists in California and have first aid training. They recognized Jake was at risk of brain damage or death if deprived of oxygen for too long. They swabbed away the foam from his mouth and kept a count each time his breathing stopped.
"Michelle would hold onto him, and I would just grab his jaw and move the saliva, knowing that if we didn't keep that clear that he would drown in his own saliva," Crooke said.
They realized it was imperative to keep Shoff as alert as possible. Crooke slapped his face, while Winner splashed him and kicked him beneath the water.
"Kneeing him in the groin to try and get some input into his body because it really looked like he was just going to leave us," Winner said.
Emily called 911 from her cellphone while working to keep herself and her children calm. Young Grant sobbed. The eldest son, Zach, stayed stoic. Middle child Brady shivered, still in the water. Emily also called the business from which they'd rented their kayaks and pleaded with them to send help.
Agonizing minutes passed, with no sign of relief. It baffled Emily, Pam and Michelle that the typically crowded tourist spot had suddenly become so barren.
"When we got all wedged in there, no one passed by for 20 minutes on the river," Emily said. "It was very distressing."
The stress and exertion took a toll. Winner and Crooke began to tire. Their arms went numb from holding the weight of Jake's limp body. They each secretly began to fear he might die, in full view of his children.
By that point, they'd had a chance to learn the name of the man they were trying to save.
"I just kept saying into his ear 'Jake, breathe,'" Crooke said. "Then knowing that these three boys were there, I just got next to his ear and said 'you cannot die, your boys are watching.'"
Zach and Brady joined in the chorus, urging their father to keep breathing. They also each prayed for his recovery.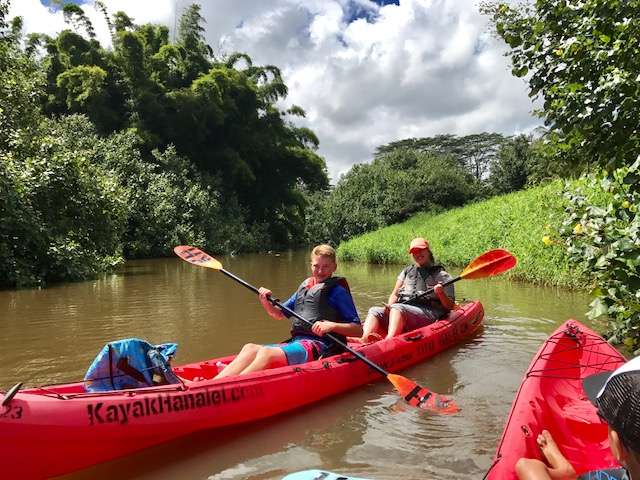 They could hear the sound of sirens coming near, only to then fade into the distance. Emergency responders were having difficulty locating them because of the thick brush surrounding the river.
At last, someone on a paddle board made it up to their location from the ocean. Michelle and Pam moved the unconscious Jake onto the board. They climbed aboard the kayaks, exhausted and put on their own life jackets.
A jet ski arrived a short time later and rushed Shoff back to the dock near Hanalei Beach. Medics gave him a shot of epinephrine there, not even knowing if an allergic reaction was actually to blame for his symptoms.
Shoff received a second shot of epinephrine after being loaded into an ambulance for the nearly hour-long drive from Princeville to Lihue's Wilcox Medical Center. He remained unresponsive. Zach climbed into the ambulance beside his dad and told him to breathe.
"Jake now tells us that he heard that," Emily said. "When he heard that, he would start gasping for air. Then he would go limp."
Emily remained with her boys as the ambulance departed with Jake.
Winner and Crooke, it turned out, were staying close by at the same resort as the Shoff family. They were there with their own family, a large group of 15 people, and had chosen on a whim to take a kayak out instead of hiking that day with their kids.
The two mothers helped calm Shoff's kids and prepared lunch. Emily contacted relatives back home. She arranged to have LDS missionaries visit Jake in the hospital and administer a priesthood blessing. Her brother Benjamin Criddle shared the story online and word started to spread among Cougar fans about what had happened. The family asked for prayers on Jake's behalf.
"It went viral, like a viral prayer almost," Emily said. "People were dropping to their knees and praying for him."
Jake received a third shot of epinephrine upon arrival at the hospital and regained consciousness. Staff there found signs of at least seven stings. One told Emily even a single sting could have killed him.
"From the time that he'd got stung to the time he got to the hospital, it had been an 1 1/2 hour. He should have died," Emily said.
Emily, meantime, had started to experience contractions. Winner traveled with her to the hospital while Crooke watched the three boys.
"I just was there for like five minutes, and they were like 'you need to go up to labor and delivery,'" Emily said. "I checked into the hospital and was admitted. Jake, they changed him from ER to ICU. Once they did that, we were able to talk to each other room to room."
The pregnancy scare was short-lived. Doctors were able to stop the premature labor with medication. Jake, for his part, had no recollection of what had happened in the water. He did though wonder why his body felt so bruised.
Winner called Crooke and allowed the boys to speak with their father.
"To see the three boys hearing their dad," Crooke said. "I cried. They were tough."
The experience forged a bond between the Shoff family and that of Winner and Crooke.
"These two angels that saved my husband and then took care of our family have just changed our lives," Emily said.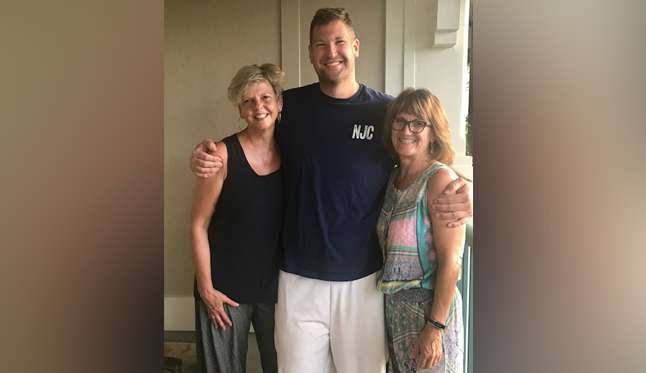 For the Shoff family, the circumstances provided affirmation that their faith and prayers had been answered. Had Winner and Crooke not arrived when they did, or done what they had done, Emily believes her husband would have died.
"On the water when he was dying, I had a feeling that everything was going to be OK because these two women were there," Emily said. "They were there, and there is a reason they were there."
Winner and Crooke, for their part, say they learned a lesson about the need to always wear life jackets, even on calm water. They are happy to have been able to help someone in need.
"We really would like folks in the U.S., when you think of our culture, to just everybody help each other. It's what life's all about," Winner said.
×
Photos
Most recent Utah stories