Estimated read time: 8-9 minutes
This archived news story is available only for your personal, non-commercial use. Information in the story may be outdated or superseded by additional information. Reading or replaying the story in its archived form does not constitute a republication of the story.
JENSEN, Uintah County — A group of boaters stood on the banks of the Yampa River in far northwestern Colorado in June, scouting a course through Warm Springs Rapid.
Frothing water churned over submerged boulders, surging downhill while also folding back on itself in a complex series of waves and eddies. The rafters were minutes away from braving the strong whitewater, the biggest and most dangerous of the Yampa, in a fleet of rubber rafts.
Ecologist Tamara Naumann sat alone on the sweep boat — the last raft in the flotilla — the phrase "Weed Warrior" emblazoned across its side in yellow lettering. The late June afternoon was warm but tolerable in the shade of a massive 1,700-foot cliff on the far bank of the river.
One of Naumann's co-workers at Dinosaur National Monument began barking out instructions to the other boaters, letting them know the order in which they'd run the rapid.
All of this was familiar to Naumann. She'd floated Warm Springs countless times over the course of her career but was about to row it for the final time as an employee of the National Park Service. The moment was both exciting and bittersweet.
Naumann will retire from the park service on Feb. 28, 2018, ending a 22-year effort to seek out and destroy invasive plants within Dinosaur's 329 square miles.
"Part of my work here is focused on the river ecosystem and its health and function," she said a day later while taking a lunch break downstream at Mitten Park on the Green River. "That's everything from the fish in the water to the vegetation on the shoreline and the species that depend on that vegetation."
When Naumann joined Dinosaur, the river channels looked much different than they do now in 2017. The banks of the Green and Yampa rivers were then completely choked with an invasive plant called tamarisk.
"It's an Asian species. (It) hopped over here, started really becoming a problem here in the arid Western states in the 1950s and '60s, and in the decades after that really exploded," Naumann said. "It was so aggressive that it really pushed out a lot of native species that the native wildlife depends on."
Though an intruder, tamarisk is very well-adapted to the harsh growing conditions of Utah and western Colorado. It's mostly found along rivers and streams where it hogs any available water, competing with native plants for the precious resource.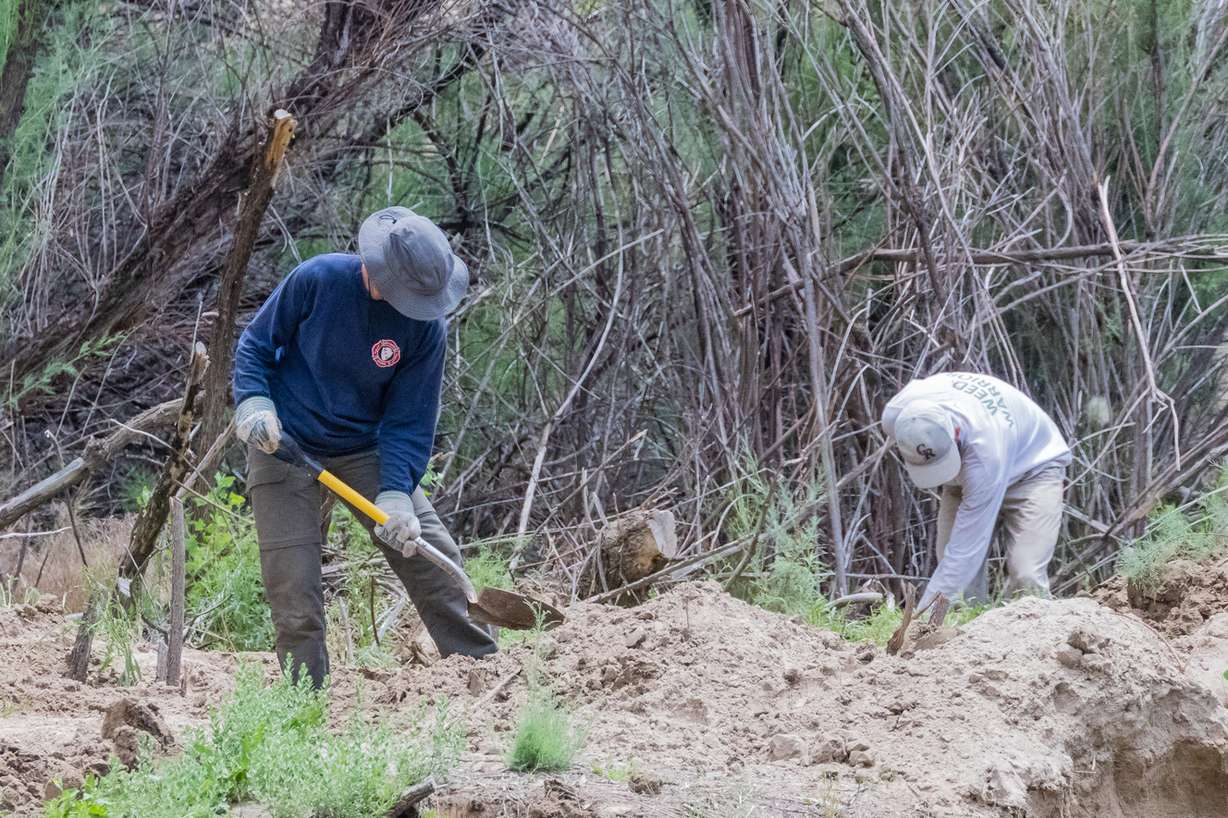 The Utah State University Extension notes tamarisk plants have deep and wide roots that can spread into waterways, slowing fast-moving currents. The more placid water then deposits more sediment, and that in turn impacts aquatic creatures.
Dinosaur's rivers are home to four endangered fish species: Colorado pikeminnow, razorback sucker, humpback chub and bonytail.
Tamarisk leaves evaporate more moisture than those of native plants, leaving riparian areas drier than before. Impenetrable thickets on riverbanks can also keep large, thirsty mammals like bighorn sheep from reaching water. For boaters across the West, tamarisk turned into a nightmare during the late 1900s. Beaches and campsites disappeared, overrun by the weed.
"Anybody who boats on other Western rivers knows that when you get to camp, you sit in camp, and you can't see the river because the tamarisk is in your view," Naumann said.
Early in her career, Naumann made it her mission to fight the invasion inside Dinosaur. It was a huge task, given the 105 miles of river corridor contained within the monument.
"In the early years, people would float by and say, 'Hey, you're wasting my tax dollars. You're emptying the ocean with a thimble. That's the stupidest thing I've ever seen,'" she said. "I thought, 'At least I'm not sitting on the couch. I'm trying to make it better.'"
Over time, Naumann's determination started to draw a more positive form of attention. Private boaters stepped forward, asking how they could help.
Naumann recognized funding and manpower limitations would prevent her from ever succeeding if she relied only on government resources. She recruited the curious boaters to the cause.
All along, volunteers have had to pay their own way, donating their free time to work under conditions many people would hesitate to endure, even for a paycheck.
"I'm always surprised by how generously these people give their time," Naumann said. "They show up with their own boats, and they bring their own food, and they'll work a 10- or 11-hour day in 100-degree heat in the mosquitoes. And they come back the next year and do the same, which is quite astonishing."
The reward for the weed warriors is the chance to experience two of the nation's most scenic river canyons. Every year, thousands of people enter a lottery in the hopes of securing permits to run the gorge of the lower Yampa, as well as the Green River's Lodore Canyon, Whirlpool Canyon and Split Mountain.
Running the rivers during the spring and summer seasons, when flows are high and weather warm, remains a relatively rare privilege.
Dan Johnson, Dinosaur's chief of interpretation, said roughly 7,000 people applied for 300 available multiday trip launches this year during the monument's high-use season.
Naumann estimates nearly 7,000 volunteers have traveled the rivers with her over the past 22 years.
"When I counted them up at the end of last season, I think I was at about 6,685," she said. "When you have a place this beautiful to offer as a place for volunteer service, it's easy to recruit. Because who doesn't want to make something like this healthier and better?"
The Colorado-based group Friends of the Yampa has formed the core of the volunteer effort for much of that time.
"Actually, we have more people that want to come on these trips than there's places," longtime volunteer Ben Beall said. "Some people wanted to come and they've been here a couple times, but maybe they weren't regulars so (we) just didn't have places for them."
Beall's been at it for so many years that he's seen the work become multigenerational. Many of the early weed warriors brought their kids on the river. Those children have since grown into adults, only to return with their own families to continue volunteering. One of Beall's own sons even worked with Naumann for a time as a river ranger at Dinosaur.
The labor is not easy. Tamarisk is a resilient plant, resistant to drought, burning and flooding. Its tangle of roots must be dug out of the rock and sand. The volunteers have had to prioritize their efforts.
"In the river camps, we have used volunteers exclusively because our endgame is a completely clean sandy beach, possibly, or a place where you can't tell that we did the work afterward," Naumann said. "We don't want dead stumps, and we don't want dead bushes. We just want the tamarisk to be gone. So we dig them out or pull them out."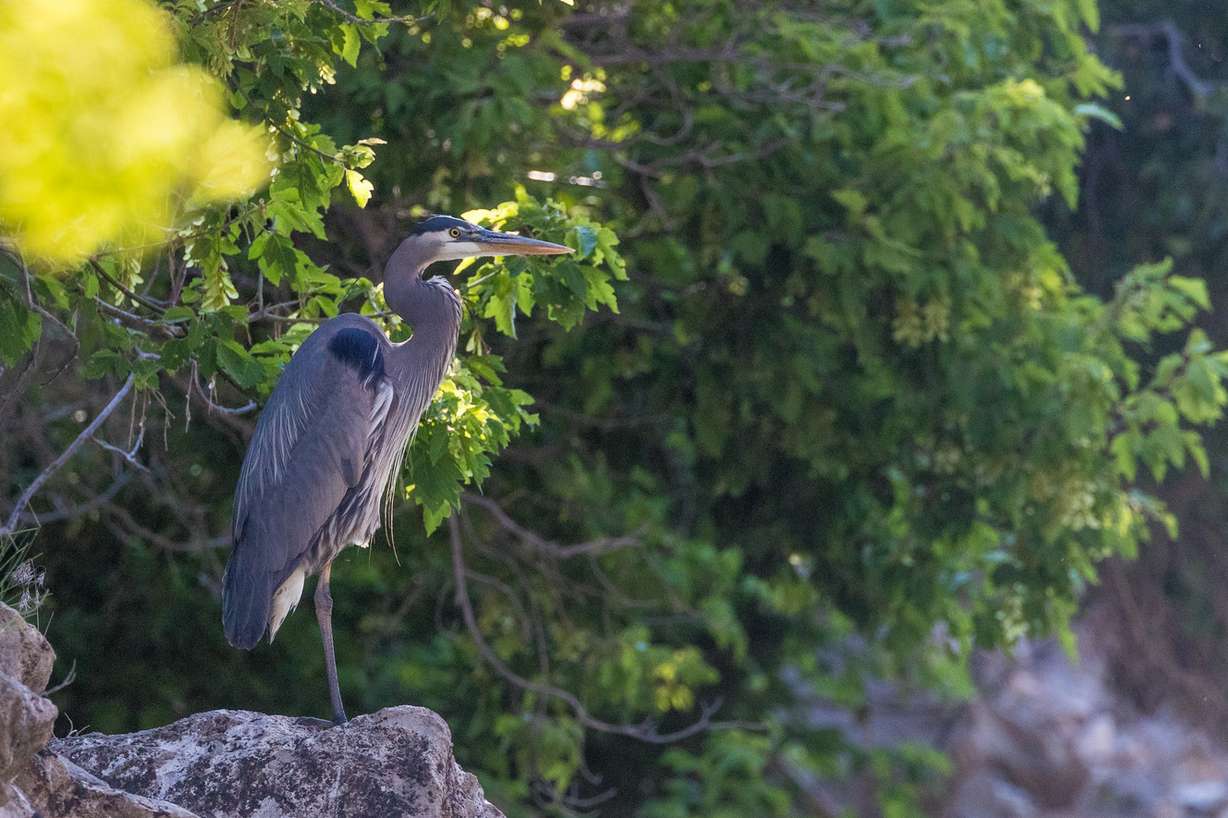 In other areas where ground is more rocky or difficult to work by hand, the teams have used herbicide. Biological controls are also at work in Dinosaur. In 2006, biologists intentionally introduced an Asian leaf beetle species to the river corridors. The bugs eat tamarisk, leaving the plants weakened and less capable of competing with native species.
"Sometimes when we take out the tamarisk, in a couple years the willows are coming back, and where we cleaned out a beach for a lunch beach or a campground, it's filled up with willows. But that's natural," Beall said.
Still, he's realistic about the prospect of ever eliminating the invasive plants entirely.
"We're not going to get rid of these noxious weeds or the things that are introduced, but you have to learn how to manage it," Beall said.
Naumann's impending retirement leaves the future of that effort in question. When she speaks about the rivers, her words come out slow and thoughtful. Her eyes, shaded by sunglasses, scan the landscape.
"I think the tamarisk is something we don't need to worry about as much now as we did 22 years ago, so that feels good," she said.
On her final work trip down the rivers in June, Naumann and her weed warriors focused on clearing a spot near the mouth of Whirlpool Canyon. On repeat visits, they've cut out a beach from what was before a thick wall of tamarisk just upstream of the Utah-Colorado border.
The work will never be done, but it's as close as she intends to get.
"My goal is to finish what I started, and it's not up to me what happens next. I'm sure other young people with different ideas will come along and have some new inspiring thing," Naumann said. "In some ways, it will be good to have fresh eyes looking at what the most important problems are."
Dinosaur has no shortage of problems left to tackle. A new invader is making its way into the monument from upstream on the Yampa. Leafy spurge is a flowering weed with a caustic sap capable of causing skin irritation. Like tamarisk, leafy spurge will require much time and effort to remove.
Volunteers like Beall hope someone else within the park service will pick up the baton.
"We're hoping it's not an end of an era," he said. "Friends of the Yampa is looking at kind of like taking over some of the work. … I think it will carry on."
×
Photos
Most recent Utah stories