Estimated read time: 3-4 minutes
This archived news story is available only for your personal, non-commercial use. Information in the story may be outdated or superseded by additional information. Reading or replaying the story in its archived form does not constitute a republication of the story.
WASILLA, Alaska — It's been almost two years since Becky Turney's son died, but his heart has lived on in a donor recipient thousands of miles away from her home in Alaska.
Twenty-one-year-old Jacob Kilby, of San Diego, California, was born with a heart defect, receiving his first heart transplant at the age of 2, Today reported. But in 2015, the heart started to wear out and he was placed on the transplant list. He received a heart from Becky's 19-year-old son, Triston Green, who passed away in October 2015.
Becky and Jacob connected in 2016 through a donor program, according to WSB-TV. They had emailed and spoken on the phone a few times but had never met in person.
Her fiancé and partner of seven years, Kelly Turney, thought Becky's wedding day would be the perfect moment for them to meet. And the wedding photographer, Amber Lanphier of Love Adventured, captured it all on camera.
"(Kelly) surprised her by flying Jacob up to Alaska to stand in as a groomsman, carrying Triston's heart," Lanphier wrote on Love Adventured's Facebook page. "Kelly stopped the ceremony to introduce Jacob to Becky for the first time. Everyone was so moved by this and I had to share this amazing story."
Kelly even provided a stethoscope so Becky could hear Jacob's heart after the ceremony. The photos have gone viral, being shared over 100,000 times on Facebook.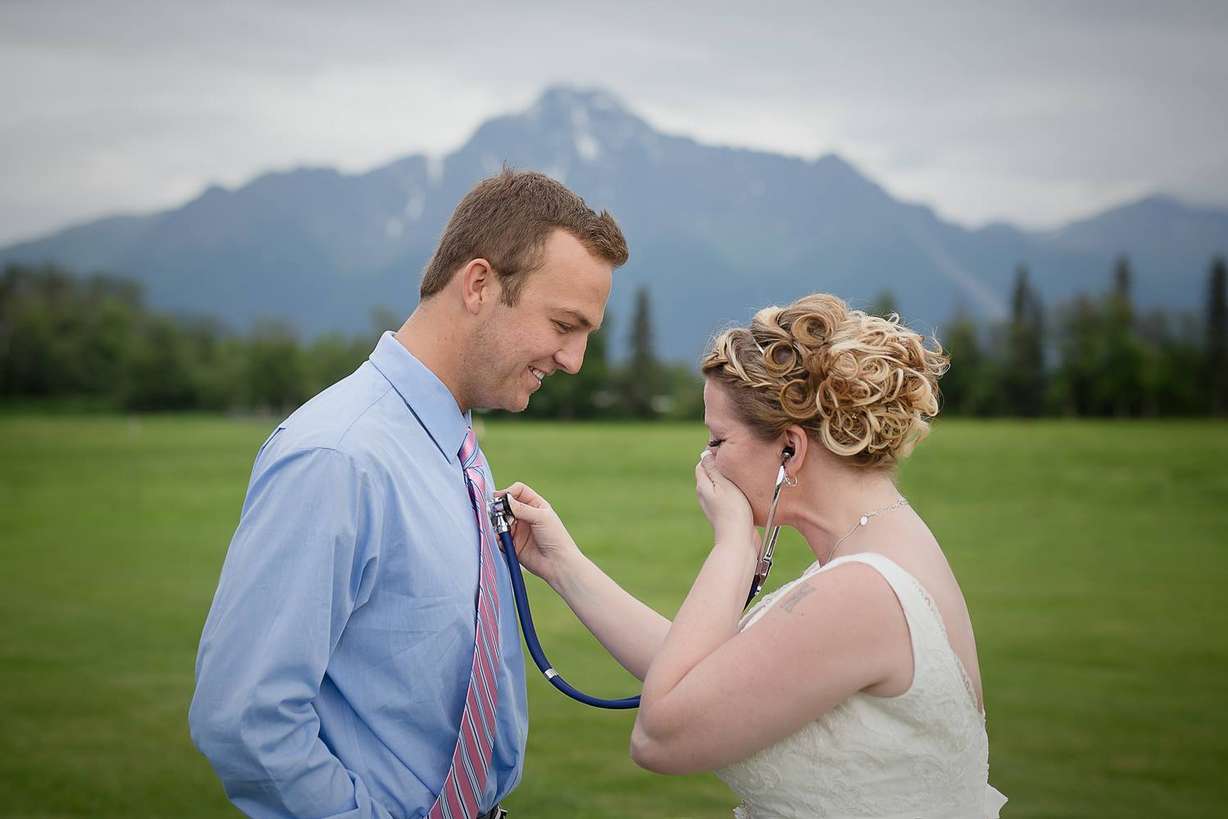 "Amber... thank you," Becky wrote on the Facebook post. "Your talent never ceases to amaze me! I'll be forever grateful that you captured this moment.... This is love!"
Jacob's mom also commented on the post.
"I'm so very happy my son was able to come and give you a piece of Triston for your wedding! We are so grateful for him and you!" Mellissa Johnson wrote.
As for Jacob, he said there was "no hesitation" when Kelly proposed the plan to him.
"Giving that to her was awesome to experience. Knowing that I was able to help her turn that gift into something incredibly special for her in return was amazing," he told WSB-TV.
The newlyweds are happy that the pictures have been shared so many times and hope that others consider organ donation after reading about their story.
"It's the most selfless act you can do for another person," Kelly Turney told WSB-TV. "And we would encourage other families of donors and recipients to reach out, because there's a lot of healing that goes on."
Triston's aunt also advocated for organ donation on Facebook.
"(Triston) is a hero. He is a warrior. He gave the ultimate gift of life to Jacob and four other strangers when he left us. And I'm so thrilled to know that Jacob is taking such tender care of his precious heart," wrote Emily Green. "Please consider organ donation and inform your families of your decision."
×
Photos
Related links
Most recent Uplifting stories