Estimated read time: 4-5 minutes
This archived news story is available only for your personal, non-commercial use. Information in the story may be outdated or superseded by additional information. Reading or replaying the story in its archived form does not constitute a republication of the story.
PROVO – From his hospital bed Tuesday, Talon Kohler recalled the medical expertise and good humor that kept him going as he waited to be rescued off Mount Timpanogos after a near-fatal fall Saturday.
The accident played out in steps through his head, slipping, not being able to stop himself with his ice-axe, trying to catch a rocky outcropping and missing it.
"Once I started tumbling off that waterfall, that was kind of that moment that hit me like 'this is how people die mountaineering,'" Kohler said.
He and the other members of the Timpanogos Emergency Response Team were coming down from Emerald Lake, crossing a snow field along the upper Aspen Grove Trail when Kohler slid down a roughly 100-yard stretch of the slope before falling over the edge, landing 40 feet below in an icy crevasse.
He broke both of his legs, sustained a compound fracture at the ankle and accrued a multitude of cuts and bruises. He said his backpack full of camping equipment and a sleeping bag took the brunt of the fall, likely saving his back and head from more serious injury.
His voice was hoarse from thirst and hunger as he prepared for surgery on Tuesday, but he was upbeat and positive as he spoke at the hospital with his wife and daughter at his side, acknowledging he was lucky to be alive.
The 25-year-old had bridged his hobbies in skiing and mountain biking into a service with the Timpanogos Emergency Response Team — a volunteer group that works around the mountain and offers quick responses for injured or lost hikers, augmenting the Utah County Search and Rescue team.
Kohler was with a number of the team's volunteers over the weekend as they were performing their first weekend operation of the year. The plan was to camp out at Emerald Lake below the summit, and be prepared to assist other hikers as needed.
"Our biggest purpose was to assess the snow fields," Kohler said.
Much of the snow still hasn't melted off of the top of the mountain's east side, despite the high heat of the season.
Toby Norton, one of the search and rescue members that responded to the accident, noted that Kohler was lucky he didn't fall another 1,000-feet down the treacherous cliff. He said the crevasse stopped him from tumbling further.
"We would have been looking at a body recovery at that point," Norton said.
Kohler said once he stopped falling, he began running through a series of mental and emotional checkpoints, dividing the difficult task of his survival into momentary concerns that he could manage: coping with the fall, checking himself for injuries, avoiding the sight of his right foot that pointed out at a 90-degree angle from its normal position.
Kohler's rescue teammates, including two EMT trained volunteers and a former Army soldier, soon arrived and quickly called for Utah County Search and Rescue officers as they tended him.
Once Kohler was medically stabilized and wrapped in a "burrito" of sleeping bags and blankets and other layers to stave off hypothermia, rescuers and teammates stayed with him through the night, keeping him company as they waited for a helicopter to take him off the mountain.
While worrying about the compound fracture and the threat of a bone sticking out, worsened by continuing delays, Kohler tried to undercut the severity of the situation with jokes.
"We joked about prosthetics, and my name is Talon," Kohler said. "I was joking, I have to get an eagle foot at some point."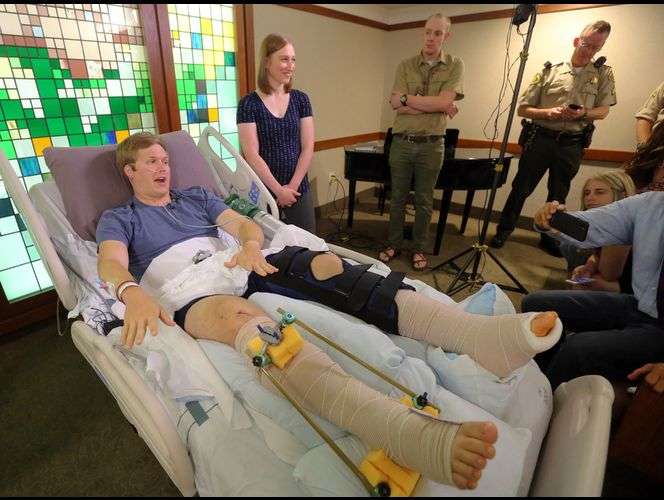 Kohler's positive spirits also helped his wife, Katrina, to understand the situation without adding undue stress.
She said her husband of two years and the father of their 7-month-old daughter Sage remained calm during his phone calls from the mountain.
"Here he is in this life and death situation and he is still thinking about me and wanting to make sure that I am taken care of," Katrina Kohler said.
Ryan Roper, another volunteer with the search and rescue team, said they receive a lot of training with first aid and mountaineering and, through experience, become comfortable with dramatic situations.
"His composure, I'm fairly convinced, saved his life," Roper said. "A lesser man would have had a much worse outcome."
Kohler was finally lifted off the mountain around 6 a.m. Sunday, loaded into an ambulance at the bottom of the mountain and taken to the Utah Valley Hospital in Provo. While he faces more surgeries and at least another week in the hospital, Kohler is expecting to walk again and eventually return to biking and skiing, though he will have to take things much easier.
Kohler said he and members of his team often see people under-prepared for the rigors of the Timpanogos hike, which under ideal conditions can often take about 10 hours. Among the threats in the summer are hail or thunderstorms, and people hiking up from base of the mountain in a T-shirt and shorts, unprepared for the ice and snow conditions near the 11,752 peak.
Kohler credited his own survival to the group of volunteers surrounding him.
"The biggest thing is don't go out alone," he said. Email: rmorgan@deseretnews.com
×
Photos