Estimated read time: 1-2 minutes
This archived news story is available only for your personal, non-commercial use. Information in the story may be outdated or superseded by additional information. Reading or replaying the story in its archived form does not constitute a republication of the story.
The man charged with kidnapping Elizabeth Smart may see the next phase in his lengthy prosecution play out in federal court. Utah's U.S. attorney made that announcement today in Salt Lake.
Elizabeth Smart was kidnapped in 2002 and was found the next year. Since then the wheels of justice have been grinding slowly.
Yesterday a 3rd District Court judge denied a state request to forcibly medicate suspect Brian David Mitchell. Mitchell has twice been found incompetent to stand trial. Judge Judith Atherton says she's not certain anti-psychotic drugs would restore Mitchell's competency.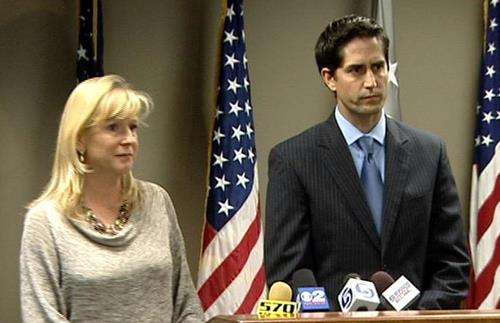 U.S. Attorney for Utah Brett Tolman says his office will file a writ to take Mitchell into federal custody so he can now face federal kidnapping charges.
"I think if you were talking to the Smarts, to the investigators and the prosecutors, federal and state, they would all say that it is frustrating that it takes as long as it does. But it was important to have contingency plans, knowing some of the arguments that would be made by the defendant," he said.
Salt Lake County Attorney Lohra Miller said, "It appears as though proceeding on the federal charges will be the most expeditious way to go in the case. So we are stipulating to having the defendant enter into federal custody and to have the federal charges begin to take over the active prosecution of the case."
In March, a federal grand jury indicted Mitchell on charges of kidnapping and unlawful transportation of a minor.
We left a message today with the public defender representing Mitchell, but our call was not returned.
E-mail: jdaley@ksl.com
×
Related links
Most recent Utah stories