Estimated read time: 3-4 minutes
This archived news story is available only for your personal, non-commercial use. Information in the story may be outdated or superseded by additional information. Reading or replaying the story in its archived form does not constitute a republication of the story.
CLEARFIELD — Independence Day celebrations across the state will include a new symbol of American patriotism as one of the more exciting elements of honoring the nation's birth gets a signficant upgrade.
Beginning this year, July Fourth parades throughout northern Utah will enter a new era as pilots from the 419th Fighter Wing perform flyovers in the Air Force's latest, most advanced fighter jet — the F-35 Lightning II.
For the past three decades, the U.S. Air Force Reserve unit at Hill Air Force Base has performed Independence Day flyovers in the iconic F-16 Fighting Falcon.
As F-16s are being phased out at Hill and transferred to other bases, the F-35 will now be the "face" of northern Utah July Fourth events as two of the jets make their debut over more than a dozen cities, including Centerville, Clearfield, Huntsville, Liberty, Morgan, Murray, North Ogden, Park City, Riverdale, West Point and Vernal.
"It's just our way of giving back to the community," said Lt. Col. Dave DeAngelis, fighter pilot with the 466th Fighter Squadron of the 419th Fighter Wing reserve unit at Hill Air Force Base.
DeAngelis said the flyovers are performed at 345 mph at a height of about 1,000 feet over various local celebrations in a two-hour period beginning at 9 a.m. Tuesday.
"It's great to see the local community as we fly in the air over the Wasatch Front," he said.
DeAngelis will be joined by Lt. Col. Bart Wilbanks. Both are former F-16 pilots who have transitioned to the F-35. Each has a full-time civilian career and serves part time as fighter pilots in the Air Force Reserve.
DeAngelis noted that while the flyover is primarily an entertainment mission, they are conducted with the same level of precision as any other flying exercise.
"(In the No. 2 position), I'll be basically flying 3 feet off (Col. Wilbanks') wing," DeAngelis explained. "As he manuevers, I'm just trying to (remain) in position."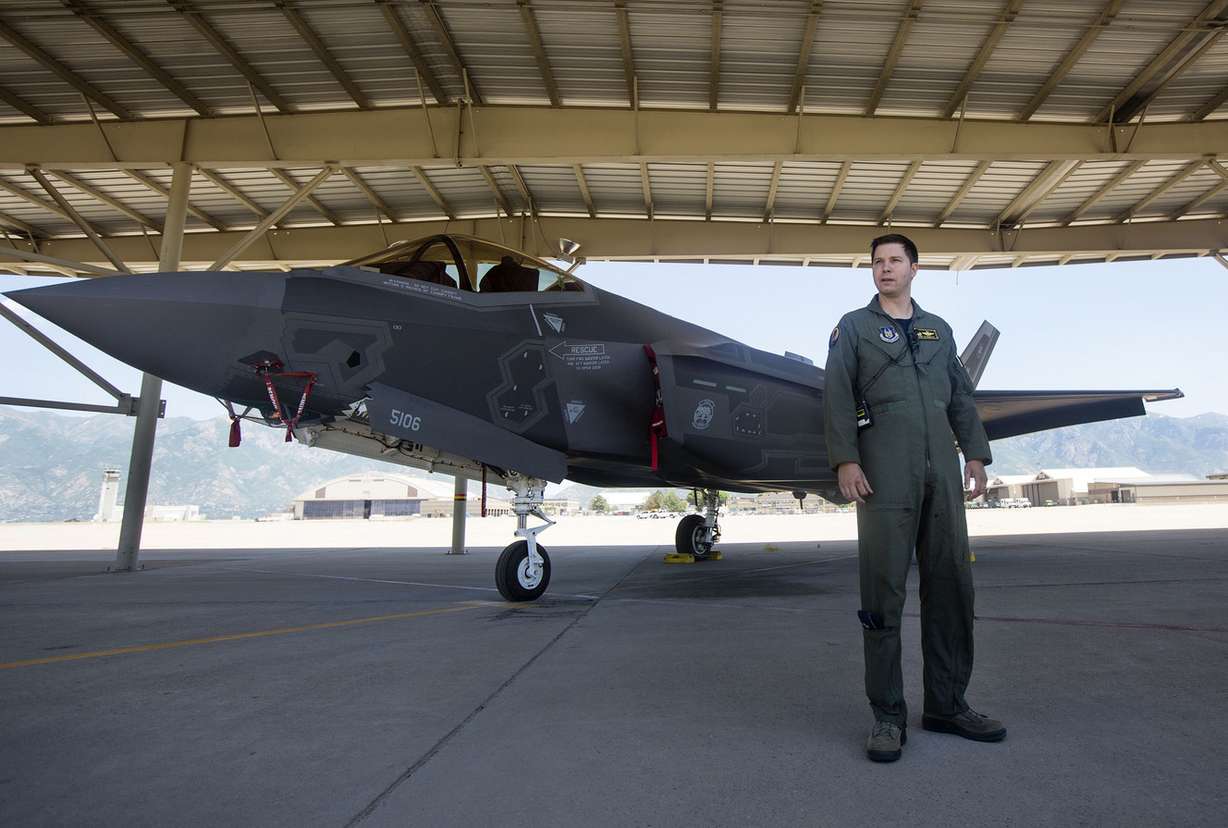 DeAngelis said fighter pilots strive to conduct perfect missions whether in training, combat or flyovers, and each time in the air is an adrenaline rush.
"At times it can be a little bit nerve-wracking, but we get very good training, and this (kind of formation) is something they taught us in pilot training," he said. "Most of the time you're just focusing on being the best wingman you can be and making small corrections as you go. It's a team approach."
DeAngelis said maintaining concentration and composure are key throughout any flight.
"During pilot training, they teach us to wiggle our toes a little bit, and that just allows you to relax," he said. "Utah is a beautiful place to fly, being over the Wasatch Front. It's just a phenomenal airspace."
Hill received the F-35A in September 2015 and will be home to three fighter squadrons with a total of 78 aircraft stationed at the base by the end of 2019. The active duty 388th Fighter Wing and 419th reserve unit fly and maintain the jets in a Total Force partnership, which capitalizes on the strength of both components.
Hill's fleet of F-16 aircraft is scheduled to depart the base permanently this fall.
×
Photos
Most recent Utah stories