Estimated read time: 5-6 minutes
This archived news story is available only for your personal, non-commercial use. Information in the story may be outdated or superseded by additional information. Reading or replaying the story in its archived form does not constitute a republication of the story.
SALT LAKE CITY — There are two turning points in Donovan Mitchell's life that led him to the big stage at Barclays Center Thursday night, hearing his name announced by NBA Commissioner Adam Silver.
The first happened his sophomore year of high school. A three-sport athlete who played baseball (Mitchell found the field as a shortstop and a pitcher), soccer (playing goalkeeper, using his 6-foot-10 wingspan to get to balls no one else could reach) and basketball, Mitchell was the star of his high school. And that was enough until he went online. Because of a broken wrist and busy schedule, Mitchell didn't find his name on the recruiting lists of the nation's best high school basketball players.
"A lot of guys who I thought I was better than were ranked higher than me, and rankings meant the world to a high school kid," Mitchell said. "I really wasn't ranked at all, and that got to me."
After recovering from his wrist injury, Mitchell got back on the court and committed to basketball, working during the summer and winter months to improve on his game. By his junior season, he was ranked, but not in the top 100. That season, he massively impressed scouts, moving up from No. 102 to No. 28 by September 2014. Louisville came calling with an offer and Mitchell accepted.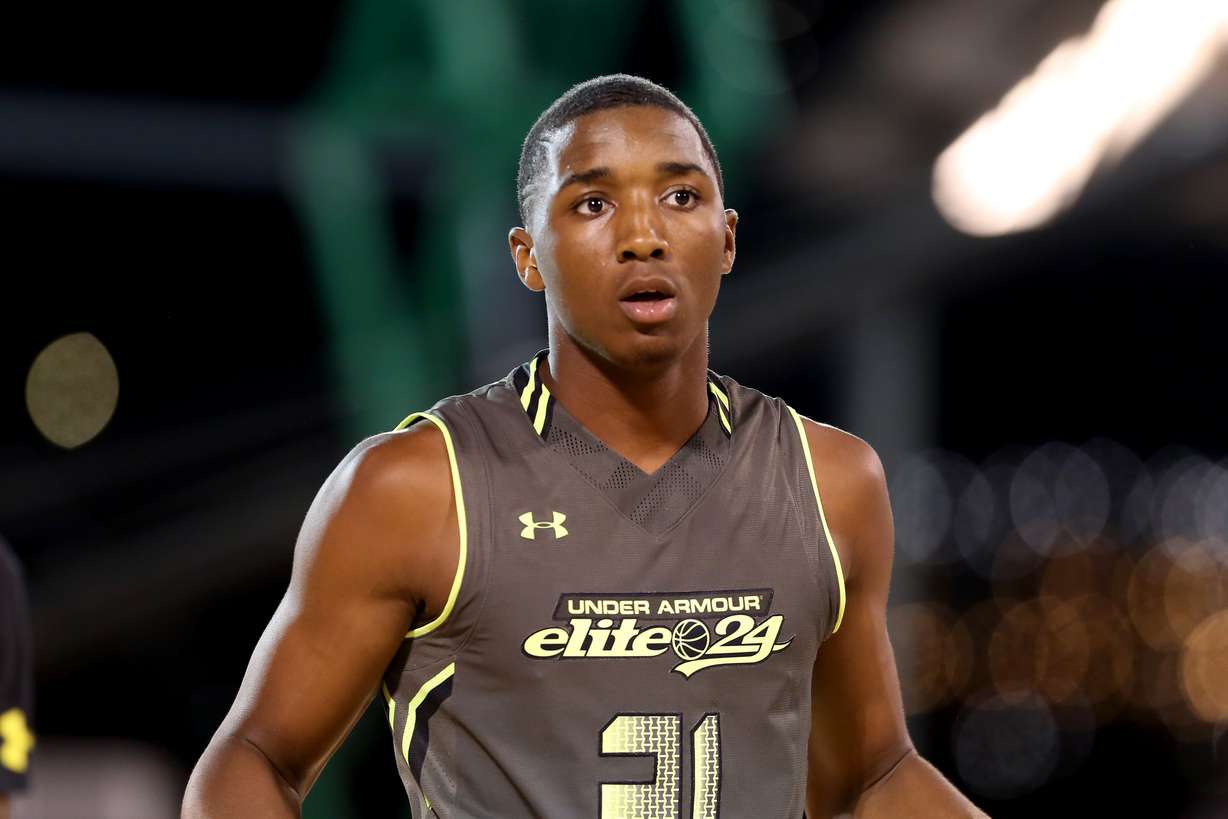 The second turning point came again during his sophomore season in college. Mitchell threw his name into the draft process without hiring an agent, hoping to get some feedback from NBA scouts and executives that he could use for his junior season at Louisville. He told a local TV reporter, WHAS-TV's Kent Spencer, "I'm coming back to win a national championship."
And then he got the chance at a workout of a lifetime. Thanks to some connections, he worked out with NBA stars Chris Paul and Paul George in Los Angeles. And Mitchell impressed the two Pauls.
"That's what really got me going," Mitchell told the Detroit Free Press after a workout with the Pistons. "When you have All-Stars telling you that you could be really good in this league, I think that's going to raise your level."
Paul and George told Mitchell about the upsides and downsides about staying in the NBA draft but clearly felt the kid had potential. They shared with him some secrets of defending at a high level in the NBA.
"Working out with Chris Paul and Paul George really helped me as far as learning defensive schemes," Mitchell said.
So Mitchell stayed in the draft, especially after impressing executives with his standing vertical jump (36.5 inches) and three-quarter court sprint (3.01 seconds). And when meeting with Mitchell, team executives found a charismatic player who wanted to take their suggestions and immediately go to work. He started rising up draft boards, being named as a likely lottery pick.
---
There are two turning points in Jazz General Manager Dennis Lindsey's life that led him to take Mitchell in the 2017 NBA draft.
The first happened in the Bahamas. There, Lindsey was traveling with his son Jake, who plays point guard for the Baylor Bears. Baylor was set to play Louisville in a preseason tournament and Dennis was invited to the team's pregame dinner, which included a scouting report.
The scouting report was all about Mitchell, "A, B, C, and D" all about the sophomore guard, according to Lindsey.
"It's the coach in me that when other coaches put you on the game plan," Lindsey said, "it gave me a deeper insight to say that we had to pay attention."
And Lindsey did. He scouted Mitchell during that game and for the rest of the season. Mitchell was a player the Jazz met with and interviewed at the NBA Combine, and the franchise looked on painfully as Mitchell climbed draft boards out of their range.
Somehow, the Jazz were able to convince Mitchell to work out with the franchise anyway. Mitchell blew Lindsey and the other Jazz scouts away with his athleticism, his length and his defensive mindset during the workout. Even recounting it months later, Lindsey's eyes bulged.
And then the second moment happened. Accounts differ on whether the Denver Nuggets called Utah or vice versa, but four minutes before No. 13 was to be made, Lindsey got on the phone with the Nuggets' front office. The Nuggets weren't thrilled with their options at No. 13 and their roster already had young combo guards.
The Nuggets also had an affinity for Trey Lyles, having tried to draft him in 2015 and trade for him multiple times since. Lyles had just played himself out of the rotation in Utah with poor play on both sides of the ball, so the Jazz were willing to move on Lyles in order to move up.
The Nuggets called the NBA, letting them know they'd take Mitchell. Assistants from both teams called the NBA to let them know about the deal, and others texted Adrian Wojnarowski of Yahoo Sports to report it to the public.
Mitchell didn't know until after walking off the stage.
"Right when I stepped off the last step is when I found out," Mitchell said. "I looked to the TV and saw I got traded. It's no disrespect to Denver, but I kinda gave myself a little fist pump. I'm really excited to go to Utah."
He's not the only one. Though he did his best, Lindsey couldn't contain his excitement after the draft.
"Guys with tools, guys that love the game, guys with character and intelligence, those are always the guys who get better. Always," Lindsey said. "He loved us, we loved him."
Events conspired to put the two partners together.
×
Most recent Sports stories