Estimated read time: 8-9 minutes
This archived news story is available only for your personal, non-commercial use. Information in the story may be outdated or superseded by additional information. Reading or replaying the story in its archived form does not constitute a republication of the story.
SANDY — As she caught a glimpse of his face when he pulled his pickup truck through a reckless U-turn in front of her house, Natalie Hansen said the man who would go on to gun down a mother and her young son in the street appeared consumed with rage.
In that moment, Hansen said the man she would later learn was 32-year-old Jeremy Patterson looked focused, angry and detached as he set out to pursue the SUV that Memorez Rackley had just left in.
"He was determined to get that car," the Sandy woman said.
Around the bend and out of Hansen's view, Patterson would catch up with Rackley, ram the small SUV with his oversize black pickup, and shoot and kill the woman and her 6-year-old son, Jase Rackley. Two more children, 11-year-old Myles Rackley and the 8-year-old daughter of the SUV's driver, were also shot but survived.
The image of Patterson as an enraged muscle-bound bodybuilder pursuing and murdering Rackley before turning the gun on himself is a stark contrast to the description a former co-worker would have given of him several years ago.
Friends at work
When they met about four years ago, the co-worker, who asked not to be identified, said Patterson was "kind of a chubby little kid" who liked hunting and seemed patient and unflappable.
"He was a real nonchalant kind of guy. I mean, nothing bothered him, that's why this is so shocking," the co-worker said. "No matter what came at him, he could handle it."
When Patterson took up bodybuilding, others at work began chatting with Patterson about his exercise and diet. It was inevitable, he said, once Patterson started showing up to work with huge amounts of food to eat during the day.
---
He was a real nonchalant kind of guy. I mean, nothing bothered him, that's why this is so shocking. No matter what came at him, he could handle it.
–Jeremy Patterson's former co-worker
---
"People always asked, like, 'How do you eat 12 eggs for breakfast?' He'd make hard boiled eggs and just bring them in," the co-worker recalled.
The two never interacted socially or discussed their personal lives, the man said, and he hasn't had contact with Patterson since changing jobs — they were just friends at work. But learning of Patterson's deadly actions this week, he said he has been deeply angry and in utter disbelief.
"Any respect that I had for this guy, any at all, is gone," the co-worker said. "It's absolutely 100 percent gone."
An encounter
Police say Rackley and Patterson had some kind of relationship, but investigators are still working to determine the details of their connection. Rackley and her husband had quietly separated months ago, but Dustin Rackley continued living nearby, and the couple remained in close contact as they jointly raised their sons.
Memorez Rackley was a regular visitor at Jade Salon, just one street away from her home. She came every two weeks to get her nails done, employees at the salon said Friday, generally accompanied by at least one of her sons.
"We met all her sons, all three of them. They were really sweet kids," said Thao Carter, who works at the salon.
Employees say she was there on June 2, just four days before her death.
And so was Patterson.
Rackley was partway through a manicure, 6-year-old Jase at her side, when Patterson showed up, according to Carter. When Patterson walked into the business, the normally bubbly Rackley became clearly upset, apparently not wanting him there.
"She kind of ignored him," Carter said, noting that Rackley appeared distracted and halted her cheery conversation with her manicurist. "She was just quiet while he was there."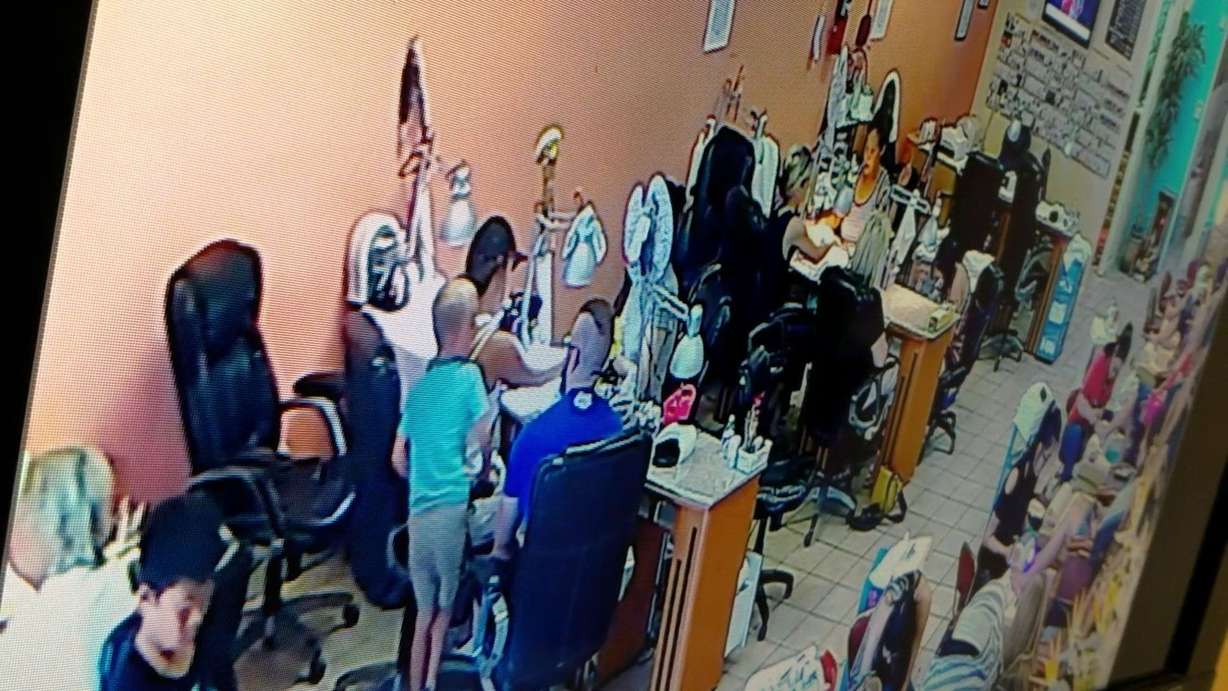 #surveillance_pic
A surveillance camera captured the encounter, showing Rackley seated with a manicurist, Jase standing at her side, as Patterson comes and takes a seat next to her. Their conversation can't be heard, but Rackley looks straight ahead as Patterson looks at her, and Jase stares at Patterson.
As soon as she can, Rackley suddenly stands up and walks away to wash her hands.
When news of the shootings reached the salon, Carter said the employees immediately recognized Patterson as the man who had come in and bothered their friendly regular customer.
"When we found out it was Mem, it was just so sad because we love her," Carter said. "We just never thought something like that would happen."
Rackley called Sandy police about Patterson 11 hours after that encounter at the salon.
At 2:34 a.m. Saturday, Rackley called police to report that Patterson was harassing her by telephone, and at Rackley's request, an officer talked to Patterson and asked him to stop contacting her. Additional information about that incident has not been released by police.
In pursuit
Going about her afternoon Tuesday, Hansen recalls looking out her window and seeing Rackley walk past on her way to Brookwood Elementary School, though she didn't realize at first that's who it was. However, the parade of parents was a sign that her own two children who attend the school would soon be home, perking up her attention.
Soon after, Hansen realized something was going on outside.
Traffic was backing up, she said, and a black pickup truck was driving over the median in the road, parking while facing the wrong direction in front of a neighbor's home.
---
I saw (Rackley) run across the street to go jump into the car, and as she ran across the street the guy followed her across and tried to pull her out of the car.
–Natalie Hansen, Sandy resident
---
The man driving the truck got out, Hansen noticed, as the woman she had seen before hurried across the road to get to a small, black SUV parked on the opposite side of the street.
"I saw (Rackley) run across the street to go jump into the car, and as she ran across the street the guy followed her across and tried to pull her out of the car," Hansen said. "She kind of swatted him off, pushed him away from her, and got in the car and hurried and shut the door."
Watching Rackley hurrying across the road, checking over her shoulder and breaking into a run as Patterson pursued her, Hansen never saw where Rackley's children were or how they made it into the SUV. She thinks they may have already been in the vehicle.
Hansen continued to watch as Patterson "huffed off," got back into his truck and drove away. While she hadn't heard anything that had been said, Hansen said the truck's departure left her feeling relieved that the tense situation seemed to be over.
But moments later, the truck came back and the SUV carrying Rackley, the vehicle's driver and five children took off, trying to get away.
Related:
Hansen was stunned when Patterson flipped a U-turn in his big truck right in front of her house, despite numerous cars and children who were out and about.
By this time, Hansen was out in front of her house, shouting at Patterson and trying to take down his license plate number to call police. Through the windshield, she saw him, furious.
"I don't know how to describe his face, it was just this anger, you know? And he didn't care, he didn't care about anything around him or anyone at that point," she said.
Hansen's phone shows that she called 911 at 3:47 p.m. that day. By the time she hung up two minutes later, the dispatcher told her police were aware of the situation and that it was "escalating."
She didn't hear the shots, but when Hansen stepped back outside after the 911 call to check in with a neighbor, the streets suddenly emptied.
"It was weird, it was like a ghost town. They all just cleared the street," Hansen said.
Healing
According to friends of the Rackley family, 11-year-old Myles is beginning to heal from a single devastating gunshot through his neck. The boy is awake and was expected to be breathing on his own Friday, they reported, even receiving a visit from a few close friends.
"The family has said repeatedly that he is brave and strong, and although the road ahead is long and hard, he'll make it through," said Sarah Weaver, who has been a visitor in the Rackley home for more than a decade through their connection in their LDS congregation.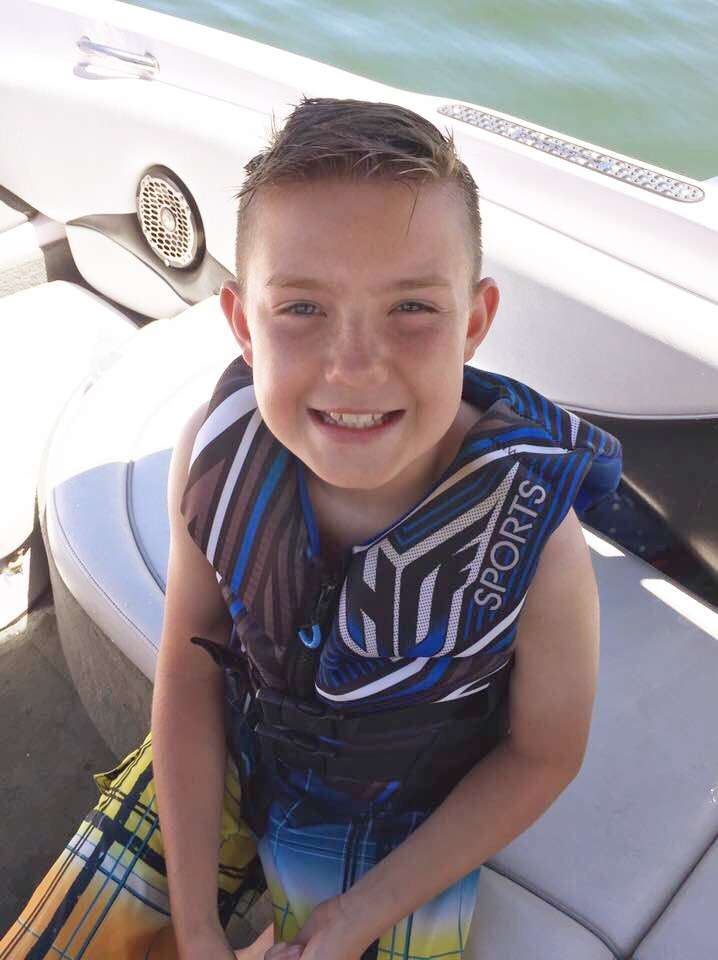 The 8-year-old daughter of the woman who stopped to help Rackley is also recovering from a gunshot to her leg and has been released from the hospital, according to neighbors.
Meanwhile, advocates for victims of domestic violence in the state are pointing to the shocking murder-suicide this week — as well as the death of a man who police say was run down on a West Valley street during an argument — as they call for Utahns to watch for warning signs and urge those who may be at risk to seek help.
"It is extremely important for all Utahns to understand the role domestic abuse played in Sandy and in West Valley. Both of the male perpetrators displayed warning signs prior to choosing to commit homicidal acts," said Jenn Oxborrow, executive director of Utah Domestic Violence Coalition. "We absolutely must do more to prevent violence in Utah, specifically, domestic violence. Prevention of violence in the home is essential to prevention of violence in the streets."
Help for people in abusive relationships can be found by contacting the YWCA's Women in Jeopardy program at 801-537-8600, or the statewide Domestic Violence Hotline at 800-897-LINK (5465).
Contributing: Ladd Egan
Domestic violence resources
The Utah Domestic Violence Coalition has a statewide, 24-hour hotline for victims of domestic violence at 1-800-897-LINK (5465).
The Division of Child and Family Services offers counseling, teaches parenting skills and conflict resolution and can connect the family with community resources. Their goal is to keep children with their family when it is "possible and safe," according to their website. Visitdcfs.utah.gov/questions/or call 1-800-323-DCFS (3237) for resources or to report child abuse or neglect.
The Christmas Box House acts as a temporary shelter for children and can provide them with new clothing and shoes, among other services. Call the Salt Lake office at 801-747-2201 or the Ogden office at 801-866-0350.
#dm_resources
×
Photos
Related Stories