This archived news story is available only for your personal, non-commercial use. Information in the story may be outdated or superseded by additional information. Reading or replaying the story in its archived form does not constitute a republication of the story.
PROVO — As the frantic search and recovery effort along the Provo River came to an end Tuesday, the mourning for the two adults and the 4-year-old girl who lost their lives in the raging river began.
The body of young London DeDios was found about 11 a.m. Tuesday trapped in logs and debris about a mile from where she fell in Monday afternoon. Crews had stopped the flow into the Provo River, reducing the water level. The Utah County Sheriff's Office said it was because of the reduced water level that they found the young girl's body along the bank near Nunns Park.
Her recovery marked the end of an exhaustive search effort. Both the girl's mother and a good Samaritan who jumped into the river after the girl also died while trying to rescue London.
Brenda Nalleli DeDios, 34, of West Jordan, had been sitting with her two daughters on the rocks at the end of a footbridge along the bank of the Provo River near Bridal Veil Falls about 3:40 p.m. Monday. London either slipped or stumbled into the river while on the rocks, said Utah County Sheriff's Sgt. Spencer Cannon.
The mother immediately jumped in after her daughter. Five bystanders, all males who saw what had happened, also jumped into the river, including Sean Zacharey Thayne, 30, of Sandy.
London was last seen about 150 yards downriver from where she fell in, Cannon said. Four of the adults got out of the water at that same point. Neither Thayne nor DeDios were able to find the girl or get out safely on their own. They were pulled out by police about 3 miles downriver near the Murdock Diversion Dam. Both were unconscious or not breathing at that point, Cannon said. They were transported to a local hospital in extremely critical conditions and pronounced dead a short time later.
Dianna Andersen said she witnessed the rescue attempt.
Andersen's husband tried to reach Thayne as the river swept them past, but she said Thayne was focused on trying to reach the others bobbing in the water.
"He was so brave and so selfless," she said.
Thayne didn't know London or her mother, his brother-in-law James Gentry said at a news conference Tuesday, but rushed to save them because he was a good swimmer with a big heart who loved kids. He was showing his in-laws the falls Monday afternoon when the tragedy unfolded.
"Sean was a loving, brave and selfless man. At 6 feet 3 inches, he looked over and looked out for all of us," Gentry said in a prepared statement on behalf of Thayne's family. Gentry spoke to reporters at Sunset Pond in Draper, saying it was one of Thayne's favorite spots.
"He had an infectious smile that couldn't help but spread, especially when he was trying to win an argument with you," Gentry said, echoing a statement posted on the family's fundraising page. "He was always selfless, willing to give his all to help those he loved."
"Sean was a student of the world, he loved to learn, travel, expand his horizons and meet new people and had a keen mind," Gentry said.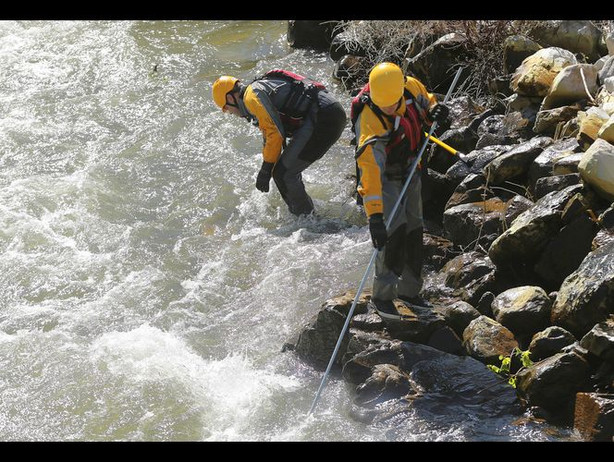 On social media, Thayne was hailed as a hero for his efforts to save someone he had never met.
"I will always remember the name of Sean Thayne because he is a true hero," one person wrote on Facebook. "What a devastating tragedy this was, but it's heartwarming to know there are wonderful, selfless people out there like Sean Thayne."
"A friend died today in a heroic act of love. It makes me consider what I would do if a stranger's life were on the line. RIP Sean Thayne. Utmost respect," another person wrote.
"So sad to hear about Sean Thayne. I was fortunate enough to have worked with him at Rain. Such a good man. A true hero," wrote another.
Thayne graduated from Jordan High School in 2004, according to friends. His family said he was a self-taught computer programmer for Playground Sessions.
Thayne's family set up a GoFundMe page* to help with funeral expenses and to help his wife.
Thayne is survived by an older sister and three younger brothers. He is also survived by his wife, Xin-Li Thayne, or "Poppy" as she is known. Thayne was learning Chinese on the internet when he met her, according to his family.
"Sean was the nicest person in the world. He always told me that I was his walking diamond. He told me that he was mine, and always would be. To the world he is a hero, but to me he was just Sean, and now he is gone," his widow said in a prepared statement.
The family of Brenda and London DeDios also remembered their loved ones and set up a GoFundMe page* to help with funeral expenses.
"Our angels Brenda and London will forever be missed. Our family experienced a tragedy this afternoon at Bridal Veil Falls. Our mother, sister, wife and daughter lost her life today along with her precious baby London," a message on the fundraising site says. "We the family are asking for any help or donations as we wish to provide them with a beautiful and proper resting."
The water temperature of the river was 45 degrees on Monday.
"A person cannot last very long in those conditions," Cannon said.
He described the location where the girl fell in as a "rough and tumble" area with fast-moving rapids.
Tuesday's search had been expanded to a 15-mile stretch of the river leading into Utah Lake, with the heaviest concentration from Bridal Veil Falls to just outside of Provo Canyon.
The sheriff's office also issued a warning and a reminder to the public that while the river was brought down to 300-cubic-feet per second during the search, it was expected to be flowing back at 1,100-cubic-feet per second by late Tuesday, making it extremely dangerous again.
Thayne's family said they want to use some of the money raised through the GoFundMe campaign to raise awareness to the danger of the fast-moving river by Bridal Veil Falls.
"Poppy and our family wish to remind parents and others to please stay away from raging water, as currents are often far stronger than they appear to be. It only takes a second for tragedy to occur. We thank the Utah County Sherriff's Office and Utah Valley medical personnel for their attempts to save our Sean. We hope that more fences and warning signs can be erected to prevent further loss of lives."
---
*KSL.com does not assure that the money deposited to the account will be applied for the benefit of the persons named as beneficiaries. If you are considering a deposit to the account, you should consult your own advisors and otherwise proceed at your own risk.
×
Photos
Related Stories