This archived news story is available only for your personal, non-commercial use. Information in the story may be outdated or superseded by additional information. Reading or replaying the story in its archived form does not constitute a republication of the story.
SANDY — To cheers from horse riders, dog walkers, mountain bikers and other avid users of Dimple Dell Regional Park, Salt Lake County and Sandy officials announced Friday that plans to pave the trail are no more.
Instead, the $4 million set aside for Dimple Dell from a recently passed parks bond will be used for other improvements in the nature park.
County Mayor Ben McAdams said the "passion and enthusiasm" of thousands of residents who spoke against paving the Dimple Dell trail helped "me and my team conclude that paving the North Rim Trail of Dimple Dell Park is not what should happen."
Now, McAdams said the county plans to create a task force made up of park users, residents and elected officials to study how to spend the $4 million.
That could mean opening of a tunnel under the TRAX Blue Line in Sandy so park users could travel from one side of the park all the way to the other and down to the Jordan River Parkway, said Sandy Mayor Tom Dolan.
"This is a great opportunity for all of us to have really great improvements in the park," Dolan said, adding that "$4 million will go a long way."
Monica Zoltanski, chairwoman of the Dimple Dell Preservation Community — the group that opposed the plans to pave the trail, thanked city and county leaders for listening to them.
"You guys listened. That takes courage and real leadership," she said. "Today that's something we don't see from our elected officials, so I want to thank you."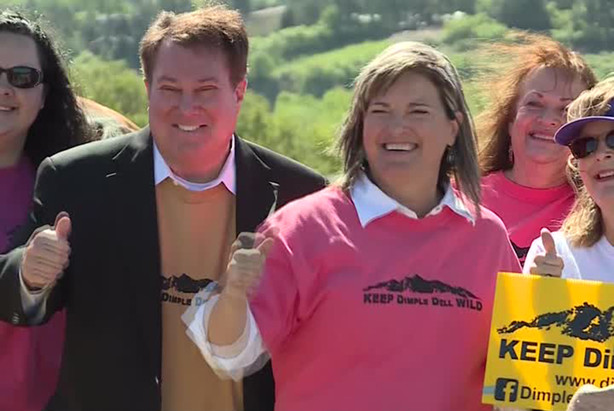 Zoltanski said Friday's announcement marked a "victory" for the regional park, which has been a haven for trail users for years.
"Today we've had our moment to make an impact on the future of Dimple Dell Park," she said.
The effort to "keep Dimple Dell wild" began earlier this spring when Zoltanski and other park users learned of the county's plan to pave the trail. Residents balked, saying it would destroy the unique characteristics of the park and make it incompatible for many existing uses — including horseback riding and hiking.
Horse riders worried that asphalt would attract more bikers — and increased speeds — that would make it dangerous for horses and riders.
Related
County Councilman Max Burdick thanked Dolan and other city officials for listening to residents and "evolving" on the issue.
"It's fun to see the public process happen the way it should, and that's listening to all of you," Burdick said. "Your efforts really paid off. That's a really inspiring thing to see happen."
Contributing: Caitlin Burchill
×
Photos
Related Stories