This archived news story is available only for your personal, non-commercial use. Information in the story may be outdated or superseded by additional information. Reading or replaying the story in its archived form does not constitute a republication of the story.
SANDY — From horseback riders to tots carried in slings, some 150 people gathered at the Wrangler Trailhead of Dimple Dell Regional Park for a march Saturday morning to urge Salt Lake County and Sandy city officials to keep the park "wild."
Under the recent $90 million voter-approved parks and recreation bond, the Salt Lake County Council set aside $31 million for maintenance and improvements to existing facilities. One of the projects in the county's master plan for parks is paving a trail along the north rim of the 646-acre regional park.
Area residents have balked at the plan because they believe it will destroy the unique characteristics of the park and make it incompatible to many existing uses, such as horseback riding, dog walking and hiking.
Jeff Peck of Bluffdale, who regularly meets with his brother to ride horses in the park, said there few places left in Salt Lake County that allow horseback riding.
Paving the trail will invite bicyclists and skateboarders who will travel at high speeds, which will be hazardous to horses and riders, he said.
"People who want to pave this don't know a dang thing about horses. There are literally hundreds of people in this valley who have horses and there's no place to ride them," he said.
Melani Smith of Sandy, carrying one of her three children in a front-facing pack, another on her shoulders and clutching the hand of her son, said they regularly visit the park for hikes.
"We're outside all the time and hike a lot in the mountains. In the winter, when it's snowy out, this is our spot," she said.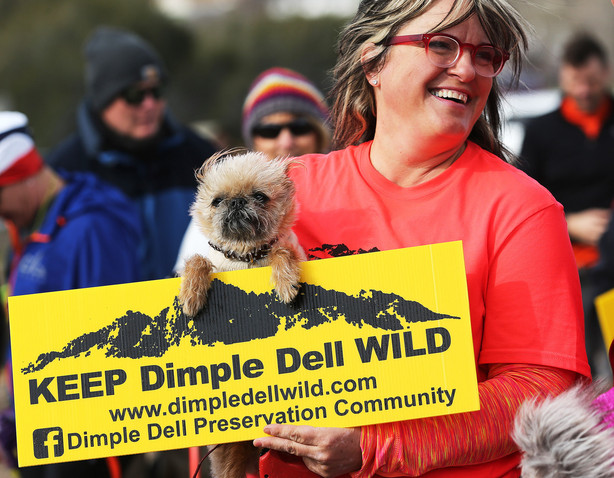 Diana van Uitert, a park preservationist who spoke at the rally, said she was among a group of people who decades ago pushed back against plans to develop a golf course on the land, which is along 1300 E. 10400 South.
"I want you to take a look," she said, pointing to the open space. "We did do something about it. Now let's make sure we keep Dimple Dell wild."
The group has an online petition that calls on Salt Lake County Mayor Ben McAdams to conduct a public hearing on plans for the park. More than 2,650 people have signed the petition thus far.
The petition, in part, says "the county's park master plan must be revised so Dimple Dell planning and maintenance occurs with preservation, and not development, as the priority."
Related:
Callie Birdsall, communications director for Salt Lake County Parks and Recreation, said the project was part of an earlier master plan because of requests from the community members who, at that time, asked the county to make the area more accessible for people with disabilities, parents with strollers and others.
While county officials are reviewing previous plans for the trail, Birdsall said both the county and city take seriously the needs and wants of residents and park users.
"We do not have any concrete plans. We are listening to them. Salt Lake County definitely wants to hear from residents and neighbors," she said.
County and Sandy city officials have discussed the possibility of conducting a public opinion poll to get a broader sense of county residents' wishes, she said.
×
Photos
Related Stories