Estimated read time: 2-3 minutes
This archived news story is available only for your personal, non-commercial use. Information in the story may be outdated or superseded by additional information. Reading or replaying the story in its archived form does not constitute a republication of the story.
Quarterback Max Hall and tight end Dennis Pitta have used this bye week to spend more time with their wives. And it just so happens that also means spending more time with each other.
The duo of Max Hall to Dennis Pitta has become one of the best combos in the country. But pit the Pittas and the Halls against each other and the friendship is temporarily put on hold. Hall says, "I'm telling you right now, we're going to eat you alive!"
But the bickering between the two is all in fun, mainly because Max and Dennis are brothers-in-law. Max's wife McKinzi and Dennis' wife Mataya are sisters.
A year ago McKinzi lined Dennis up with Mataya. She says, 'I met Dennis, and automatically knew Dennis is a great guy and thought he'd be perfect for Mataya. So I called 'Taya and told her about him."
The first date was an office party, watching "The Office" premier. McKinzi says, "He ended up picking her up, and the rest is history. Dennis Pitta says, "It was love at first sight. She took my breath away the moment I saw her."
Mataya says, "The night we hung out at the office party, we just hung out, and he cracked me up the whole time. And so, I was like, I like him. He's a keeper."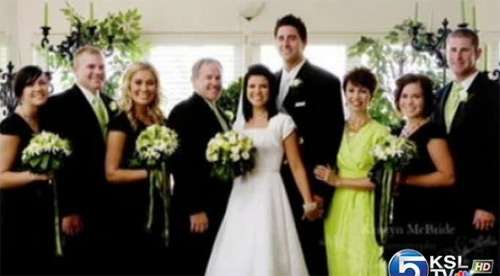 So what does Max think of having Dennis as a brother-in-law? He says, "I mean it's alright I guess. I have to have Dennis around more often which isn't a bad thing I guess."
It's a good thing, especially on Saturdays. Dennis says, "It's got to help. I'm blood now, so he has to get me the ball."
In this game that pits couple against each other, the early edge went to the Halls who have been married nearly two years. Dennis says, "I mean you've been married longer, so you have better chemistry."
The Pittas, who were married two months ago, have a little catching up to do. But in the end, they won.
Max knows there are more games to come, with the Cougars, with their wives and maybe in the NFL. He says, "I don't know about me but definitely Dennis. We're just kind of banking on Dennis. And I'll hit him up for a boat, a nice car and some other stuff. We know Dennis is going to get there."
E-mail: kaiken@ksl.com
×
Most recent Utah stories