Estimated read time: 2-3 minutes
This archived news story is available only for your personal, non-commercial use. Information in the story may be outdated or superseded by additional information. Reading or replaying the story in its archived form does not constitute a republication of the story.
SALT LAKE CITY — It looks like a horror film creature that came from the deep, but researchers say it merely originated from "the shallows" of the Philippines.
A team that includes scientists from the University of Utah is the first to recover and investigate rare, live specimens of a shipworm species known as Kuphus polythalamia.
"They were in mud, not particularly deep, in a marine lagoon that had been used for storing logs for a plywood factory nearby — which had closed down a long time ago," said Margo Haygood, the study's senior author and a research professor in medicinal chemistry at the University of Utah College of Pharmacy. "I saw that strong jet of water coming out of the siphon, showing that it was breathing and living — I was just absolutely thrilled."
Haygood said the white, elongated shells — some longer than 5 feet — have been known to be collector's items, but actually finding the shipworms responsible for the shells has been an elusive undertaking for decades.
"It would be more like finding the giant squid, which was written about for hundreds of years but was only collected recently," Haygood explained. "It was this gigantic animal that was a new thing."
Though carrying the 'shipworm label' and looking somewhat like a worm to the untrained eye, Haygood said shipworms are actually considered to be clams.
"They're animals that burrow into wood and eat the wood," she said. "They have siphons that they use for breathing that they stick out of the wood, just the way a clam sticks its siphons out of the sand."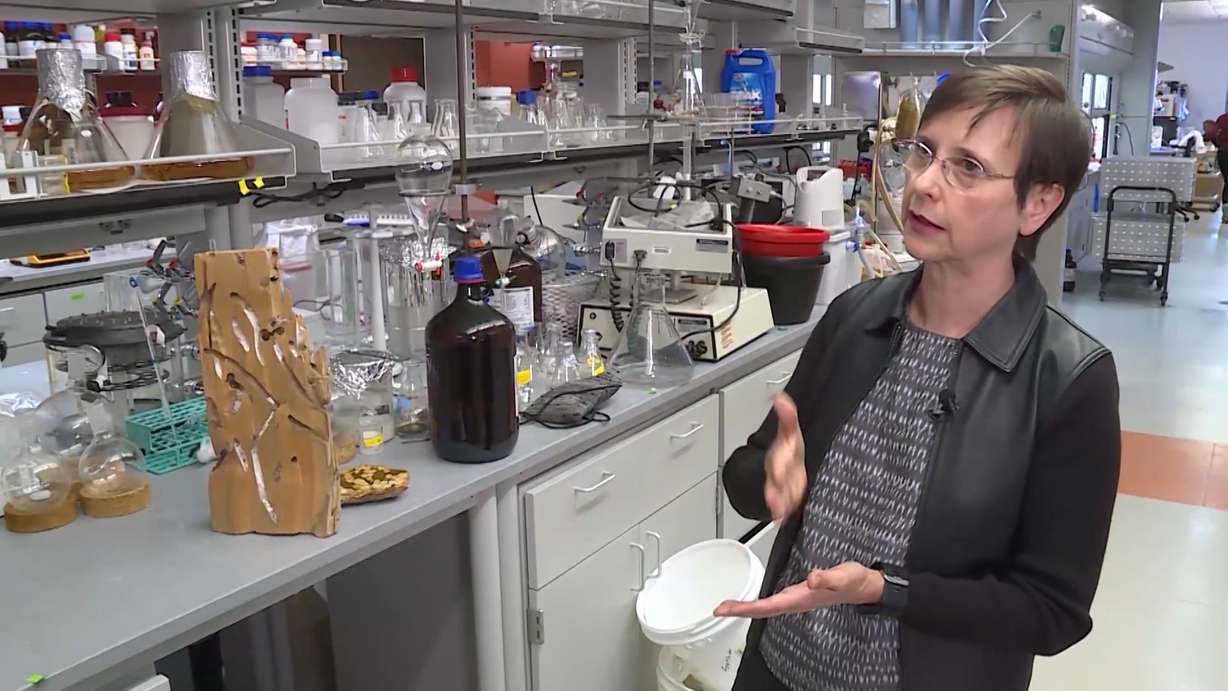 Haygood said the giant shipworm species is found in mud as opposed to wood, and how it came to be remains a mystery.
"The head end where the mouth is – it's capped, it's covered over with a shell, which is not true of any of the normal shipworms," Haygood said. "They not only changed their habitat, but they changed the bacteria symbiotics that live inside the cells of their gills, which is quite unprecedented."
Joining U. researchers were scientists from Northeastern University in Boston, University of the Philippines, Sultan Kudaret State University in the Philippines and Drexel University in Philadelphia.
The findings of the study were published Monday in the Proceedings of the National Academy of Sciences.
Giant sulphur-powered shipworm unearthed in Philippines https://t.co/uFgNibWJ3tpic.twitter.com/i9mKD2fcmA

— AFP news agency (@AFP) April 19, 2017
Haygood said she has studied conventional shipworms for well over a decade, perhaps hoping to uncover potential future uses in antibiotics.
The giant shipworms, she said, do not hold the same antimicrobial properties.
Still, Haygood underscored the significance of the group's findings.
"It's so exciting to study life on our planet," Haygood said. "There's so many weird things that we've yet to discover here, let alone on other planets." Andrew Adams is a multimedia journalist for KSL NewsRadio and KSL-TV. His work also regularly appears in the Deseret News. Email: aadams@ksl.com
×
Photos