Estimated read time: 6-7 minutes
This archived news story is available only for your personal, non-commercial use. Information in the story may be outdated or superseded by additional information. Reading or replaying the story in its archived form does not constitute a republication of the story.
SALT LAKE CITY — A few years ago, Nicole O'Brien became principal of Rose Park Elementary School and inherited a steady stream of students sent to her office to be reprimanded for problem behavior.
Pretty soon, O'Brien noticed that the children were missing something.
"I just saw this big hole in our kids," she said. "They did not have emotional self-awareness."
O'Brien said traditional methods, like suspending children who act out, did not sit well with her.
"The kids would get in trouble or they get frustrated, and then an adult would get frustrated, and things would escalate. And I thought there has to be a better way," O'Brien said.
The better way turned out to be five colors. O'Brien turned to what is called the "Grump Meter:" a color scale of emotions that goes from from "calm" blue to "grumpy" green, all the way to "explosive" red. It's a simple tool that makes it easy for kids and adults to communicate their feelings.
The Grump Meter was developed by Lynn Kaufman, a social worker from the Midwest, to help with anger management.
Implementing the 'Grump Meter'
Five years ago, O'Brien, with the help of Kaufman's daughter, then a professor at the University of Utah, brought the Grump Meter into some Rose Park classrooms.
Now the Grump Meter has spread very busily throughout the school. Grump Meters decorate hallways and classrooms. Teachers often ask students, "Where are you on the Grump Meter?" and "What color are you on today?"
O'Brien said the students are now much more aware of their emotions. When their feelings run up the scale, the children are encouraged to give themselves a time-out in what they call a "calming corner." Three-fourths of the classrooms have set aside these comfortable nooks stocked with paper, pencils, crayons and other items intended to help kids communicate their feelings and calm down.
One morning in third grade, April Hurtado and her friends were dealing with a serious personal issue that made them feel quite upset. They made multiple trips to a calming corner.
"I (asked) Miss Marsh if I could go to the restroom and take some deep breaths to be alone, because when I'm really mad I scream at them," April said.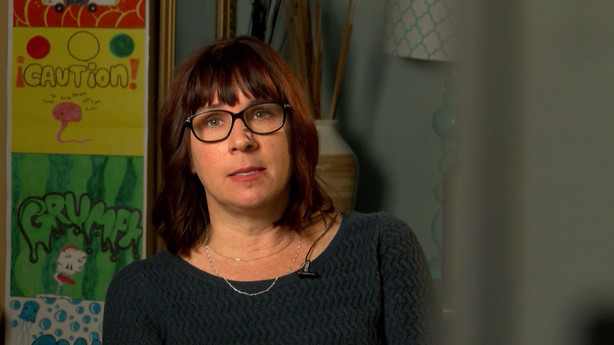 O'Brien said five years ago she probably would have seen a teacher tell April to sit down, "cut the drama," and get back to work.
April said when she's upset, she just can't concentrate. "You can't learn because all your focus is you're mad, and you get more stressed out if you don't know what to do," she said.
If the calming corner isn't enough, children can go to the Wellness Center — a classroom manned by paraprofessional Teresa Benedict.
"My main job is to listen and to teach skills," Benedict said.
"I come in here (to the Wellness Center) a lot because I get frustrated easily," said student Jesus Reyes.
He calms down, Jesus said, by coloring, counting backward from 10, and talking to Benedict.
"Yeah, it helps me a lot because it feels like I'm not getting ignored," he said.
---
We think that childhood is so innocent and stress-free, but these kids have a lot of stresses and have a lot of things on their minds, and it can build up and build up until they just explode because they just don't know how they're feeling.
–Teresa Benedict, Rose Park Elementary School
---
"We think that childhood is so innocent and stress-free, but these kids have a lot of stresses and have a lot of things on their minds, and it can build up and build up until they just explode because they just don't know how they're feeling," Benedict said. "They don't know what's going on."
O'Brien said students at Rose Park Elementary, a Title I school, often deal with serious issues such as poverty, immigration and domestic violence.
"Kids just deal with a lot of stress and trauma in their lives, and so they bring that to school and sometimes we wonder 'why aren't they paying attention in class?' 'Why aren't they focusing?'" she said.
As a result of the Grump Meter system, far fewer students are making those trips to the principal's office at Rose Park Elementary, and far fewer students face suspension. O'Brien said she suspends students only in extreme cases.
"Suspension doesn't work in changing behavior. It just doesn't work. And so when you exclude kids from the school, they feel less wanted, less motivated to be here, less motivated to take good choices," she said.
CREW
O'Brien's practices have been spreading to other neighborhood schools. Northwest Middle School, for instance, has replaced in-school suspension (ISS) with something called CREW (Community Restorative, Education and­ Work).
Previously, teacher Keslie Green said, students assigned to ISS would go to a mobile classroom in back of the school to sit and "stare at a white wall."
Recently, when Aaliyah Radrovi got into a fight, she went to the very same classroom. Instead of sitting and staring, though, she filled out a computer questionnaire about her feelings, watched a video about meditation and about being part of a community, and worked on a service project.
"I felt really welcomed here, like it felt like a place where I can go, where I could put my emotions in front of my work," Aaliyah said.
This approach — not punishing, but trying to repair relationships and that sense of community — is now called "restorative justice."
"It's a buzzword right now, but it's a very important buzzword," O'Brien said.
"It's to understand what damage you did to your community," Green said, "And kind of understanding how that affects everyone around you, and then thinking about taking steps to repair what was broken."
O'Brien said the concept has gained a lot of traction in the past couple of years thanks to "Paper Tigers," a documentary about students at an alternative high school in Washington state. After realizing what effect mental illness, neglect, abuse and other factors were having on kids, the school instituted a kinder, gentler approach to dealing with students' behavior.
"I don't want kids to feel ashamed because they have emotions. That's not OK," O'Brien said. "When our kids are angry or upset, I want them to know that that's a normal emotion. And the Grump Meter and the Wellness Center and a calming corner — they are all designed so that the kids can take time to cool down, not hurt someone else, not say something hurtful, not hurt themselves.
"It's a way to take responsibility for that so that those consequences that we sometimes see — those outcomes of triggers, saying something that you regret, pushing someone because you're in a 'fight or flight' — those kinds of incidences are reduced."
×
Photos
Related Links