Estimated read time: 2-3 minutes
This archived news story is available only for your personal, non-commercial use. Information in the story may be outdated or superseded by additional information. Reading or replaying the story in its archived form does not constitute a republication of the story.
For many motorists, compressed natural gas (CNG) is quickly becoming the cheap alternative fuel of choice. But many of those same people report ongoing problems at natural gas filling stations.
Utah has the cheapest CNG in the nation and is third when it comes to the number of pumps, but with demand on the rise, it appears Utah's CNG infrastructure isn't yet ready for prime time.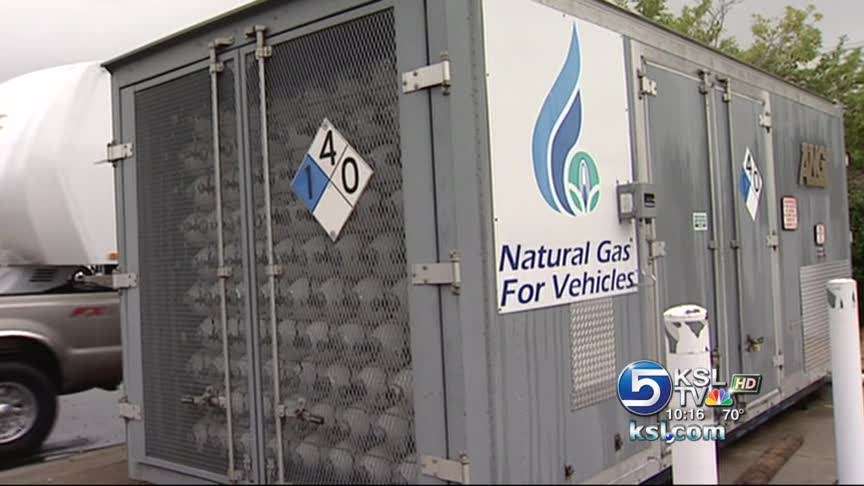 It's heralded as a cheap, clean alternative to gasoline. One driver, Mark Harmsen, said, "$20 a month in gas definitely sounds better than 300-plus of what other people are paying."
In Utah, an estimated 6,000 to 10,000 people have already turned to CNG vehicles, but there's a problem: there's not enough pressure to fill up. CNG requires adequate pressure. When the pressure's high, you get a full fill, but if the pressure is too low, drivers often leave the station with little to no fuel. After filling up his car, Patrick Hoyt told us, "We could drive to Layton on that whopping 1.2 gallons we just got."
The reason is simple, there are too many people trying to fill up. Questar spokesman Darren Shepherd said, "Eighteen months ago, our stations were dispensing about 100,000 gallons of natural gas a month. Now they're dispensing more than 400,000 gallons a month. That's four times as much, and we're seeing just too much of an increase."
Questar Gas, the sole provider of CNG in Utah, says it's aware of the problem at the pumps, but there's not much it can do about it. The company operates under strict regulations, and providing compressed gas is not part of its current business plan.
"To go ahead and just start installing stations at every gasoline outlet we can find wouldn't be a prudent, wise investment of money for a service we're not sure will ever really respond," Shepherd said.
State officials have also heard complaints and are looking into possible solutions. Energy advisor Dianne Nielson said, "At the end of the day, what we're looking for is a way to enable a market commodity, compressed natural gas, to be available the same way gasoline and diesel are for those vehicles."
But that will take time, time that may be too long for drivers like Hoyt. He sold his CNG truck shortly after our interview. Still, he says he'll buy another one because it's too important not to.
"I don't have any regret for going to buy one. I think I did the right thing. And I think I did the right thing for complaining about not having it and paying more money to have it put in. If everybody does something then we'll get somewhere," Hoyt said.
One way to avoid those pressure problems is to install a CNG pump in your own home, which costs upwards of $4,000
Motorists address concerns, suggestions or questions to the State Energy Advisor's office by calling 801-538-8802 or contacting:
Dianne Nielson
Energy Advisor
324 S. State Street
Salt Lake City, UT 84111
E-mail: jdaley@ksl.com
×
Related links
Most recent Utah stories