Estimated read time: 4-5 minutes
This archived news story is available only for your personal, non-commercial use. Information in the story may be outdated or superseded by additional information. Reading or replaying the story in its archived form does not constitute a republication of the story.
SALT LAKE CITY — Utah's representatives expressed frustration at Republican leaders' abrupt decision to pull their rewrite of the nation's health care law from the House floor on Friday.
They also signaled uncertainty on how to move forward after Speaker Paul Ryan and President Donald Trump announced they would "proceed" with tax reform.
"Obviously, some things will have to change in order to move forward if this issue is brought back up again," said Rep. Rob Bishop, stressing the word "if."
Bishop and fellow members of Utah's House delegation — including Rep. Jason Chaffetz and Rep. Chris Stewart — declined to answer whether they felt it was time to strike again or move on.
"I think we're going to take (Paul Ryan's) advice and not make any definitive statements right now what I will or will not do in the future," Bishop said.
He added: "I know people who have lost their jobs because of the (Affordable Care Act) mandates. I feel for these people. It needs to be solved... Not that the bill today was the perfect conclusion, but it was the beginning of a process."
Stewart's spokeswoman said only that the representative was "very disappointed" in the bill's failure and declined to say whether he would like to try again.
Chaffetz, in a written statement, said it was unfortunate that lawmakers "couldn't come to a consensus. But we need to get there."
And Rep. Mia Love called the bill's failure "unfortunate" and pledged to "continue to work to ensure Americans have the best health care options available in another way."
Related
The bill, known as the American Health Care Act, was hurt by a bruising score from the Congressional Budget Office, a flurry of last-minute changes made late Thursday, and skepticism among health policy experts.
Despite the flaws of Obamacare, "nobody who studies health policy is going to think this is great," said Brigham Young University economics chairman Mark Showalter. "It's got these very clear flaws to it."
According to Showalter, the bill was hurt by Republicans' desire to keep the carrots of Obamacare while repealing all of the sticks.
Among other things, the measure would have kept popular Affordable Care Act provisions that allow adult children to stay on their parents' insurance until age 26 and require insurers to cover pre-existing medical conditions.
But Republicans also wanted to repeal the coverage mandates that kept healthy people in the pool.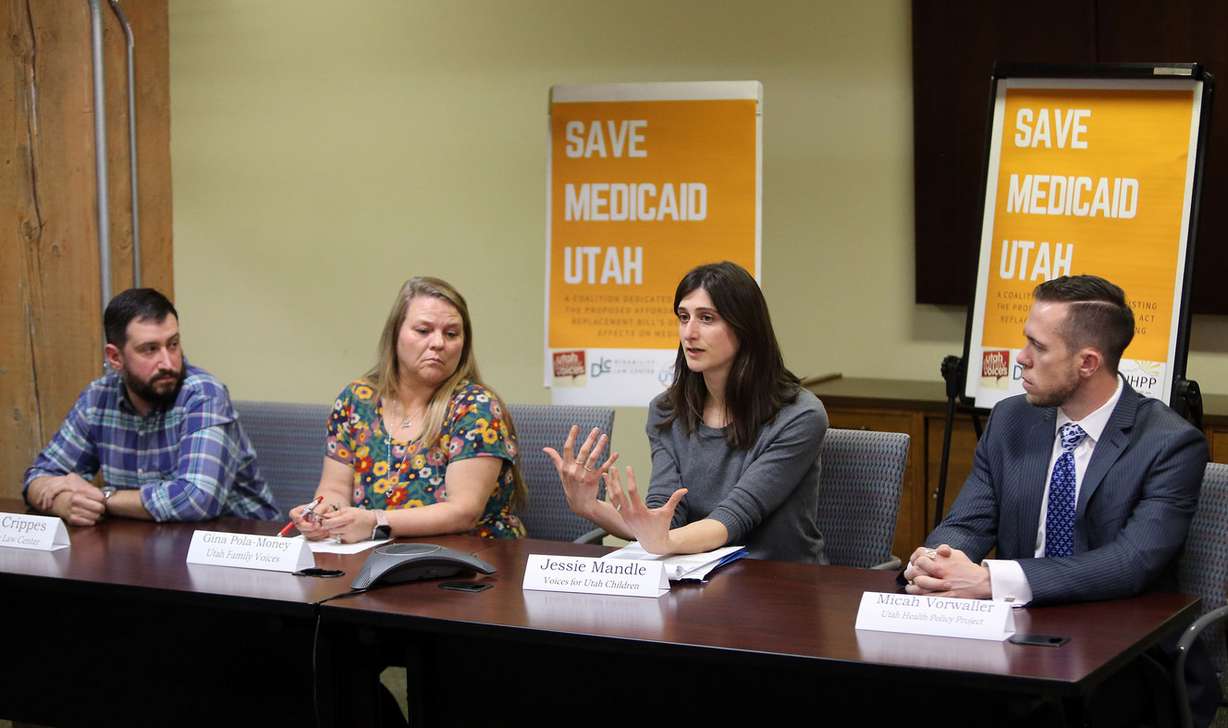 "It's not an economically viable thing unless you force people into the pool," Showalter said. "There are no free lunches. This is a tough, tough thing. And (Republicans) haven't been straightforward with how they're going to try to do it."
At the Disability Law Center in downtown Salt Lake City, a coalition of patient advocates who had arranged to hold a press conference just before Stewart's scheduled town hall at nearby West High School, breathed a sigh of relief.
Jason Stevenson of the Utah Health Policy Project said the bill had been drafted in a "hurried, closed-door and disconnected process."
To pay for what would have been a large number of people leaving the market, the bill proposed to make large cuts to Medicaid, to allow insurers to charge up to five times more for older adults and to eliminate the requirement for insurance companies to cover certain benefits like maternity care.
"They call it freedom, but it's actually chaos," Stevenson said. "It's chaos for consumers trying to navigate health care."
'Doomed by division'
According to University of Utah political science professor James Curry, the measure was ultimately doomed by division within the Republican Party — a split that can be seen even within Utah's all-Republican delegation.
While Utah's four House representatives and Sen. Orrin Hatch signaled support for the bill, Sen. Mike Lee remained a fierce opponent.
In media appearances, Lee regularly called for a more robust repeal and said the House should cancel the vote. In a statement on Friday, he commended the withdrawal of the vote, calling the bill "not ready for the House floor and certainly not ready for the Senate."
Curry said it appears Republicans will move on to tax reform, a less controversial topic that enjoys broader support, even among some Democrats.
Hatch, in his statement Friday, indicated that lawmakers will pursue "pro-growth initiatives such as tax reform and implementing a strong trade agenda" while continuing "to look for ways to protect American families" from Obama's Affordable Care Act.
Whether that means Republicans will wait to see if Obamacare collapses on its own or pick up health care reform again after the midterm elections remains unclear, Curry said.
"These divisions have been opened up in the party," Curry said. "We'll see if they can close them back up." Email: dchen@deseretnews.com Twitter: DaphneChen_
×
Photos
Related stories
Most recent Utah stories