This archived news story is available only for your personal, non-commercial use. Information in the story may be outdated or superseded by additional information. Reading or replaying the story in its archived form does not constitute a republication of the story.
PROVO — The phrase "witnessing history" isn't thrown around lightly in conversation unless it's sarcasm, a language in which Dr. Wendell Gibby seems proficient. But this time, he's serious.
Gibby, neuroradiologist and founder of medical imaging software company Novarad, worked with Dr. Steve Cvetko, director of research and development at Novarad, to change the way doctors operate by using new technology not yet released to the public: the HoloLens.
The HoloLens are augmented reality glasses developed by Microsoft that allow the wearer to see and manipulate holograms with the swipe of a finger. Cvetko combined the medical imaging software of Novarad with the HoloLens to create three-dimensional holograms of MRI scans, CT scans and X-rays, among others.
"You're witnessing history. Really, this is revolutionary what you're going to see," Gibby said when I met him in his office at Riverwoods Imaging in Provo. "This is the first demonstration of it, and Dr. Cvetko was the first in the world to create this. He's married some really amazing technology and visualization with augmented reality."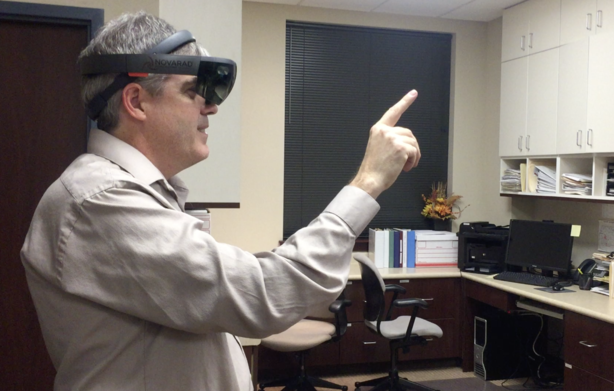 After scanning a patient, a doctor can upload the medical images to "the cloud," and access them using the HoloLens's built-in computer.
Surgeons generally operate on patients after studying scans on a computer and must rely on what they see in those 2-D images to operate and make incisions. During surgery, they often have to consult the scans and go back and forth from the patient to the computer.
With the HoloLens, however, the 3-D holograms of the body scans can be superimposed on the patient so a surgeon can completely visualize before or during surgery what he or she may be looking for.
"It's a tool that would be for surgeons, chiropractors, anyone who takes medical images and works with the patient," Cvetko said. "Even before surgeons operate … often they're looking at reports or computer screens to see where the operation is gonna be … and they'll look at the computer screen and down at the patient and they'll make a mistake. With the HoloLens, it doesn't even need to be the doctor. One of the technicians … can put this on, focus it on the patient and see exactly what area needs to be prepped."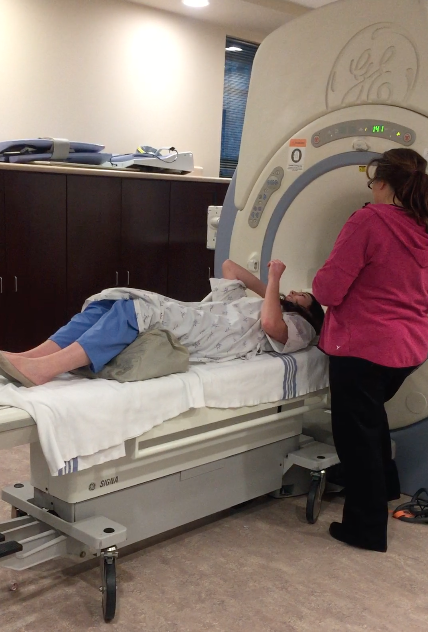 Cvetko and Gibby believe the HoloLens will not only make surgery more efficient but significantly decrease any mistakes surgeons may make during surgery, like operating on the wrong side. Parts of the body that may be difficult for a surgeon to find become easily accessible with the inside visualization.
Patients can also put on the HoloLens and see a three-dimensional rendering of their bodies that's easy for them to understand. Medical school students and new doctors may also benefit from the opportunity to virtually operate before doing so on a cadaver or a live human being.
"You don't want to be the first patient that a young doctor does, but if he can plan this, if he can visualize it … multiple doctors could test fly it before they actually cut, and they could walk up to you and say, 'I'm going to make my incision in here, this is where the mass is.' We think it will vastly speed up the operating process," Gibby said.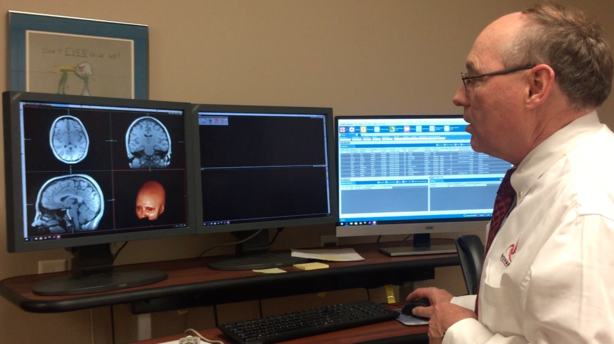 Gibby and Cvetko have not yet allowed the use of the HoloLens during surgery on a patient, but granted me the opportunity to watch the technology in action for the device's inaugural demonstration.
After conducting an MRI scan of my brain, they uploaded the images and peeled back my skull on the computer screen to show me the inner workings.
"There's your motor cortex," Gibby said. "Let's say I'm going to operate on your head. If I go in and damage that, you're going to be paralyzed somewhere, so I want to avoid that at all costs."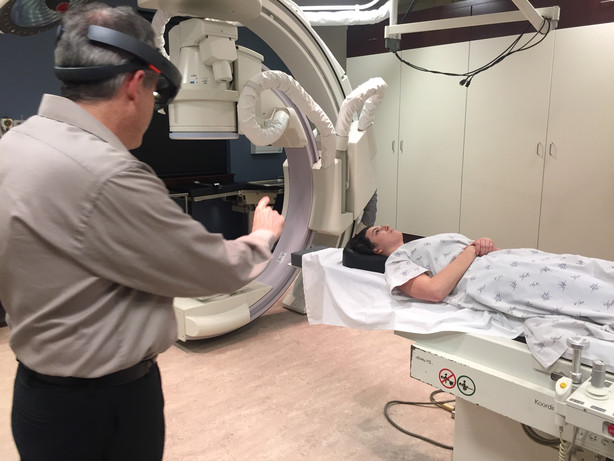 Once my brain was uploaded to "the cloud," I laid down on the operating table and Cvetko projected the hologram of my brain onto my head, though only he could see it. After swiping through the air at images invisible to the rest of us, he announced it was ready for me to try on.
Once someone else had laid down on the operating table, I took a closer look at my brain. Like a scene from "Iron Man," I was able to move back and forth through a hologram of my brain with a snap of my fingers and a flick of the wrist.
"Once you make the incision, it's pretty hard to see things, it's just a bloody field," Gibby said. "This allows you to continue to see the anatomy through the patient."
Gibby and Cvetko are currently working on patenting the technology and Cvetko says the next step will be getting it approved by the FDA and demonstrating its abilities to a more wide-spread audience.
"No one else in the world has anything like this," Cvetko said. But, the doctors noted, one day they will.
---
Liesl is a reporter at KSL.com, section editor of KSL Tech and a student at Brigham Young University. You can email her at lnielsen@ksl.com and follow her on Twitter at @liesl_nielsen.
×