Estimated read time: 3-4 minutes
This archived news story is available only for your personal, non-commercial use. Information in the story may be outdated or superseded by additional information. Reading or replaying the story in its archived form does not constitute a republication of the story.
SALT LAKE CITY — Utah is the envy of much of the nation when it comes to the state's overall economy and population growth. But there are problems, in both urban and rural Utah, that need solving.
Issues with growth, jobs, education, air quality, energy and agriculture affect parts of the state differently. That's why KSL News is hosting a town hall meeting Monday, followed by a series of special reports to help Utahns along the Road to Understanding.
When you crunch the economic numbers, it's easy for Utah to shine.
"We have one of the most rapidly growing economies in the country," economist Natalie Gochnour said. "Unemployment is low. People are moving into our state. It's a prosperous time."
But Gochnour, director of the University of Utah's Kem C. Gardner Policy Institute, said some parts of the state don't benefit from those glowing reviews.
"What troubles me most is that we have two different realities in our state," she said.
For example, she showed us a map that highlighted growing employment in many Utah counties, while also showing other counties — mostly in eastern Utah — experience negative job growth.
"We actually have counties in this state that are getting smaller and smaller," Gochnour said.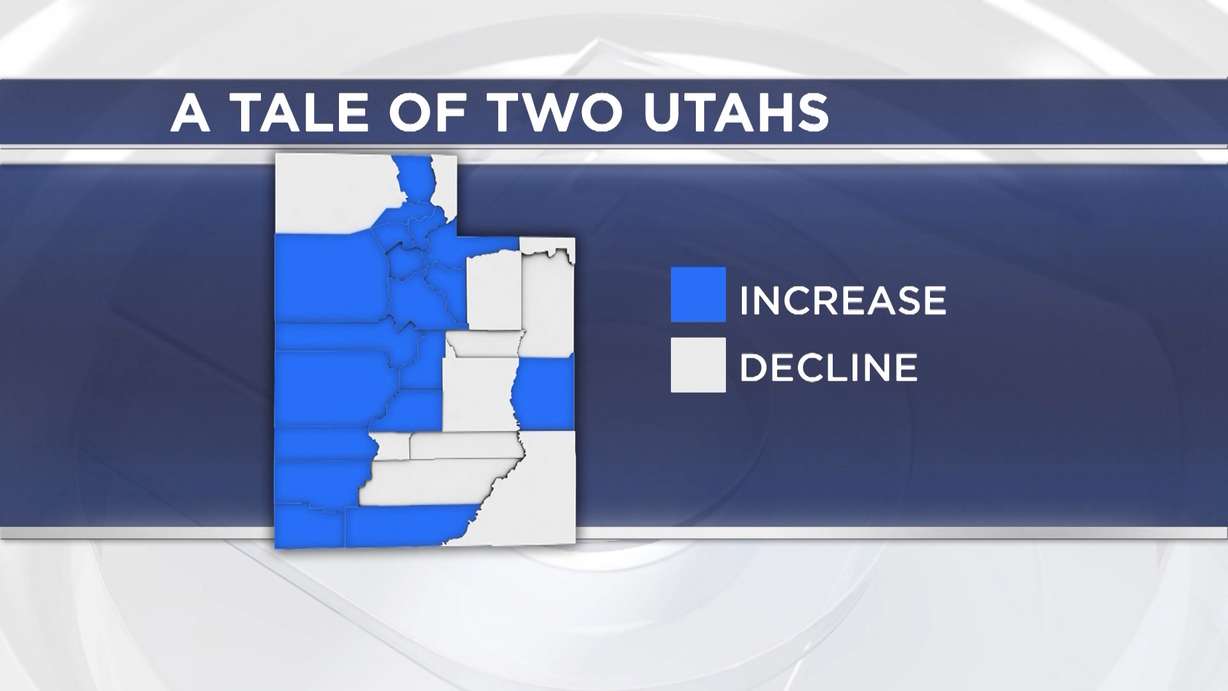 Gov. Gary Herbert recognizes the problem, saying we need to focus on creating jobs in all 29 counties.
"We sometimes get caught up here on the Wasatch Front, as if that's the only thing that matters," Herbert said. "We've now got some incentives to, in fact, bring capital investment into the rural parts of Utah."
Meanwhile, Utah lawmakers are concerned about many issues. House Speaker Greg Hughes said while he and his colleagues worry about rural Utah, they also worry about how to pay for everything in a booming population along the Wasatch Front needs — like more roads, schools and mass transit.
"We are a fast-growing state where the demands are going to ultimately ... If we don't see some of this reform or change, with the way our economy is changing we're going to see the revenue we collect is not going to keep pace with the growth of this state," Hughes said.
---
In growing Utah, I think we have an obligation to think about other areas of our state that don't have the economic advantages.
–Natalie Gochnour, Kem C. Gardner Policy Institute
---
With Utah's overall excellent economy, now could be the perfect time not just to understand, but to create more opportunities for families from Logan to St. George.
"In growing Utah, I think we have an obligation to think about other areas of our state that don't have the economic advantages," Gochnour said.
To kick off the Road to Understanding initiative, KSL will hold a town hall meeting Monday at 6 p.m. The commercial-free, hour-long discussion will broadcast live from the Territorial Statehouse in Fillmore.
KSL NewsRadio's Doug Wright and KSL TV's Deanie Wimmer and Dave McCann will host the discussion among nearly 100 participants, including a mix of decisionmakers and everyday citizens.
After that, more than a dozen KSL journalists will crisscross the state to talk with Utah families to find out their struggles and shed light on their successes. The goal is to help Utahns everywhere understand one another a little better and make better decisions for everyone.
Email: legan@ksl.com
×
Most recent Utah stories