This archived news story is available only for your personal, non-commercial use. Information in the story may be outdated or superseded by additional information. Reading or replaying the story in its archived form does not constitute a republication of the story.
MURRAY — Every artist carves for a reason. Jon Nelson's is a little more complicated than most.
"Some just have a joy to turn things out," he said. "For the most part, they don't sell their carvings. Maybe they give them away to their grandkids."
Jon is one of the most prominent artists who set up shop in the big barn at Wheeler Farm Saturday, as part of the Great Salt Lake Woodcarvers Annual Show and Competition. Leaning back in a white folding chair, he carved tiny pieces out of an egg-shaped piece of wood, fashioning it into a Santa face.
"I tell kids it was laid by a wooden goose," Jon said.
His journey into the world of sculpting wood started 24 years ago when he picked up a book by famed caricature carver Andy Anderson.
"He just really inspired me," Jon said. "I decided that's the type of thing that I would like to do."
That's why you'll find Jon parked behind a long table, every inch covered with a wide variety of figurines — lanky cowboys, mischievous gnomes and even a viking with a somewhat bewildered expression. Each character sports exaggerated features and has a rough look to it; Jon says that's because in a world with so many manufactured goods, people like to be able to easily identify something as being hand carved.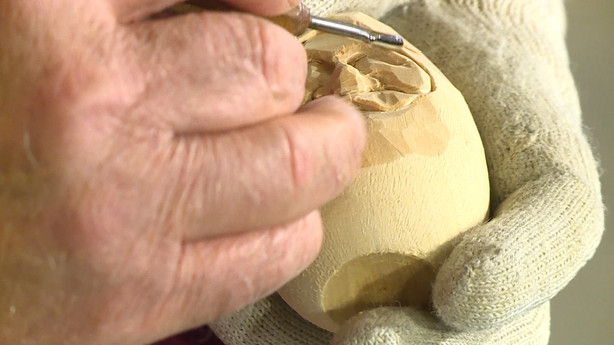 Pleasing the masses is part of Jon's goal, because he's not just here to show off his art; he turned his hobby into a business, complete with his own website.
"Which is not the smartest thing I've ever done," he said. "I carve probably six or seven hours a day."
It may look relaxing at first glance, but Jon says the work can be brutal. In fact, one of the first things you'll notice about him are his beefy forearms.
"Unless somebody's used to carving several hours a day, they're not going to have the hand strength or the durability to stick with it," he said. "When you get tired, (and) that's when you cut yourself."
Helping out those new to the hobby is another part of Jon's business. While the local Woodcarvers Show gives an opportunity for artists to display their works to the public, he's here to give a boost to those looking to get involved. In addition to selling artwork, Nelson peddles what are called "roughouts," which have the general shapes of his figurines already cut, allowing newcomers to work on the fine details.
One of Jon's customers jokingly referred to it as "cheating," be he says it's anything but. To him, stopping those interested in the hobby from getting discouraged is part of his job.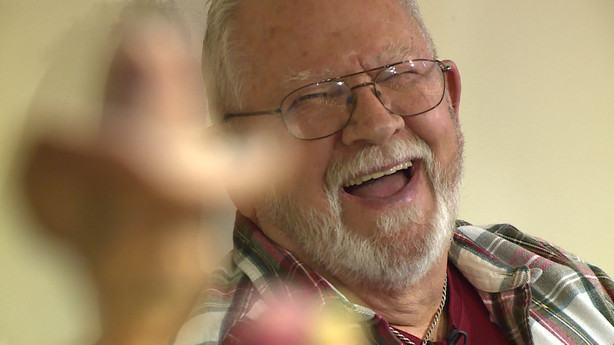 While that job may be arm-breaking, it's a passion; and Jon didn't think twice about changing careers and jumping in knife-first.
"It wasn't difficult because my wife had a good job," he said. "And if she hadn't, I wouldn't have been able to go into this."
When he decided to leave his regular job in the sawdust, how did he break the news to his wife?
"I never said that to her," he said with a smile. "I just let her be surprised."
A risky decision, which his wife stood by.
"Well, she thinks I'm crazy. But it has nothing to do with carving," he joked.
His sculpting tools have shaped his life as much as they have his art, and the same went for his wife.
"My wife is now retired," Jon said. "I call it retired, but she doesn't think it's retired."
That's because Nelson's wife, Donna Nelson, is as much of a part of the business as he is. When he sets up to sell his art, she's always just a few feet away, chatting up potential customers.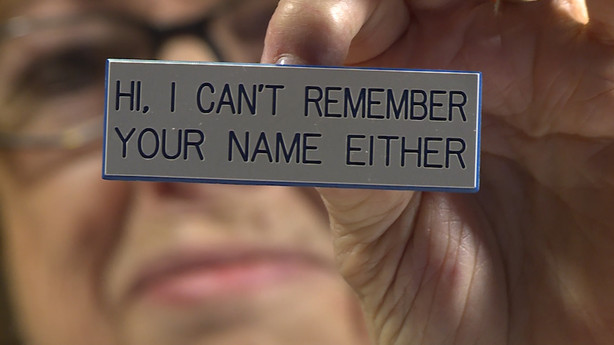 "He can't brag about himself, but I can brag about him," she said. "It makes him a little irritated when people ask me, 'Do you carve?' I'll say 'No.' 'Do you paint them, then?' I'll say 'No.' And they'll say, 'Then what do you do?' You know, like I'm chopped liver or something. And so I got to where I kind of say, 'I do everything else."
It's easy to see that the couple shares the same sense of humor — they've been inseparable for 53 years.
"I'm a year and a half older than he is," Donna said with a smile. "So I guess that makes me a cougar, right?"
Having a good time is an essential part of their relationship, since they're bound at the hip. That's because the Nelsons aren't from around here. They live in Colorado Springs but spend most of their time crisscrossing the country in a van, teaching carving classes and selling their wares.
"We get to see places we might not have seen before," Donna said. "We try to string two or three things together, and oftentimes a club will give us a place to stay if we'll teach a class."
"It gave us an opportunity to see Alaska," Jon said. "They paid our way up there, and then we taught a class."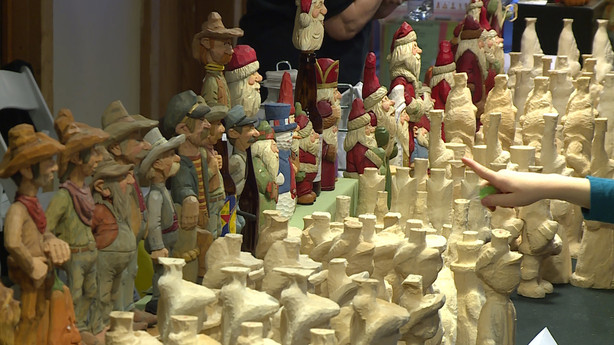 Both the Nelsons say the woodcarving community is extremely tight-knit. In fact, they credit a lot of their successes to helping hands when they were first starting out.
"Jon has often said that there's no other thing that he could have gone into where, within the first year or two he met some of the top people in the business," Donna said. "They've always been very helpful, volunteered tips on painting or getting your product out, how to do a website. Woodcarvers are very generous."
Now, with their business about as strong as it can get, it seems like their biggest issues revolve around all that time spent in their van.
"Told my wife that if we take on any more product, she's gonna have to ride on the roof," Jon laughed.
"There are times when you want to threaten to kill each other," said Donna, "but it doesn't happen too often."
Perhaps their success isn't due to the quality of their carvings, or the help from of some friendly mentors, but their ability to get along and take a leap of faith together.
"She's always been very supportive," said Jon. "She said 'If that's what you want to do, then go for it.'"
If every artist carves for a reason, maybe his reason was simply to spend more time with his wife.
"She's a good woman," said Jon, "and that's why I picked her."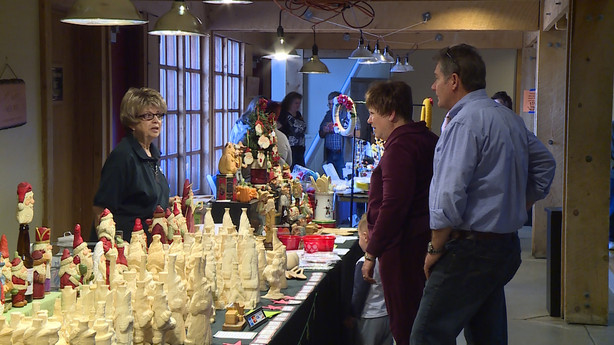 You can learn more about Jon and Donna Nelson by visiting their website, jonnelsonwoodcarving.com. For those interested in joining up, you can visit the Great Salt Lake Woodcarvers online at gslcarvers.com.
---
Ray Boone is a photojournalist for KSL-TV. Contact him at rboone@ksl.com
×
Photos
Related Links