This archived news story is available only for your personal, non-commercial use. Information in the story may be outdated or superseded by additional information. Reading or replaying the story in its archived form does not constitute a republication of the story.
SALT LAKE CITY — Salt Lake Comic Con kicked off its latest FanX event Friday with a new round of geeky costumes, souvenirs and celebrity encounters.
At the opening news conference for the two-day convention, organizers introduced the event, and a sampling of the celebrity guests were available to chat with media.
James Estrada, of Salt Lake City, attended to news conference with his 5-year-old son, Joah, in hopes of doing a few interviews for his blog, "Nerdy at Home Dad."
But when he approached to ask for a picture with Khary Payton — a current star on "The Walking Dead" and a voice actor in some of Joah's favorite cartoons, "Teen Titans Go!" and "The Lion Guard" — it was his son who got the first question in.
"Do you want to see my game?"
With a grin, Payton scooped the costumed tot onto his lap and gave his full attention as Joah showed him the game he had been playing on his small tablet, "Star Wars: Galaxy of Heroes."
"These are the soul-feeding moments," Payton said afterward. "When you're shooting or you're recording a show … you're in a box. You don't have that immediate gratification that stage gives you. So this is a way for me to be able to really connect."
For a moment, Estrada was at a loss. Then he pulled out his phone to capture the moment as the two played together.
Estrada said he later realized the soon-to-be 6-year-old didn't feel the same starstruck anticipation he had. The boy was simply making a friend.
"That's what I love about the kids. They don't get celebrity. They don't understand it. All they know is, 'Hey, I hear your voice every now and then. Look at me. I'm in a costume,'" he said.
Estrada has attended each of Salt Lake Comic Con's eight events with his family. Each time, he prepares a new costume for Joah, with one of his most elaborate being a suit and mask of Rocket Racoon, a furry character in Marvel's "Guardians of the Galaxy" franchise.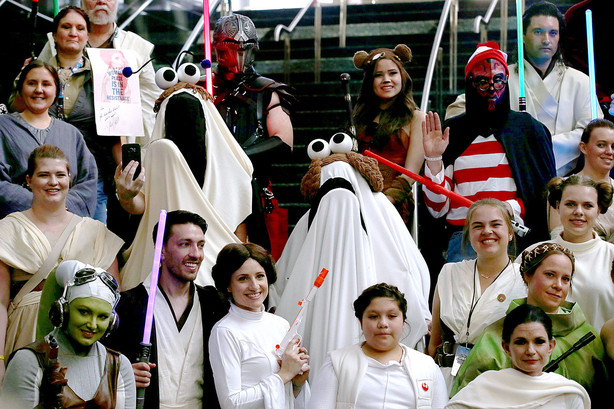 Friday's costume depicting Cassian Andor — a Star Wars character, of course — was one of the simplest and cheapest so far, Estrada said, but already one of the most popular. The outfit consisted of a jacket adorned with hand-sewn patches and cardboard detailing, a homemade holster, a spray-painted squirt gun and a pair of snowboots Joah already owned.
"It cost me like 10 bucks to make this costume," Estrada said.
At Friday's news conference, event co-founders Dan Farr and Bryan Brandenburg praised FanX's surprisingly strong guest lineup — especially considering organizers initially planned to skip the spring edition of the hit comic and pop culture convention due to scheduling conflicts in the Salt Palace Convention Center.
"A lot of magic happened," Brandenburg said, "because usually there's much more planning going into this event, but we were able to pull off probably our best FanX lineup ever in such a short period of time. It's kind of a miracle."
Farr credited the celebrity lineup to Salt Lake Comic Con's growing positive reputation.
With the event in its first hour, Brandenburg said ticket sales were approaching 50,000, putting it on track to match previous three-day FanX conventions. This year's abbreviated event runs through Saturday.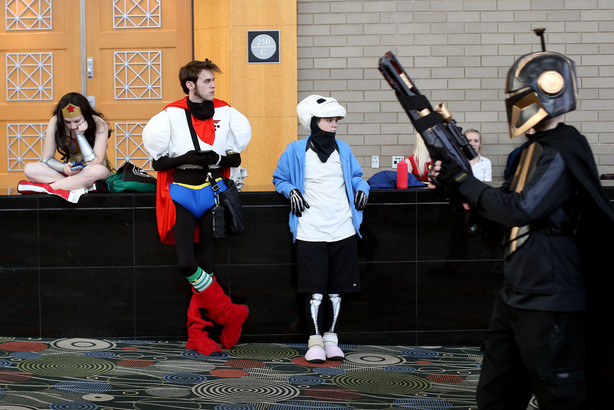 Now in its fourth year, Salt Lake Comic Con floods downtown twice annually with its major pop culture and comic conventions. Its headline event, which happens each September, attracted more than 120,000 attendees last year.
Attendees can purchase photos and autographs with celebrity guests, attend panel presentations and celebrity appearances, and peruse geeky art, apparel and memorabilia on the convention floor.
In addition to Payton, the celebrity lineup includes stars such as Zachary Levi, who played the loveable nerd-turned-super spy in the TV series "Chuck" and voiced "Tangled" hero Flynn Rider; James Roday and Dule Hill, the mystery-solving duo from "Psych"; "The Princess Bride" actors Cary Elwes, Wallace Shawn and Chris Sarandon; and musician "Weird Al" Yankovic.
Sam Jones, who played the original Flash Gordon, is making his first Salt Lake Comic Con appearance this weekend. He began his visit with a screening of the show at Brewvies Cinema Pub on Thursday night followed by an hourlong question and answer session.
Jones praised the fans he has met in Salt Lake so far as "stellar" and personable.
"It's an opportunity for me to hear their story about the impact Flash Gordon had on their lives as well," he said. "They asked me about life and about marriage and stuff like that, and that's what makes me feel good. That's what inspires me. When we start talking about life's issues, everyone can relate to that."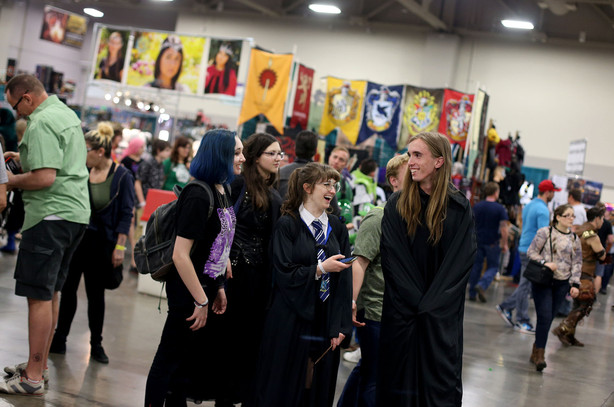 Marvel creator Stan Lee, now 94, had been scheduled to return to Salt Lake City for one of his final comic con appearances Saturday, but he postponed the visit Friday due to health concerns. Organizers said they wish him a speedy recovery and hope he will be able to return to a Salt Lake Comic Con event in the future.
After the announcement was posted online, Brandenburg said organizers were met with a wave of sympathy and concern for the comic book icon, rather than frustration he would be missing the event.
"This has been the (cancellation) that fans have responded to with heart and compassion," Brandenburg said, as opposed to reactions when celebrities have canceled for other engagements.
Lee was also scheduled to appear at Big Apple Comic Con in New York City last week and canceled that appearance for medical reasons.
Organizers are still looking into a possibility of Lee appearing by video on Saturday, Brandenburg said. And Lee's staff are evaluating his availability for Salt Lake Comic Con's full event in September.
For those who paid for photos or autographs with Lee, options have been made available for fans to switch their reservation to other celebrities, carry their purchase over to September's event, or receive a full refund.
×
Photos
Related Links