Estimated read time: 2-3 minutes
This archived news story is available only for your personal, non-commercial use. Information in the story may be outdated or superseded by additional information. Reading or replaying the story in its archived form does not constitute a republication of the story.
Orem police have found nearly $50,000 worth of stolen merchandise that was taken from Utah stores, along with the man they think is responsible for stealing it. Police credit the Internet and a watchful eye.
An Orem police officer began monitoring eBay and KSL.com for laptop computers and iPods that were stolen from an Orem MacDocs in July. Sgt. Craig Martinez, with the Orem Police Department, also contacted Apple Inc. to be notified if any of the stolen items were registered.
Last month his work paid off when a North Carolina man unknowingly bought one of the stolen computers last month on eBay then registered it with Apple. He was able to provide Martinez with the purchase information. Using that information, Martinez subpoenaed documents from eBay and PayPal, which revealed the name of 22-year-old Christopher Adam Gallegos with addresses in Salt Lake City and Glendale, Calif. The stolen laptop was sent to North Carolina from the Glendale address.
Martinez said, "Under that particular seller, I found he'd been selling all kinds of cameras, laptops, and iPods. We arrested him in front of his apartment, getting into a stolen car that was stolen in South Salt Lake in the middle of July," Martinez said.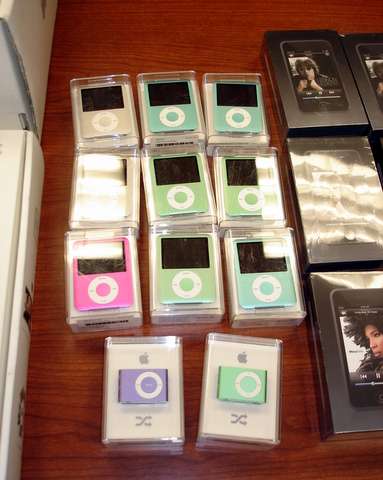 Inside the apartment was even more stolen stuff, like high-end sunglasses from the Spectacle in Salt Lake, designer clothing, electronics, and the Apple laptops and iPods taken from MacDocs in Orem and ExperCom in Murray.
"They're surprised, they thought their property was long gone," Martinez said.
Jared Allen, with ExperCom, was surprised when he first heard. Surveillance video captured the burglary at his store more than a year ago. The thieves stole $26,000 in equipment. "We don't know yet. I haven't heard if we're actually going to recover any of our stuff, but it's definitely reassuring to know that they finally tracked these people down and that they're not getting away with it," he said.
Investigators aren't quite sure where the other stolen items came from, but Martinez says it won't be too hard to find out. He said, "If it's a business that had the same method of entry as the others, it's going to be tied to him, which is basically they remove the windows."
Police think Gallegos had help. They've identified a second suspect and hope to arrest him soon. There are more pictures of the stolen merchandise in the photo gallery to the right. If any of it looks familiar, contact Orem police.
Gallegos admitted all the items came from Utah but refused to say from where, claiming he was not responsible for any of the burglaries.
Gallegos is currently awaiting extradition from California to Utah.
E-mail: corton@ksl.com
E-mail: rjeppesen@ksl.com
×
Photos
Most recent Utah stories