This archived news story is available only for your personal, non-commercial use. Information in the story may be outdated or superseded by additional information. Reading or replaying the story in its archived form does not constitute a republication of the story.
SALT LAKE CITY — It's March, which means it's time to pit the cities of the great state of Utah against each other again in an arbitrary look at which is "the best" small city in the Beehive State.
Last year, St. George beat out Park City in the championship round to claim the inaugural "Best City" award from among the 68 most populous cities in the state (as voted by KSL.com readers.) This year, the big cities will have to stand on the sideline and watch as the smaller cities in the state battle it out for the top spot.
We've selected the next 64 most populous cities in the state based on 2010 Census data, which is currently the most accurate data on the state population, and have given each team a seeding based on population size. Providence, which has a population of just over 7,000 people, is this year's overall No. 1 seed. Centerfield, which has a population just over 1,300, claims the final No. 16 seed in this year's bracket.
The voting will go throughout the day and will be officially called at midnight (votes after midnight will not count). Cities will advance in similar fashion to that of the NCAA Tournament, with 32 cities advancing to the next round. The Round of 32 will take place Friday. The Sweet 16 will open up Wednesday, March 22, with the Elite 8 on Friday, March 24. The Final Four will be held Wednesday, March 29 and then the championship round will take place Friday, March 31.
There are no formal guidelines and how you vote is up to you. Is the city a great location to vacation? Do you love the taste of its water? Really, anything and everything is a good reason to vote for your favorite city.
Check back every Wednesday and Friday for the next round of voting.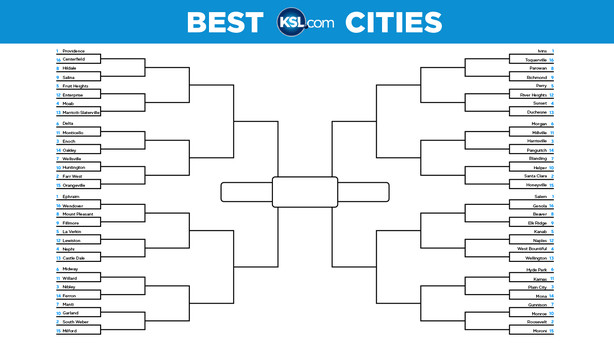 ![](https://beacon.deseretconnect.com/beacon.gif?cid=494064&pid=4)

×