This archived news story is available only for your personal, non-commercial use. Information in the story may be outdated or superseded by additional information. Reading or replaying the story in its archived form does not constitute a republication of the story.
SOUTH SALT LAKE — Leaders of South Salt Lake and West Valley City are fighting tooth and nail against the possibility that Salt Lake County's third homeless resource center could be built in one of their communities.
Mayors of both cities on Monday — the day before the first public workshop was slated to take place — listed a slew of reasons why the up-to-300-bed shelter shouldn't land in their cities, with two potential sites in South Salt Lake and three in West Valley City.
"I will fight it," said South Salt Lake Mayor Cherie Wood, who held a news conference with other city leaders and residents at Woodrow Wilson Elementary.
"South Salt Lake has always been a city of compassion — but we are also a small city that lacks the wide range of resources required to accommodate a safe and effective homeless shelter," Wood said.
She pointed out South Salt Lake, with a population of 24,000, is the county's second smallest municipality and has the lowest median income in the county: $37,700 per year.
Wood noted South Salt Lake already carries the tax burden of many countywide services — including Salt Lake County Metro and Oxbow jails, Grace Mary Manor and the Salt Lake Valley Detention Center — meaning more than 30 percent of its land is tax-exempt.
"Our small city already supports a disproportionate number of facilities for homeless and other disadvantaged individuals," she said. "Our police and fire departments are stretched to the point that additional strain would put our existing residents at risk."
By comparison, West Valley City is the state's second largest city with 133,000 people and a median income of $52,000, Wood said.
But the South Salt Lake mayor said she's not saying the shelter should instead be built in West Valley.
Instead, she hopes Salt Lake County instead "scraps" the site options, and that she's "frustrated" that neither South Salt Lake nor West Valley City had a seat at the table before the sites were proposed.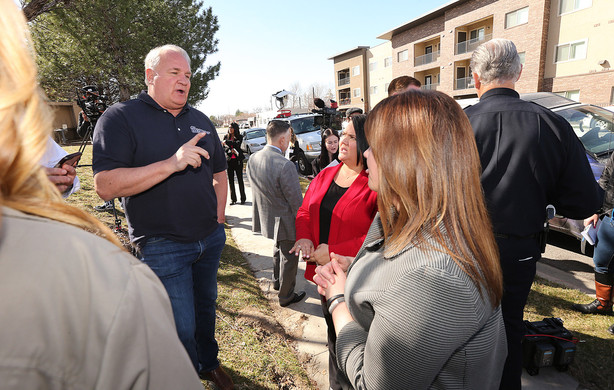 West Valley Mayor Ron Bigelow also decried the county's site proposals, vowing to fight against the potential sites — three of which are in his city, and another on the border of South Salt Lake that he said would also negatively impact his city.
"We will represent our citizens, our business community to say 'Here's the problems with what you've done,'" Bigelow said on KSL Newradio's "The Doug Wright Show" Monday morning. "Clearly this is going to have an impact on our police force and other services."
South Salt Lake Council Chairman Ben Pender and West Valley City Councilman Steve Buhler both listed specific issues with all of the sites, including proximity to schools, distance from TRAX stations and potential impacts on the Jordan River Trail.
"Certainly, the selection committee can find a site that better supports both the homeless and the community," Pender said.
Buhler said none of the three sites in West Valley City are "appropriate."
"It's a terrible choice. And I think that's part of the flawed process, the rush on all this," he said.
Buhler said West Valley City is also doing its part, pointing out the city houses more than 33,000 affordable housing units.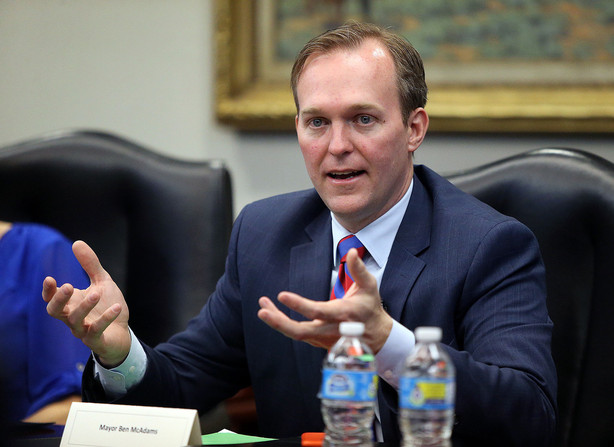 In a meeting with the KSL and Deseret News editorial boards on Monday, Salt Lake County Mayor Ben McAdams said he's "a little disappointed" that West Valley and South Salt Lake mayors are so adamantly fighting the proposed sites, but he understands their concerns.
"I hope people don't lose sight of the fact that what we're talking about is human beings who are in crisis and need help," he said.
McAdams said South Salt Lake's concerns about a strained tax base "resonates" with him, but he noted that problem could be alleviated by legislation to use statewide property taxes to reimburse municipalities with shelters and help pay for ongoing operations — an issue that didn't survive this year's Legislative session, but one that the mayor said will need to be revisited next year.
McAdams and other leaders have said the new model will be drastically different than what people currently know as the 1,100-bed shelter on Rio Grande Street — since the scattered site, services-focused model was developed after more than two years of study and collaboration with homeless providers and other stakeholders.
McAdams said county officials recognize there will never be "unanimous consent" around siting a new homeless center, but rather county officials aim to make a "well-informed decision."
But Bigelow and Wood worried the process will be too "rushed," since the county only has until March 30 to recommend a site to the state's Homeless Coordinating Committee.
Open houses
Here's the schedule of public workshops concerning Salt Lake County's third homeless resource center.
Tuesday, 6-8 p.m., Utah State Captiol Complex, Senate Building, State Room
Saturday, 3-5 p.m., Utah State Captiol Complex, Senate Building, State Room
McAdams acknowledged the public input process will be "abbreviated." He noted that the March 30 deadline resulted from county negotiations with House Speaker Greg Hughes, who initially had asked for a county recommendation by the end of the 2017 Legislative session last week.
"We don't know what the best site will be," McAdams said. "I hope the cities can come and help us figure out a way to make it work. If these sites don't work for them maybe they can propose alternative sites."
But when asked if they know of any other acceptable locations, South Salt Lake and West Valley leaders didn't have any specific answers.
Wood said that's a "conversation that needs to be had" with "more people at the table."
West Valley's Buhler said the resource center will be "problematic wherever it's going to be built."
"In my opinion, we're asking the wrong question," Buhler said. "The question is, 'Does a shelter help at all?' We can't assume by trying to segregate them into different populations and warehouse them in different areas that they're not going to be back and forth.
When asked what might be a better solution, Buhler said. "That's beyond my expertise, especially since (West Valley) has been thrown into this at the last minute."
×
Photos