Estimated read time: 6-7 minutes
This archived news story is available only for your personal, non-commercial use. Information in the story may be outdated or superseded by additional information. Reading or replaying the story in its archived form does not constitute a republication of the story.
SALT LAKE CITY — As artificial intelligence and automation become the next hot topics in the tech world, change is bound to affect the industries and economies around us.
Much of the moving industry is comprised of small businesses. According to ProMover.org, only 8.5 percent of moving companies employ 100 individuals or more. So, what could automation mean for change in the industry?
Tesla, Toyota, BMW, Google and others are developing self-driving car technology to be completed as early as 2018, but there are even fewer companies working to provide automated trucks.
Exploring the key players will help put the next decade for the moving industry into perspective.
The race toward automated transportation
There is a huge race to become the industry leader among big car manufacturers, tech giants and startups. What most people might not understand is that self-driving technology is multifaceted.
The cameras and sensors to help cars detect obstacles and avoid collisions are supplied by companies like Mobileye and Civil Maps. Data-mapping company Here is another business working to create digital maps that act as a data bank to which cars may refer (in addition to sensors). Digital mapping, however, is not an easy feat — the U.S. alone has over 4 million miles of road.
Uber and Google are scrambling to perfect their Lidar (light detection and ranging) technology to become an industry leader. The contentious battle has even resulted in a lawsuit between the two.
Related Stories
Former Google executive Anthony Levandowski sold his self-driving startup, Otto, to Uber after leaving Google. Levandowski was a big player in moving Google into the self-driving technology race. Levandowski founded 510 Systems (later named Waymo), a self-driving company that was acquired by Google.
Setting the industry standard could mean life or death for some companies. Otto, Daimler, Embark and Mercedes-Benz, however, are among the few converting this technology to freight.
Self-driving technology for trucking and moving
Roughly 70 percent of the freight in the U.S. is shipped using trucks, but there is a massive shortage of drivers. In 2015, the American Trucking Association reported that 48,000 positions went unfilled. This demand makes it imperative to find a solution to keep those Amazon orders arriving on time.
The moving industry also relies heavily on these drivers — 15.3 million households are moving annually in the U.S. Promover.org estimated the moving industry recorded $12.6 billion in revenue in 2015 and employed over 122,000 employees.
If anything, autonomous trucks could benefit the customer with lower moving fees, especially for long distances. Moving from St. George to Salt Lake City could cost up to $1,823 according to a price calculator, and that's only 300 miles.
In 2015, 73 percent of the moving industry's interstate shipments were for household goods. Other shipments included electronic office equipment and goods for exhibits or tradeshows.
Self-driving trucks have already hit the road in Colorado. Otto was the first company in the world to complete an autonomous truck delivery of 50,000 beer cans. The technology only works on the highway and still requires a driver to be present, but may also improve efficiency and safety concerns for companies shipping goods throughout the country.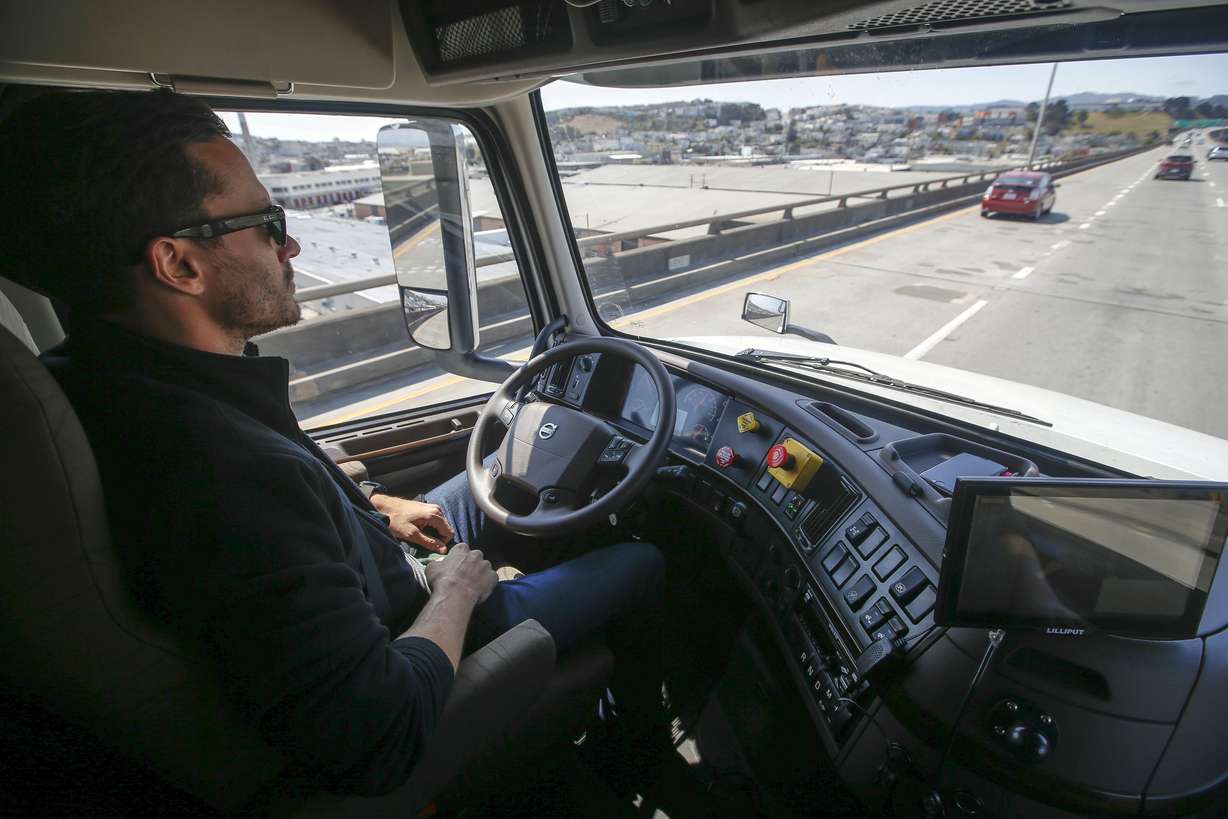 However, while automating the moving industry may initially help fill the demand for drivers, many believe automation could also wipe out the occupation entirely.
According to the American Trucking Associations, there are over 3.5 million drivers employed in the U.S. As autonomous trucks become more reliable, moving companies will no longer need to employ those drivers and could lose one of the most common jobs in many states, and one of the last remaining careers that offer middle-class pay to those without a college degree.
Challenges, regulations, and security of self-driving technology
Eleven states, including Utah, have passed legislation for self-driving technology. Recently, the National Highway Traffic Safety Administration came out with guidelines requiring states to develop uniform policies across the country. In the 2015-2016 session, Utah passed a bill requiring the state to "study, prepare a report and make recommendations regarding the best practices for regulation of autonomous vehicle technology on Utah highways."
Despite advancements in legislation, innovators must come up with a way to maintain security of the computer within the vehicle. Imagine a moving truck being hijacked with thousands of dollars' worth of goods in the trailer.
Car companies have already been working on tests to mitigate the threat of hacks, but hackers Chris Valasek and Charlie Miller were able to hack into a Jeep and dismantle the brakes and transmission while employed by the company to find security breaches.
Hacking is an inevitable part of our digital lives and it's bound to happen, but it could also pose a serious danger to self-driving cars in the future. However, Valasek and Miller are now security leads at Uber and working to avoid and preempt those dangers.
The future of the moving industry and truck automation
The Institute of Electrical and Electronics Engineers projected that autonomous vehicles will be the most effective form of transportation and over 75 percent of all vehicles will be driverless by 2040.
The moving industry will most likely switch after self-driving trucks become adopted as the primary means of shipping by major companies in the U.S., though there are still DIY companies such as U-Haul, Budget, and Penske that aren't even thinking about self-driving technology for their cars.
The moving industry has seen a boom with more millennials exploring new locations and more than 39 percent of the moves in 2016 were interstate, while the average move cost between $2,600 and $3,700. Automated trucks could not only reduce the cost of a move, but also improve the overall efficiency of the move.
As the technology advances, the industry is bound to change with it and driverless trucks barreling down the freeway may no longer be an uncommon sight.
---
Jack Frey is a freelance writer based out of Salt Lake City. He loves all things tech, entertainment and the arts. Contact him at jacktfrey@gmail.com
×
Photos
Related stories
Most recent Features stories