Estimated read time: 5-6 minutes
This archived news story is available only for your personal, non-commercial use. Information in the story may be outdated or superseded by additional information. Reading or replaying the story in its archived form does not constitute a republication of the story.
SALT LAKE CITY — The Jazz practiced Friday before hopping on a flight to Oklahoma City to face Russell Westbrook and the Thunder Saturday. Media spoke to Utah Jazz head coach Quin Snyder, Jazz wing Joe Ingles, and Jazz center Rudy Gobert.
Rudy Gobert's step forward
It looks like Gobert's taken another step forward in recent weeks. Last weekend, he hit both the game-tying and game-winning shots to get the Jazz a win in Sacramento, then owned both ends of the floor in wins against the Pelicans and the Rockets.
Gobert said the secret to his success is simple. "I just try to exploit what the defense gives me, and makes the simple play," he said. "When they blitz, I have to be the one who gets open and makes the play. If they leave me open, I just go and finish, and if they come, I just kick it to the corner."
Ingles pointed out, though, that Gobert wouldn't have made that play earlier in his career. "Two years ago he would have dribbled off his foot or fumbled the ball or whatever it was. Two years ago, dude was hilarious to watch," Ingles said.
So what's changed for Gobert?
"The game's slowed down a lot for me. Just being more relaxed, and it comes with time. I feel more and more confident," he said.
"I think before I was thinking it was hard to score. Now I just think I have to make the right decision at the right time."
A Gobert who thinks it's easy to score? He's already the best defensive player in the league, and now he's finding it easy on the other end too? As Ingles said, "If he keeps improving the way he's improving, he's going to be a dominant player for a long time."
Tough schedule coming up
The Jazz began the hardest part of their schedule all season long this week, thanks to difficult games against playoff teams on the road. Here's their schedule: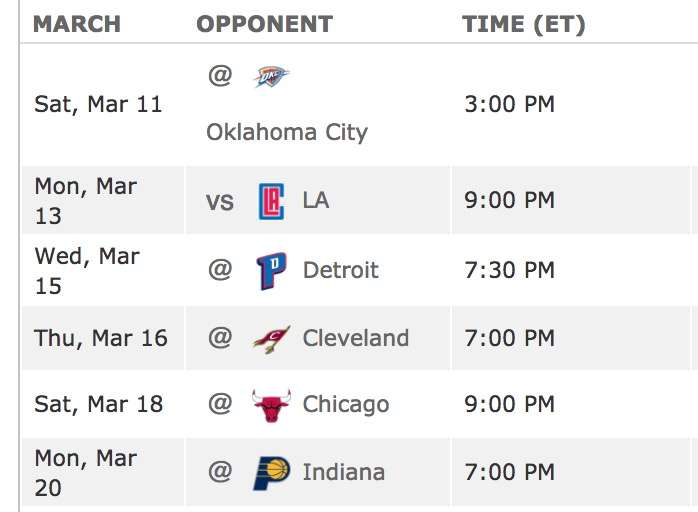 So, five out of six on the road, all against playoff teams, and against some good ones, too.
"It's not as scary as you make it out to seem," Ingles exclaimed. "We'll just do what we have to do, take it game by game, and if we're good defensively, we can come back with a good record."
Everyone's focused on the matchup with the Thunder tomorrow. Ingles and Snyder said that there's not much that the Jazz can do against Westbrook specifically, the force of nature that he is. They'll be very focused on limiting the Thunder's other players, and getting back in transition defense so that he can't get easy looks at the rim.
Big win against Houston
The Jazz had lost seven straight against Western Conference opponents above .500 coming into Wednesday's game against Houston, albeit with injuries a large factor in those losses.
"Recently, we haven't played great against teams that were high ranked," Gobert said. "We just wanted to show we could beat anyone. And we have to do that all the time and be consistent."
Snyder was most impressed with how the team followed the game plan, something that's been up and down at times this season. Even as Houston tried different defenses, the Jazz stayed solid and spaced throughout. That was critical, especially given how frequently the team played without a point guard in the game, relying on Gordon Hayward, Alec Burks, Rodney Hood, Joe Ingles, or even Joe Johnson to bring the ball up the floor.
Ingles split hairs. "I don't think we're going to overreact and call it a huge win. It's a big win on the road, and we thought we played well defensively."
Joe Johnson at the 4
One huge reason behind the Jazz's success against Houston was that they started Joe Johnson at the power forward position. Ingles explained why that works so well.
"He stretches the floor when he's playing the four. No one's helping off of him," Ingles said. "It opens it up for Gordon and Rodney to play pick and roll and Rudy to roll, and the rest of us get wide open shots from it."
Usually, the biggest question with playing a wing at the power forward position is how it stacks up defensively. But with Johnson, the Jazz aren't worried. "Defensively, he can play 1-4, post-up big or stretch four," Ingles said. "He helps us in a ton of ways."
Friday, I think Snyder wanted to slow the hype around the success of the starting lineup. "I think sometimes we have to be careful with 5-man lineups, with all of that stuff, there's noise there," Snyder started. "That being said, when you watch our team function with Joe at the four, we function well."
Dante Exum foul trouble
Dante Exum only played nine minutes against Houston, thanks to picking up four fouls in his playing time.
"I wouldn't even call that foul trouble, I'd call that undisciplined," Snyder said.
I asked him what he tells Exum in scenarios like that. "Don't foul. Be disciplined. Get your hands up, don't reach. Do your work early, be in the right spot."
"I think sometimes that happens when guys are playing limited minutes. We want him to be aggressive defensively, but he has to be disciplined as well as disruptive," Snyder said. "He knows that. I'm not down on him for that. I want him to not do it. People test you when you're coming off the bench and you're a younger guy. He's got to concentrate."
×
Most recent Sports stories