Estimated read time: 9-10 minutes
This archived news story is available only for your personal, non-commercial use. Information in the story may be outdated or superseded by additional information. Reading or replaying the story in its archived form does not constitute a republication of the story.
SALT LAKE CITY — Salt Lake County on Friday announced five sites under consideration for a third homeless resource center — leaving city leaders "shocked," "concerned" and frustrated with the limited time for public process before a final site is chosen in less than 20 days.
Three of the proposed sites are in West Valley City near the Glendale Golf Course. Two are in South Salt Lake, with one site near James Madison Park and another near the Oxbow jail.
The sites are:
1820 W. Printers Row (2300 South), West Valley City
2411 S. Winston (1070 West), West Valley City
2249 S. Winston (1070 West), West Valley City
3091 S. Main, South Salt Lake
1144 W. 3300 South, South Salt Lake
County officials announced the sites by publishing them on a website unveiled Friday: homelessfacilitysite.org.

Neither West Valley City Mayor Ron Bigelow nor South Salt Lake Mayor Cherie Wood were happy with the site proposals — both worried about how a homeless resource center would impact their communities.

"We're shocked and concerned," Wood said, worried that a shelter would place a social and financial strain on South Salt Lake — a city of 24,000 people that already serves a variety of tax-exempt social services facilities.

"We already have the Oxbow Jail, the Metro Jail, the Grace Mary Manor, the juvenile justice center," Wood said. "For a small city, we've always been at the table willing to participate … but we're a small community with a small tax base, a small police force, a small fire department, being asked to take this on."

Bigelow was caught off guard to see three proposed sites in West Valley City, leading him to decry the process that now leaves only a few weeks for cities to make their case against being selected.

"Obviously we're surprised because we have not been included in the process in any way up to this point," Bigelow said. "We thought this was going to be an inclusive process."

The West Valley mayor said the county's plan to recommend a site in 20 days is unrealistic given the need for input from residents, businesses and elected officials. The "Utah way," he said, is to sit down and work things out together.

"We think they have been way too hasty," he said.

Bigelow also questioned whether the shelter proposal is actually going to help the homeless population.

"That's a very big question that I don't think they have an answer for," he said, adding that dispersing shelters hasn't worked in other cities.
Deliberation begins
The site proposals come the day after the end of the 2017 Utah Legislature, where lawmakers passed a bill to fund two new 200-bed homeless resource centers in Salt Lake City and a third shelter in Salt Lake County with between 200 and 300 beds.
As part of the bill — HB441 — to finalize the second half of the state's $20 million contributions for construction of the new shelters, the state's Homeless Coordinating Committee is tasked with selecting the site by March 30 — leaving no city authority to oppose the decision.
To meet the state's tight deadlines, Salt Lake County will begin what Mayor Ben McAdams has said will be a "robust yet abbreviated" public input process.
McAdams was not available for comment Friday because he was attending a family matter, spokeswoman Michelle Schmitt said. But the county's director of special projects and partnerships, Shaleane Gee, said it's no surprise the sites have concerned residents and businesses.
"We welcome any concerns, questions, ideas and complaints people have, and we want to address them all," she said. "We know it's not going to be easy, and we know this is a really hard thing to do."
She said the public process over the next few weeks will be "very important."
"We have faith in the public process," she said. "We want to make informed decisions. These locations have to work for those who are homeless, but they also have to work for the communities. That's part of the change we're making to the system."
Two open houses are scheduled next week to help Salt Lake County's Site Evaluation Committee — comprised of county leaders, homeless services providers and other stakeholders — make a shelter location recommendation to the state.
While some have expressed worries that city officials will be powerless to oppose whichever site is selected, McAdams has said the county committee will work with cities to come up with the best possible selection.
"I hope that cities will recognize we want to work constructively with them to find the best location that works, but simply 'no' is not a workable answer," he said earlier this month.
Gee said as soon as the state requested last month that the county site a new shelter, the mayor's office began searching for locations to consider. All five properties have been secured, she said, under real estate purchase agreements, of which one will be finalized when the site is selected.
McAdams is aiming for a starkly different process from the way Salt Lake City leaders chose sites — what they called a non-negotiable basis — for the city and county's earlier plan to build four 150-bed shelters in Salt Lake City.
That plan changed last month after city leaders faced intense public backlash, particularly over a site in Sugar House.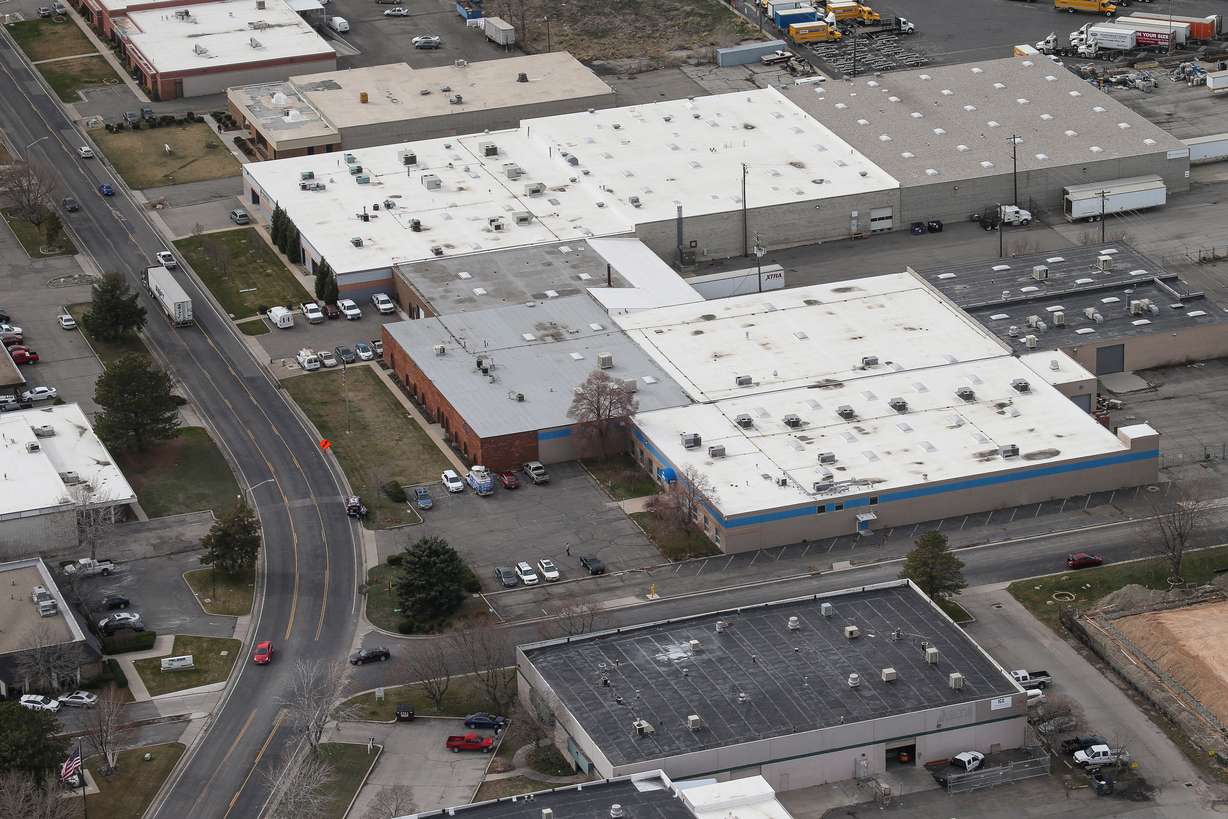 Instead, state leaders joined with McAdams and Salt Lake City Mayor Jackie Biskupski to announce the proposed shelters at 131 E. 700 South and 275 W. High Ave. would have 200 beds instead of 150, and the selected sites at 648 W. 100 South and 653 E. Simpson Ave. were abandoned.
Biskupski has said the two sites in Salt Lake City are expected to house women and a gender-separated population. That would leave the site in either West Valley City or South Salt Lake to house what city and county leaders have acknowledged will likely be the most troubling population — single men.
However, state and county leaders have said population designation details are still being ironed out. Gee said Friday population designations can't be made until the third site is selected, as to ensure the sites drive the decision.
The plan to build the smaller homeless resource centers are part of city, county and state efforts to overhaul Utah's troubled homeless services model — with hopes to alleviate the drug-riddled and overflowing 1,100-bed Road Home shelter in Salt Lake City's Rio Grande neighborhood.
Local concerns
The proposed site on 3300 South — near the Jordan River Trail and James Madison Park — would share a parking lot with Creative Learning Academy of Utah, a preschool and daycare that serves a few dozen children. Such close proximity to a homeless shelter would be very concerning, said Jessica Lloyd, owner of the preschool.
"At that point, we would look at relocation," Lloyd said, later adding that a move would mean unexpected costs. "My No. 1 priority is just making sure that the children are in a safe environment. ... I just want to make sure that what is nearby me creates less risk for my business and the children."
Lloyd said she understands why parents would be worried about a homeless site a stone's throw away.
"As a parent, I would have questions," she said. "My response to any of that would just be — we do have to let the process play out. We will keep everyone as informed through the process. The Salt Lake County mayor's office has been very professional and kind in dealing with us and very sensitive, and there hasn't been any issues about feeling misinformed or uninformed."
Lloyd said she also wanted to be sensitive to the goals that city and county leaders are trying to accomplish. She understands the need for the third homeless services site.
"We just have to sit on it for a minute and be calm, and just realize ... People that don't have a home also need — they need help just as much as anybody else, and that we can be patient and let the process play out," Lloyd said.
Scott Drews — owner of The Brokerage Windows and Doors, a walk-in store located right next door to the site on 3091 S. Main in South Salt Lake — called the possibility that a homeless resource center could be built right next to him "scary."
"This is my livelihood. All of my life has been dedicated to this business," Drews said, noting that he's owned the store for more than 20 years.
His clients — who he said are often "high-end" — would be detracted from coming to his store if it were right next to a homeless shelter. Properties values, he added, would "go down the toilets."
"It would put me out of business," Drews said. "And not just me."
Drews said there are more than 20 different businesses located in the area.
"There are so many small businesses that work hard to be a part of this community and pay their taxes," he said. "If this happens, all of these businesses will either leave or be forced out of business. It would kill South Salt Lake."
Business owners and residents around the business park near Redwood Road and 2100 South also vowed to fight the proposed West Valley City locations.
"I'm tired of picking up needles as it is on my daily walk, and that's what they bring, the drugs," said Julie Erickson, who lives four blocks from two of sites. "We don't need that kind of stuff down here."
Kate McConaughy, executive director of the Work Activity Center near the sites on Winston Street, said a shelter would place her clients — about 150 people with physical and mental disabilities — at great risk.
"I cannot believe Salt Lake County would consider a place right next to a group of vulnerable adults, who have no voice for themselves," she said.
West Valley City Councilman Steve Buhler said he was "disappointed and upset," mostly with the Legislature.
Lawmakers passed a law during the just concluded legislative session to take away the city's land-use authority, he said.
"Just for this decision, we have no say, no authority to stop it, nothing. This was taken from us by a unanimous vote to the Legislature, none of whom should be there in two years," Buhler said.
Buhler said the abbreviated selection process leave city officials no time to talk about the proposals.
"I think that's the plan, just shove it on us and we have to live with it," he said.
Contributing: Ben Lockhart, Ladd Egan
×
Photos
Related stories
Most recent Utah stories