This archived news story is available only for your personal, non-commercial use. Information in the story may be outdated or superseded by additional information. Reading or replaying the story in its archived form does not constitute a republication of the story.
SALT LAKE CITY — The ability for Utahns to find work in the Beehive State has reached almost optimal levels thanks to a particularly robust economy, workforce officials note.
The state Department of Workforce Services reports that over the past two years, the number of employers looking for workers has held steady while the number of job seekers has declined. DWS data showed that the number of people actively looking for work in February 2015 was 97,380 Utahns, but by January 2017, that number had dropped to 37,806.
The sharp decline in job seekers reflects the strength of the local economy, Carrie Mayne, the department's chief economist, explained. People are able to find the kinds of jobs they are looking for due to the wide variety of available positions.
"If we look at the broader economic story, all other measures indicate Utah is experiencing a 'seller's market' when it comes to labor," Mayne said. "Even if you've just been thinking about changing jobs, now is the time to do it because the opportunities are really awesome right now."
Accompanied by stable wage growth, this is one of the best periods to be a Utah job seeker in some time, she said.
Utah's nonfarm payroll employment for January grew by an estimated 3.2 percent, adding 43,800 jobs to the economy since January 2016. The seasonally adjusted unemployment rate for January declined one-tenth of a percent from December to register at 3.1 percent.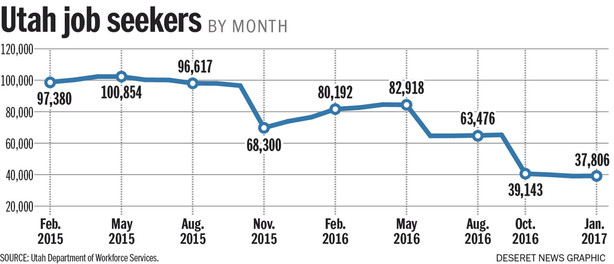 The state's current employment level registered at 1,431,800 for the month, with approximately 47,800 Utahns considered unemployed and actively seeking work. Nationally, the jobless rate rose slightly, moving up one-tenth of a percentage point to register at 4.8 percent.
"Our state begins the new year on strong economic footing," Mayne said. "Looking back, benchmark revisions for 2016 show Utah's annual average job growth estimate at 3.6 percent (49,100 jobs) and unemployment at 3.5 percent."
She said nine of the 10 private sector industry groups measured in the U.S. Bureau of Labor Statistics establishment survey posted net job increases for the month compared to the same period last year. The natural resources and mining industry was the only outlier, losing 1,000 positions.
---
"Even if you've just been thinking about changing jobs, now is the time to do it because the opportunities are really awesome right now." - Carrie Mayne, Department of Workforce Services
---
On the other hand, the largest private sector employment increases were in trade, transportation and utilities — which added 9,700 jobs; education and health services — adding 6,600 new positions; along with leisure and hospitality services — which added 6,100 jobs.
The fastest job growth was in leisure and hospitality services — up 4.6 percent; construction — up 4.5 percent; while trade, transportation, and utilities rose 3.7 percent.
×
Photos
Related Stories