This archived news story is available only for your personal, non-commercial use. Information in the story may be outdated or superseded by additional information. Reading or replaying the story in its archived form does not constitute a republication of the story.
SALT LAKE CITY — House Republicans have not reached a consensus yet on tax reform proposals, a House committee took action on an abortion rules bill, lawmakers are hoping for flexibility in funding Medicaid, and a bill that would ultimately increase the cost of gasoline passed a Senate committee.
Here are some top stories from the Utah legislature. Click on the headline to read the story.
House Republicans worked late into the night Thursday debating the respective merits of tax reform proposals intended to broaden the tax base and lower rates, but leaders said they reached no consensus. Meeting in a closed–door caucus that ended shortly after 9 p.m., House members wrangled over the implications of restoring Utah's food tax and changes to the state's income tax system — steps House leaders say would help ensure further investment in jobs and economic expansion.
"We're talking about things that are pretty simple, lowering the income tax rate and putting the sales tax back on food and basically holding groups of people in income brackets harmless — in fact some would be getting a tax cut — especially those on the lower income side," said House Majority Leader Brad Wilson, R-Kaysville.
But no decisions were reached.
Members of a Utah House committee finally took action on a bill that would direct the Utah Department of Health to review administrative rules surrounding abortion providers and the requirement that they have hospital admitting privileges.
The House Health and Human Services Committee substituted and amended HB384 before voting to send it forward Thursday. The bill calls for the removal of a provision in Utah law that requires physicians who provide abortions to have hospital admitting privileges in case something were to go awry during the procedure.
Utah lawmakers are hoping to send a message to the federal government that the state would like control over its own Medicaid dollars.
"I'd like them to not take the money in the first place," said Rep. Mike Kennedy, R-Alpine, who is co-sponsoring a resolution that asks the federal government for a block grant to cover Medicaid costs instead of the match rates the government currently provides.
Kennedy said the state would rather not be required to adhere to the federal mandates tied to the money.
A bill that would adjust the complex formula used to calculate gas taxes easily passed a Senate committee Thursday even though it's not clear how much the price at the pump would increase.
The sponsor of SB276, Sen. Kevin Van Tassell, R-Vernal, said consumers likely would not see an increase until 2018 or even 2019, depending on the fuel market. He said a built-in price ceiling would cap the tax at about 40 cents.
Rep. Steve Eliason, R-Sandy, declared suicide a public health crisis Thursday as he called for a nationwide crisis hotline.
HCR25 calls on the federal government to designate a nationwide three-digit suicide hotline.
Eliason said he became interested in a nationwide hotline when he and Sen. Daniel Thatcher, R-West Valley City, were looking for options for a statewide hotline and found 19 separate numbers with various functions and degrees of responsiveness.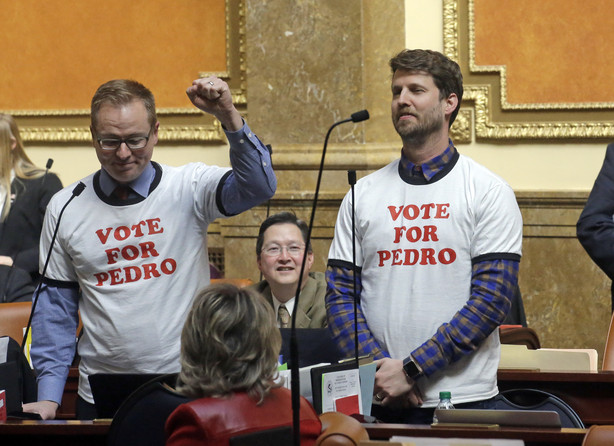 The star of 2004 hit movie "Napoleon Dynamite" is telling lawmakers that Utah's film tax incentives are vital to luring productions to the state.
Actor and producer Jon Heder spoke briefly Thursday to the state Legislature about how the tax credits could help him bring movies to Utah. He wore a "Vote for Pedro" T-shirt in a nod to a memorable shirt worn by Heder in the film.
×