Estimated read time: 2-3 minutes
This archived news story is available only for your personal, non-commercial use. Information in the story may be outdated or superseded by additional information. Reading or replaying the story in its archived form does not constitute a republication of the story.
Last month we told you the story of a restaurant owner who was planning to donate one of his kidneys to a teenage employee suffering kidney failure. The operation happened last week. Now Marcus Gilbert is recovering at home after donating one of his kidneys.
"Just seeing him and his family through this whole process, I know I made the right decision and I know this is going to be a blessing for him. I'm just glad I got to be a part of it," Gilbert says.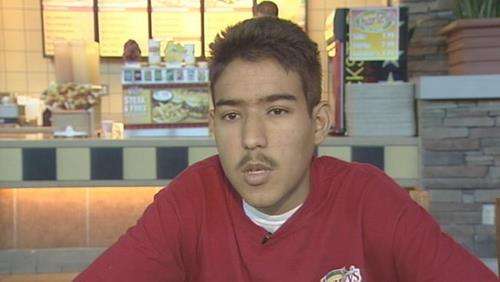 We first met 17-year-old Juan Delgado at Charley's Grilled Subs in Orem not long after he learned his boss was going to give him a new chance at life.
"At first I just thought he was kidding around. But then when he went to the hospital and got the tests, I was really happy when he was giving me his kidney," Delgado said at the time.
Gilbert says his decision was not based on helping an employee, rather knowing he could help another person who just happens to work for him.
"This is his first job. He'll work for awhile and find something better, I'm sure, and I'll support him 100 percent. I hope he keeps in contact. There's a new bond there that's not there with my other employees. But I don't expect him to work for me until he retires," Gilbert says.
The transplant cost more than $100,000, and on Friday both of them were surprised when the CEO of Charley's, based in Ohio, showed up at the hospital.
"He flew in, came to the hospital and saw us both and actually gave a $10,000 check out of his pocket to help pay for Juan's medical bills," Gilbert tells us.
While not everyone can be a donor, Gilbert encourages those who can to consider it.
"There are lots of people that are out there in need, and you can change someone's life. You can be that miracle in someone's life," he says.
It's a life-changing decision that he finds even more reassuring after seeing what his gift is doing for Juan. Juan's new kidney is functioning very well, and he is expected to remain in the hospital for another week or so.
If you want to help Juan, you can make a donation at the Charley's Steakery inside University Mall in Orem. Or you can mail a check to the following address:
Make checks payable to:
NTAF NORTHWEST KIDNEY TRANSPLANT FUND
Note in memo section: In Honor of Juan Delgado
Send to: National Transplant Assistance Fund
150 N. Radnor Chester Road, Suite F-120
Radnor, PA 19087
To make credit card contributions, call 1-800-642-8399 or visit www.transplantfund.org.
E-mail: spenrod@ksl.com
×
Related links
Most recent Utah stories